35 Times Primate Ayodele's Prophecies On Nigeria And Countries Around The World Came To Pass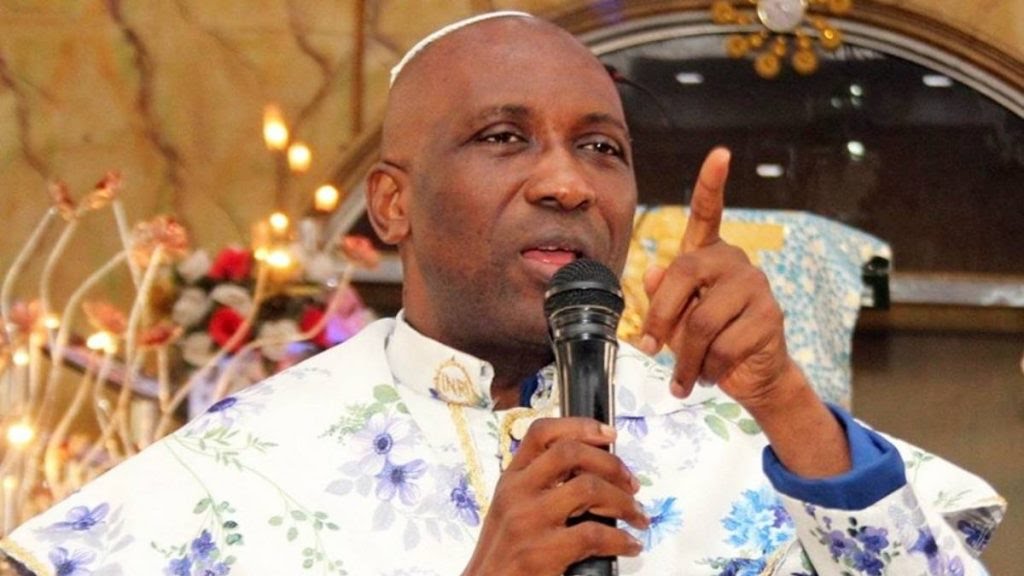 35 Times Primate Ayodele's Prophecies On Nigeria And Countries Around The World Came To Pass
AJAGBE ADEYEMI TESLIM
SPONSORED BY: H&H
The leader of INRI Evangelical Spiritual Church, Primate Elijah Ayodele has made a name for himself in the prophetic ministry with the frequency and fulfilment of his prophecies. Although he has been criticized for his sagacity and fearlessness in churning out prophecies, He has never stopped because all he does is act as a mouthpiece of God at all times.
Several prophecies of his have come to pass, and it is on record that he is the only prophet that has over 10,000 prophecies fulfilled and still counting.
We recall that he was criticized by the Presidency some days ago for giving some prophecies that didn't come to pass. In the writeup of the presidency, the unfulfilled prophecies according to them were mentioned but unfortunately, they were not unfulfilled as the presidency claimed rather his prophecies were misrepresented.
Below are the real presentation of these prophecies and how they came to pass, including more of his fulfilled prophecies
1) In the Guardian August 4, 2013 he said Jonathan will not win 2015 election
2) In the Guardian January 6, 2019 Ayodele prophecy about the victory of PDP in Oyo State
3) In the Guardian January 6, 2019 he declared APC as the winner in Kaduna election
4) During the Press conference on 23rd December, 2017 in Tribune he prophecy that Trump will not have a second term
5) He foretold the Kaduna Election saying PDP will find it hard to retain Kaduna in Daily Independent on the 3rd of January, 2015
6) 3rd of January, 2015 Daily Independent published Ayodele prophecy that PDP will spring surprises and shock APC in which six(6) PDP candidate won in Lagos state
7) October 1st, 2014, Ayodele warns Tambuwal not to go for the presidential ticket because he Will lose but he with become the governor of his state
8) He foretold the removal of the chairman of PDP Adamu Mu'azu in City people magazine OCT 1st, 2014
9) City people Oct. 1st, 2014 he is the same prophet who prophesy the challenges in the political ambition
10) Prestige News January, 2018 published that Ayodele said if there is no right candidate, Buhari will have his second term conveniently.
11) Prestige News January, 2018 published that Ayodele was the prophet who precisely mentioned the name of APC candidates who can win in Ekiti State election
12) Prestige News January, 2018 published that Ayodele prophesied the outcome of Osun, Ondo and Ekiti state election
13) Prestige News January, 2018 published that Ayodele was the first prophet to say there is no vacancy in Aso rock in 2019, except PDP picks the right candidate
14) Global Excellence December, 2012 Ayodele was the only prophet who foretold the emergence of Lamido Sanusi as the Emir of Kano
15) WTN 2020/2021 EDITION, pg 146- He prophesied that there will be flood in Germany
16) WTN 2017/2018 EDITION, pg 1- Ayodele appealed to Nigerians to pray and commit the health and life of President Buhari into the hand of God for divine intervention.
17) During a Press conference on 23rd December, 2017, Primate Ayodele also prophesied about the release of Dasuki, as published on prestige news.
18) In a Press conference held on 23rd December, 2017. Prestige news published that Ayodele revealed that Nnamdi Kanu's whereabouts will be located.
19) WTN 2017/2018 EDITION, pg 3- Ayodele prophesied about the shooting and killing in the Villa. He said we should pray to rebuke death and shooting in the Villa
20) WTN 2020/2021 EDITION, pg 146- He warned that we should pray against unnecessary protest against this government.
21) WTN 2019/2020 EDITION, pg 193- Ayodele warned long before the emergence of Covid 19 pandemic that he foresaw the outbreak of diseases that will be an epidemic status which will trouble the world leaders.
22) WTN 2021/2022 LATEST EDITION, pg 225- Ayodele didn't just mention the party that will win, he also mentioned the name of the candidate who will win the Peru election in march this year.
23) WTN 2021/2022 LATEST EDITION, pg- 226- Ayodele foresees that if the corruption charges against Jacob Zuma are not properly handled by the courts, it will lead to protests and destruction of lives and properties.
24) WTN 2018/2019 EDITION, pg 131- Ayodele foresaw a political gang up against Ambode's position for a second term
25) WTN 2021/2022 LATEST EDITION, pg 208- I foresee that their interim president will be attacked in Mali.
26) Prestige news 23rd of December, 2017- Ayodele said let us pray against bomb explosion in Lagos. The Lagos state police confirms Ayodele's prophecy that terrorist wants to bomb Lagos
27) In Vanguard July 7, 2021- Ayodele is the only prophet who prophesied that Euro 2020 if England fail to win the match within 80 minutes and the match stretches into penalty shootout, Italy will carry the day.
28) Ayodele also said Joe bidden will win Trump long before the election is held.
29) Ayodele specifically mentioned Kamala Harris to be chosen as Joe biden's Vice President (Published by City people Nov 9, 2020)
30) Ayodele warned some African Presidents to be careful of insecurities what happens in Mali and Madagascar confirms the fulfilment of the prophecy that he made in April as published on Opera news
31) In his book of prophecy, Ayodele warns Afghanistan of Taraban's threat
32) He warned the Burundi President, Pierre Nkurunziza of an attack on his life. (Opera news)
33) He prophesied that Côte'd'ivoire President Alassane Quattara will vie for third term, Opera news publication of March 3rd confirms it
34) Ayodele prophesied the outcome of the election in Ghana, he said Nana Akufo Addo will win again. In September, 2020 on Opera news.
35) In Vanguard July 7, 2021- He is the same prophet who prophesied that Copa America final would be won by Argentina, if they can score before the 75th minute.
If you are talking about prophets, Ayodele's prophecy is not a guess work or permutation. Ayodele is one of the most constant, concise and precise prophet in the whole universe who reveals it just the way it is correctly without missing a hush and directly from divinely source, he is not a type that dangle around the word. When he says I foresee an incident will occur saith the Lord, then there is no going back. Primate Ayodele professes prophecy as well as the solution to them by telling them to pray. Ayodele has gained ground when it comes to prophecy, he has met top notch and prominent people have also met him. When it comes to the world of prophecy Ayodele has become a household name all over the confederation. His prophecy has been tested and trusted.
Primate Ayodele's Prophecy On National Universities Commission Comes To Pass
Primate Ayodele's Prophecy On National Universities Commission Comes To Pass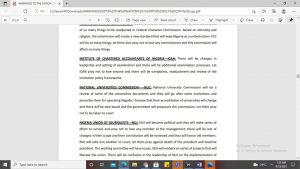 AJAGBE ADEYEMI TESLIM
SPONSORED BY: H&H
Some hours ago, the federal government named some universities and declared them as Illegal through the National Universities Commission.
This was followed by an immediate closer of the universities which are about 58 in number.
NUC on its official website stated that the affected universities were closed for violating the Education (National Minimum Standards, etc.) Act CAPE3 Law of the Federation of Nigeria 2004.
This development however confirms the prophecy of popular prophet, Primate Elijah Ayodele who revealed in his annual book of prophecy titled Warnings To The Nation (2021/2022) edition that he foresees that the NUC will review the activities of some universities and proscribe them for operating illegally
''NUC: National University Commission will do a review of some of the universities documents and they will go after some institutions and proscribe them for operating illegally. I foresee that their accreditation of universities will change and there will be new board and the government will prosecute the commission. Let them pray not to be taken to court''
The first part of the prophecy which talks about proscribing universities for operating illegally has been fulfilled. There are other parts of the prophecies that has to do with the government prosecuting the commission and court actions against the commission is yet to come to pass.
These are serious warnings released by the man of God some months ago. Apart from this, several prophecies in this book has been fulfilled, which shows that of a truth, Primate Elijah Ayodele's annual book of prophecy is divine.
OLOJO FESTIVAL 2021: OONI BEGINS 7 DAYS SECLUSION, SAYS POLITICIANS ARE THE SAME
OLOJO FESTIVAL 2021: OONI BEGINS 7 DAYS SECLUSION, SAYS POLITICIANS ARE THE SAME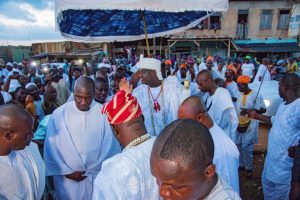 RAINAT ATOYEBI
SPONSORED BY:H&H
Arole Oduduwa Olofin Adimula, Ooni Adeyeye Enitan Ogunwusi, Ojaja II, the Ooni of Ife on Sunday kickstarted this year's Olojo Festival in Ile-Ife with the traditional 7 days seclusion where he's expected to commune with his ancestors and for the people of Ile-Ife, all descendants of Oduduwa worldwide and Nigeria as a country.
Ooni Ogunwusi while answering questions at his Ile-Oodua palace, Ile-Ife, before heading into seven days seclusion to commune with the gods ahead of Olojo Festival pledged to pray to his ancestors and God to touch the heart of Nigerian politicians and changed them towards loving the people, saying Nigerian politicians are the same irrespective of their parties, challenging them to start serving the people genuinely and stop taking the country for granted.
The Natural Head of the Oduduwa race worldwide who insisted there is no difference among politicians in the country, stated that they have all cross carpeted from one major political party to another to protect their interests.
"We believe in the forces of nature for nature to conspire in our favour but every other thing in our country they are all man made, the likes of security, our politicians will take credit for that, they are the ones that caused it till date. I will go again to seclusion for God to touch their hearts for them to stop playing all of us like ludo.
"They should be more sensitive about people because it is one political movement. They are just crisscrossing from one political party to the other in order to retain their positions. We have one political party in this country, same value, same character, same politician. But I am going to go into seclusion for God to touch their hearts for them to stop playing games with the lives of citizens of this country. It is about time for them to realize that they should serve us genuinely because we can not continue like this.
"This time around is a serious one, it is a request on behalf of the entire people, Oduduwa race and by extension our dear Country Nigeria. I am going for God to touch their heart and really pray to my ancestors. We are just deceiving ourselves that they are different, they are the same. All of them have crossed to the major parties but Nigeria is above them all.
"This time around it is a very sensitive one and a very serious one. First of all to thank God almighty and the spirit of our ancestors that have been guiding us thus far, God has really helped us with the pandemic issue because we won't be able to handle it, when we compare things we have been doing with other nations. We have every course to be thankful to God.
"They said we are spiritual and it is working for us in this country, we have course to thank God Almighty, that it is not out of hands. We should not rest our hoax, I am going to seclusion which is the 6th during my reign. I inherited the tradition from my ancestors of thousands of years ago", Ooni said.
To participate in this edition of the Olojo Festival in Ile-Ife, foreigners from America and Brazil have started arriving the country in their hundreds as a number of them were sighted at the Ooni's Palace to join in the procession accompanying the Ooni to the ILE IMOLE, venue of the 7 days seclusion location along Iremo road of the ancient town which is the cradle and traditional headquarters of the Oduduwa race worldwide.
Erica Pinheiro, a participant from Brazil who spoke to the newsmen said this is her second time to participate in the festival which she called 'festival of day and God'. She described it as a home coming for all of them who came from Brazil, saying whenever Africa or Nigeria is mentioned in Brazil, the city of Ile-Ife first come to mind.
This is my second in the country to witness this festival that celebrates creation of day and festival Olodumare. Ile-Ife is a household name in Brazil. Every Brazilian wants pilgrimage to Ile-Ife and we will be coming home from Brazil every year. " Erica Pinheiro said.
Primate Ayodele's Prophecy On Nigeria's Economy Collapse Already Coming To Pass
Primate Ayodele's Prophecy On Nigeria's Economy Collapse Already Coming To Pass
AJAGBE ADEYEMI TESLIM
SPONSORED BY: H&H
The Nigerian economic situation is getting worse as the day goes by. The dollar rate is on the high side and prices of essential commodities have skyrocketed in recent times.
In the history of Nigeria, it has never been this bad economically. The naira has lost value against almost every notable currency in the world, which is of course unhealthy for our purchasing power.
With the situation of thing economically, one would agree that except there is a divine intervention, the economy is on the verge of collapse and is already shutting down. The signs are written all over with the unceasing increase in dollar rate, prices of essential commodities and many others.
Before things got worse, one of the notable voices that called the attention of President Muhammadu Buhari was Primate Elijah Ayodele, the leader of INRI Evangelical Spiritual Church.
Five months ago, Primate Ayodele released a statement that the Nigerian economy will shut down in 32 weeks. From May, 32 weeks would be around October which is just one month to go. He didn't just say this, He made this statement to warn President Muhammadu Buhari and also to advice him on what to do in order to prevent the economy from shutting down because the last thing a president wants to experience is his economy shutting down.
Primate Ayodele gave some spiritual advice to the President and told him to come up with a strong economic team in order to prevent this. He also talked about bringing back subsidy instead of removing it completely but were these advices followed? NO.
He also mentioned that President Buhari will request for a brutal loan which will cause more havoc to the economy. We could see this happening yesterday when Buhari wrote to the national assembly for the approval to borrow another $4bn, €710m which will make the country's debt to be N2.2trillion.
These were Primate Ayodele's words
'If the government of Nigeria doesn't do the right thing about the economy, Nigeria's economy may shut down in the next 32 weeks.
"This will affect Central Bank, NNPC and revenues.
"Government must come out with a very strong economic team in order to curb another economic pandemic that will even affect banks, government, salaries of the workers and pensioners.
"Nigeria will be on a brutal loan, there will be so much loan, they must review subsidy, and bringing back subsidy will help Nigeria's economic to grow than removing the subsidy completely."
(https://theeagleonline.com.ng/primate-ayodele-to-buhari-economy-nigeria-will-collapse-disintegrate-under-you/)
We have just one month before 32 weeks elapse and of a truth, except the President listens to instructions, the economy may collapse as Primate Ayodele warned.