APC Ready to Punish Gov. Ibikunle Amosun over indiscipline during presidential rally
APC Reacts To Crowd Trouble At Ogun State Rally
The All Progressives Congress (APC) has promised to sanction as many who are responsible for sponsoring violence at the Ogun State presidential rally on Monday.
The party, however, said whatever action to be taken will be after the general elections.
Premier News reported the drama that took place when President Muhammadu Buhari, and his team consisting of Bola Tinubu, Rotimi Amaechi,Adams Oshiomhole among others were booed and pilted at the stadium.
During the rally, Oshiomhole was trying to give a speech; suspected hoodlums booed him and attempted to stone him save the intervention of security operatives at the campaign ground.
The APC National Publicity Secretary, Mallam Lanre Issa-Onilu said, in a statement, today, that the party regretted Monday's alleged premeditated attacks purportedly sponsored by Governor Ibikunle Amosun on President Muhammadu Buhari and other senior party leaders at the venue of the presidential campaign rally in Ogun State.
Issa-Onilu, who said the party would review what he called 'gross misconduct', added that party supremacy and discipline were not matters of choice but binding principles which must be adhered to by all party members.
The APC spokesman, who urged party supporters and members not to be disturbed by Monday's condemnable incident, implored all to continue trooping out en-masse for the remaining campaigns and vote massively for only APC candidates in the forthcoming general elections.
"This is one act of indiscipline too many. The APC will not condone acts of indiscipline, indiscretion, and anti-party activities from any party member no matter how highly placed.
"The party will review this gross misconduct of deliberately positioning thugs to attack and embarrass the President and the party's leadership. The party will take a decision on this matter immediately after the elections," the statement read in part.
APC CONGRESS: LAGOS WILL ADOPT CONSENSUS CANDIDATE, SAYS GAC
APC CONGRESS: LAGOS WILL ADOPT CONSENSUS CANDIDATE, SAYS GAC
…Party To Hold Stakeholders' Meeting across The State On Thursday
AJAGBE ADEYEMI TESLIM
SPONSORED BY: H&H
Governor's Advisory Council (GAC), the highest decision making body of Lagos State All Progressives Congress (APC) has declared that the party will adopt a consensus arrangement for its ward congress scheduled for Saturday, July 31 to elect ward executives.
The GAC, which comprised prominent leaders of Lagos APC across the State, said it has directed party officers at all levels to engage in dialogue that would lead to meaningful reconciliation of those who are in disagreements to accommodate members that are willing to serve the party.
Speaking to journalists on behalf of the GAC members after the council meeting held at Lagos House, Marina, Prince Tajudeen Olusi, said the GAC has directed all leaders and party officers to dialogue in the spirit of brotherhood to decide those who are going to lead the party after congresses.
He said: "We deliberated on the incoming state congresses of our party and later the national convention. We have resolved and directed officers of our party at all levels to engage in dialogue that would lead to meaningful reconciliation of aggrieved members within the party in other to ensure that all opinions are accommodated and all members who are willing to serve the party are given positions in the various executive bodies at ward, local and state levels.
"This we have done and we are sure all officers of our party will follow the consensus decision that we have taken so as to ensure that all willing members of the party who want to serve are considered.
"We have also directed that they should hold stakeholder meetings at all local government levels where leaders and officers will sit down, talk together in the spirit of brotherhood and decide who will lead the party after the congresses."
The GAC also appreciated Lagosians for reposing confidence in the APC. "We have reviewed events in the party, and particularly we have also received results of the last local government elections. We thank the press, members of the public, particularly the voters of Lagos State for reposing their confidence in our party as they have always done. We are grateful for this," he said.
Also speaking, Lagos APC Chairman of Caretaker Committee, Alhaji Tunde Balogun said the party ward executives would emerge through consensus on Saturday, adding that APC would hold stakeholders meetings in all the local governments in the State on Thursday.
He said: "Next Saturday, we are having a ward congress which will lead to the formation of our party officials. We are having our stakeholders meeting tomorrow (Thursday) and there, we will decide on what to do. The stakeholders' meeting is taking place in all the 20 local governments in Lagos State; all local governments will hold the meeting.
"We are engaging a lot of stakeholders and we are going to do the ward congress on consensus.
Consensus arrangement has been adopted by the party. We will be doing that for Lagos State. We have decided to adopt the consensus arrangements, which is constitutional. It is part of the provision of our party."
Commenting on the outcome of last Saturday's local government elections in Lagos State, Balogun said APC won the election landslide with about 584,000 votes across the State, while the main opposition party, the People's Democratic Party (PDP) scored about 81,000 votes.
"We had a peaceful, free, fair and credible election, which was conducted very well by LASIEC and of course, Lagos State APC polled a total of about 584,000 votes while our closest rival PDP had 81,000 votes. We have to be thankful to the residents and voters in Lagos State, who had shown so much confidence and trust in APC. We will continue to deliver the dividend of democracy," he said.
The GAC meeting was attended by Lagos State Governor, Mr. Babajide Sanwo-Olu; his deputy, Dr. Obafemi Hamzat; former deputy governors, Prince Abiodun Ogunleye and Dr. Idiat Oluranti Adebule; Speaker of the Lagos State House of Assembly, Rt. Hon Mudashiru Obasa, former Secretary to Lagos State Government, Otunba Olorunfunmi Bashorun; Senator representing Lagos East Senatorial District, Senator Tokunbo Abiru, Prince Olusi and Balogun, among others.
Primate Ayodele Releases Fresh Prophecy On Anambra Governorship Election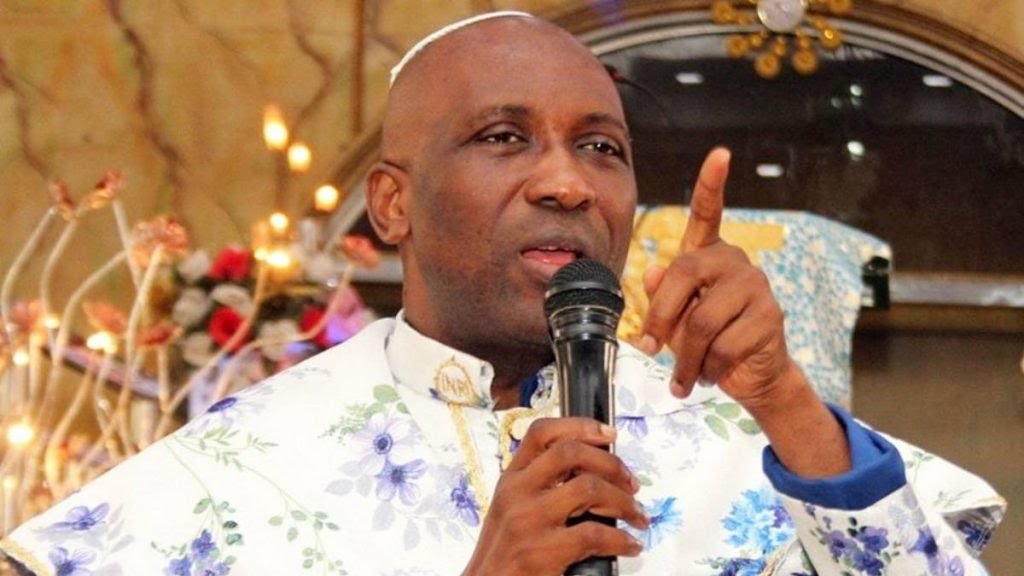 P
rimate Ayodele Releases Fresh Prophecy On Anambra Governorship Election
AJAGBE ADEYEMI TESLIM
SPONSORED BY: H&H
The Leader Of INRI Evangelical Spiritual Church, Primate Elijah Ayodele has released another set of prophecies on the soon coming governorship election in Anambra state.
In a statement released by his media office, Primate Ayodele made it known that God showed him some of the things that will come up in the election that needs to be fought by the candidates.
He made it known that the election will determine so many things ahead of 2023 and that the ruling party wants to go all out to rig the election in favour of its candidate.
Primate Ayodele noted that the candidates of other parties will be accused of criminal offences by the ruling party and that it will lead to crisis in the state.
''I'm sad at what the Lord has shown me, All the candidates that want to contest will be accused by the ruling party, from the most popular to the least popular, they want to set them up and indict them of criminal offences just to ensure their candidate succeeds, no candidate is exempted. Anambra election will determine so many things, I see advanced form of rigging by the ruling party''
'' There have been riggings in Nigeria election but this will be an advanced form of rigging. It will be a very serious thing that will lead to uprising by the people of Anambra. Let them be careful, I see three powerful people planning this rigging because if it's about free and fair election, the ruling party will not win.''
Continuing, Primate Ayodele adviced other political parties and candidates to work against rigging before talking about winning the election.
''Before the candidates talk about victory, let them settle rigging by the ruling party because conclusions have been made to carry out this advance form of rigging. All candidates need to come out to fight this before the election''
''The ruling party wants to rig Anambra election, all candidates must rise to this, they can't win but they are determined to rig. Only rigging can make the ruling party win the election.''
''This is not an opinion but what God showed me, the ruling party is fighting those that will win this election, let them wake up, do the needful and guide against it. God has shown me who the winner is but if all the candidates don't rise up now, the ruling party wants to use federal might to win this election''
SANWO-OLU MOURNS LAGOS APC TREASURER, SUMBO AJOSE
SANWO-OLU MOURNS LAGOS APC TREASURER, SUMBO AJOSE
 AJAGBE ADEYEMI TESLIM (IKEJA)
SPONSORED BY:H&h
Lagos State Governor, Mr. Babajide Sanwo-Olu, has expressed sadness over the death of the Treasurer of Caretaker Committee of the Lagos State chapter of the All Progressives Congress (APC), Sumbo Ajose.
He said the demise of Ajose, who died at 55 in the United States, where she was receiving treatment for an undisclosed ailment on Tuesday July 13, was a big loss to her family, friends, associates and the ruling party.
Governor Sanwo-Olu in a statement issued on Wednesday by his Chief Press Secretary, Mr. Gboyega Akosile, described the late party Treasurer as trustworthy, committed, extremely loyal politician and an invaluable asset to Lagos APC.
Sanwo-Olu also expressed his deepest condolences to the immediate family and friends of the departed, Lagos APC caretaker chairman, Hon. Tunde Balogun and the entire members of the party executive over the death of the late Ajose.
Sanwo-Olu added that the deceased, who was his personal friend and co-traveller in progressive politica was accountable and rendered selfless service to the party during her tenure as Treasurer without any blemish record.
"The death of the Treasurer of our party, Sumbo Ajose, is a painful and big loss to me personally, Lagos APC, the deceased family and friends. I am saddened by the passage of this indefatigable, devoted, loyal and committed democrat and team player who played remarkable roles in the success of our party during her lifetime.
"She will be missed by her family, friends and the entire political class, particularly Lagos APC State Executive Committee, chieftains and members of the party across the State," he said.
Governor Sanwo-Olu prayed that God would grant "the soul of our beloved Sumbo Ajose eternal rest and comfort the immediate and political family of the deceased."