CIBN President, Olugbemi Says eNaira 'II Deepen Financial Inclusion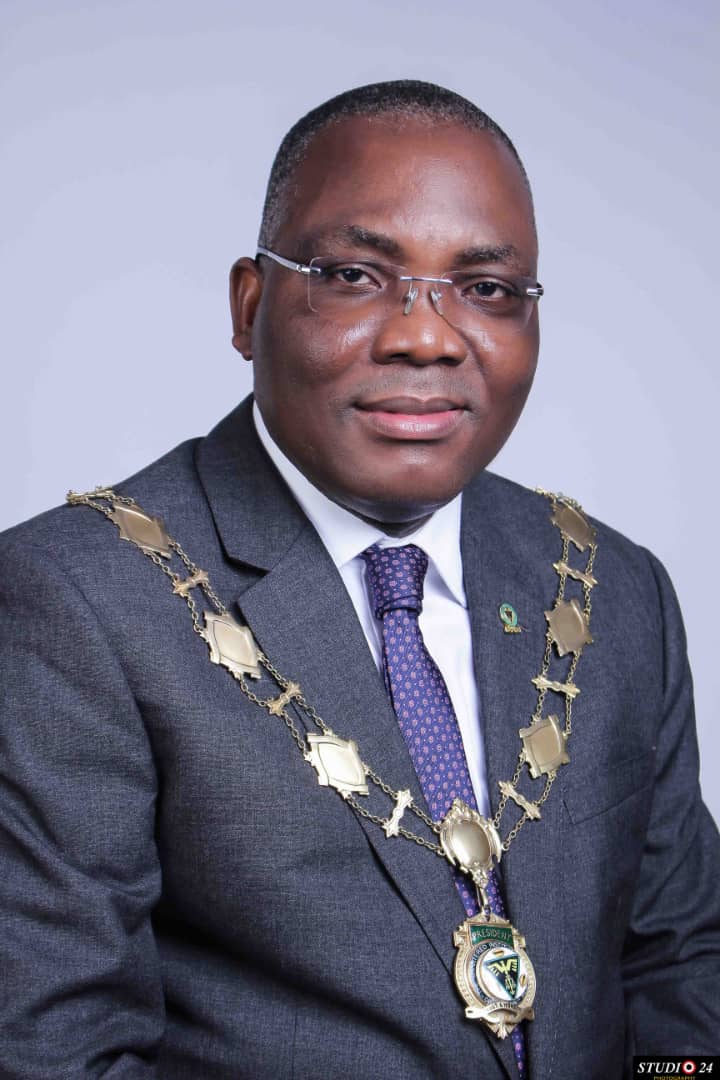 CIBN President, Olugbemi Says eNaira 'II Deepen Financial Inclusion
AJAGBE ADEYEMI TESLIM
SPONSORED BY: H&H
The President of the Chartered Institute of Bankers of Nigeria (CIBN), Dr. Bayo Olugbemi has commended the introduction of the country's first digital currency, eNaira, saying it
was part of measures to deepen financial inclusion and integrate millions of unbanked Nigerians into the banking system.
Dr. Olugbemi, who spoke at the 56th Annual Bankers Dinner of the institute, noted that while the modality for the operation of the Central Bank Digital Currency (CBDC) is being finetuned, the launch of the electronic currency was a step in the right direction.
He commended CBN governor, Godwin Emefiele for innovative introduction of eNaira, saying" I have no doubt in my mind that it is a welcome development and a step in the right direction.
"Equally worthy of note is the improvement, though slight, being witnessed in the exchange rate of the Naira. I wish to call for its sustenance. We are certainly working in interesting times with global growth rate at its lowest and traditional norms being challenged on a daily basis."
Olugbemi, who was attending his last CIBN dinner as the president of the institute as he would be handing over the mantle of leadership of the institute by May 2022, noted that his tenure builds "on the solid foundation laid by our predecessors, rooted in the tradition of constantly leaning forward into the future.
He thanks members of the institute for their support in the implementation of the A-TEAM Agenda of his administration. "I want to assure you that the Institute will continue to devote its resources to the development of competencies whilst strengthening observance of ethics and professionalism in the banking industry.
He said traditionally, the Annual Bankers Dinner is the "CBN Governor's Day" because it affords stakeholders' the rare privilege of interacting and listening to Mr. Governor as he examines critical issues and fundamentals which has affected the banking industry within the year.
In his keynote address, the Governor of the Central Bank of Nigeria (CBN), Mr. Godwin Emefiele who was the Special Guest of Honour stated that "In less than 4 weeks since its launch, almost 600,000 downloads of the e-Naira application have taken place. "Efforts are ongoing to encourage faster adoption of the e-Naira by Nigerians who do not have smartphones.
"The support of the financial industry will be critical in the ongoing deployment of the e-Naira and efforts are ongoing to encourage continued partnership between the CBN and stakeholders in the financial industry,'' he said.
The CBN governor noted that building a robust payment system that would provide cheap, efficient, and faster means of conducting payments for most Nigerians have always been the focus of the apex bank.
Emefiele said that total transaction volumes using digital channels more than doubled between 2018 and 2020, as volumes rose from 1.3 billion to over 3.3 billion financial transactions in 2020.
He said that Digital payment channels also helped to support continued conduct of business activities during the lockdown.
He said the banking sector robust payment system has continued to evolve towards meeting the needs of households and businesses in Nigeria, reflective of the confidence in our payment system, indicating that between 2015 and September 2021, about US$900 million has been invested in firms run by Nigerian founders.
Mr. Emefiele also stated that the policies created to ensure stability in the exchange rate saw more transactions flowing through the official Investors & Exporters FX window (I&E FX Window) which raised its average daily Fx turnover to $250 million from $40 million in April 2020.
Gov. Babajide Sanwo-Olu in his remarks stated that, bankers "must ensure that the fundamental economic indicators, both micro and macro, of our economy, are a true reflection of what the realities are in the various sectors of the economy."
Sanwo-Olu said, "We will certainly need to review the traditional economic and monetary models in the face of changing realities and the desire to achieve maximum impact and outcome vis a vis our policy objectives.
"But even as we do this, we must never lose sight of our primary mandates as institutions and organizations. He said the funds banks deploy must create jobs, boost exports, build capacity, and guarantee prosperity for significant numbers of our population.
The Niger State governor, Abubakar Sani Bello and Chairman North Central Governors Forum using the forum to donate a facility in Minna, the state capital to the Chartered Institute of Bankers in Nigeria (CIBN) to serve as the North Central Regional Office in other to strengthen the relationship between the Banking industry in Nigeria and the North Central part of the country.
Highlights of the event was the presentation of the various awards to Next Generation Class of 2021 which recognizes a class of young bankers who are excelling and have contributed exceptionally to the industry and economy with your institution; X-factor Award which recognizes a leading female banker breaking the glass ceiling and inspiring a more gender inclusive Industry was awarded to OlaronkeKing; Affiliated of the year Award which recognizes an industry affiliate/agent whose performance has enhanced the Industry's goal of financial inclusion was Award to Paystack Payments Limited ; Next Generation Customer Award which recognizes a business in an identified strategic sector that has been catalyzed by the industry's support was awardes to Faith Agro and the Covid-19 Response Banker of The Year Award which recognizes employees that innovatively stepped up beyond the call of duty in the fight against Covid-19, to ensure business continuity despite the scourge of the pandemic was jointly awarded to Ameachi Okobi of Access Bank and Dr. Segun Oghuan of FBN Ltd
The Group Managing Director/CEO of Wema Bank Plc, Mr. Ademola Adebise served as the Chairman of the Organising Committee of the event.
The Annual Bankers Dinner had in physical attendance Commissioner's of Finance and Budget and planning of various states, Chairmen of Banks, British Deputy High Commissioner to Nigeria, President, IoD; Deputy Governors of the Central Bank of Nigeria; President of Professional Bodies; Director-General, SEC and his Commissioners; MD/CEOs of banks; Past Presidents and Registrars of the Institute, Diplomats, Captains of Industries, Business leaders, and financial analysts.
NdaniTV Releases 5th Season of Real Talk Show
AJAGBE ADEYEMI TESLIM
SPONSORED BY: H&H
NdaniTV has released new photos and a teaser video from the 5th season of its Talk show, Real Talk.
The production company has also unveiled the multi-talented, Bisola Aiyeola, as the host for this season and if the teaser video is anything to go by, we are in for an exciting season!
Real Talk was first launched on the NdaniTV YouTube channel in 2016 and had a number of popular hosts including Nicole Asinugo and Cornelia O'Dwyer.
The talk show brings celebrities together to speak on societal issues and a lot more. The new season is set to launch on YouTube on the 20th of January 2022.
NdaniTV is Africa's premiere platform for original web series and is home to some of the most popular series including Gidi Up, Rumour Has It, Skinny Girl in Transit, Officer Titus and more.
With over 441,000 subscribers on YouTube and over 109 million minutes in watch time, the channel is one of the fastest growing platforms for original content out of Nigeria and made for Africans.
NdaniTV content remains free to view on YouTube and is powered by GTCO PLC.
Dangote Refinery to Reduce Africa's Petroleum Importation by 36%, says APPO

AJAGBE ADEYEMI TESLIM
SPONSORED BY: H&H
African Petroleum Producers Organisation (APPO) has said that the establishment of Dangote Oil Refinery will bring about a 36 per cent reduction in the importation of petroleum productions into the continent.
Besides, the organisation expressed a belief that the success of Dangote Refinery project could incentivise the rise of similar projects across Africa despite the current focus on energy transition.
The Secretary-General, African Petroleum Producers Organisation, Dr. Omar Farouk Ibrahim, said in an interview that Dangote Refinery shall be supplying over 12% of Africa's products demand when it becomes operational.
Ibrahim stated, "To appreciate the impact that the Dangote refinery is going to have on African economies and especially on the supply of petroleum products, and to some extent the conservation of scarce foreign exchange, a look at some statistics on the continent's petroleum products demand and supply is in order.
"Currently, Africa's daily petroleum demand is 4.3 million barrels per day (mbd). Of this volume, 57% is produced locally (on the continent) while 43% is imported. When Dangote is fully onstream, the percentage of Africa's products import shall drop to 36%. This is even as the total volume of products demand rises to 5.4 mbd. You can therefore see the huge impact that Dangote refinery shall be making to overall products supply in Africa. Dangote shall be supplying over 12% of Africa's products demand.
"That is huge savings for a continent that has scarce foreign exchange and little to export. We shall save from buying abroad and from shipping and insurance costs. Furthermore, the success of Dangote could incentivise the rise of similar projects, the noise about energy transition notwithstanding," oil analyst noted.
Ibrahim also hailed Dangote's decision to go ahead with the construction of crude oil refinery despite a campaign against fossil fuels, adding that the demand for fossil fuel is going to continue for several decades to come.
"We believe that Dangote made a very wise decision to proceed with the project, despite the campaign against fossil fuels. There will be demand for petroleum products for many decades to come. Indeed, we see petroleum products prices rising steadily in the next few years for at least two decades.
"This is because new refineries are not coming up in Europe and North America, where Africa imports 34% of its supplies, because their governments have embraced energy transition, some willingly, others due to pressure. So, some of the sources of Africa's imports are going to dry up. At the same time, Africa will not be in a position to fast track the development of non-fossil fuels.
"In fact, even the developed countries will not be able to move as fast as is projected. We see Africa and many regions of the world continuing to rely on fossil fuel energy at a time when deliberate decisions are being made to stop funding fossil fuel projects. The world risks abandoning fossil for renewable, but in the end not getting the renewables, and at the same time losing the fossils due to deliberate neglect", he explained.
Ibrahim urged African refiners to invest more on technology and develop the right expertise to manage their refineries, which are going to serve the continent as western refiners halt the establishment of more refineries.
He stated, "African refiners have no cause to worry about their investments. All they need to do is to ensure that they have developed the right expertise to manage their refineries, get honest managers and staff to run their business and come together to join APPO's initiative to establish foundries and other equipment manufacturing plants to service their refineries. Once they have these, the market is there for their products.
"For the next three decades or more, Africa shall continue to use fossil fuel-driven vehicles and with its population projected to double within that period, there will be a huge market for petroleum products. Africa cannot rapidly transit into electric vehicles, as the bulk of the vehicles on our roads today and in the next 20-30 years are going to be non-electric. There is the market, and we should not be discouraged from thinking positively", the APPO scribe noted.
He disclosed that APPO is working with its Member Countries to construct cross border energy infrastructure like pipelines for crude and products as well as for oil and gas terminals, depots etc.
"Once we have this infrastructure on the ground, the markets for African Continental Free Trade Agreement, which came into force in 2021, is there to support this initiative", he added.
FIRSTBANK REWARDS CUSTOMERS IN TRANSACT AND WIN PROMO
August24news.com
SPONSORED BY:H&H
Getting rewarded for spending money is a dream that is probably going to remain exciting for many people, but not for the Firstmonie Wallet users. In a two month Transact and Win campaign that started on November 22, 2021, First Bank of Nigeria Limited is rewarding several customers for carrying out transactions on its Firstmonie Wallet application. 
The e-wallet is useful for conveniently paying utility bills, purchasing airtime and data, transferring and receiving money, and many other digital transactions. Just for using the mobile-friendly wallet app, Customers got rewarded with mouth-watering prizes both in cash and kind. The number of transactions done on the app determines the price a user could win.
100 customers who had done 1-15 transactions through Firstmonie Wallet within the month won N10,000 cash price; 53 25kg bags of rice and 50 units of standing fans were also won by customers who carried out 16 – 30 transactions with the Firstmonie Wallet; 2 units of power generating sets, 1 unit of Air Conditioning systems and 1 unit LED Televisions went to customers who carried 31 – 50 transactions; while 2 units of iPhone 12 were won by customers who had carried out over 50 transactions on the app within the month.
Victor Nnanna Onyedikachi, a student of the University of Abuja was one of the winners of the iPhone 12, and while receiving his gift, he admitted that he did not expect to win the prize. "I used the Firstmonie Wallet App, and just like that, I was told that I had qualified. I did not believe it until I saw it myself. I am truly grateful to FirstBank" he said.
Other winners also expressed their pleasure at being rewarded for using a completely user-friendly app. "There is no issue of service error when using it for any transaction. The service is seamless and the app is easy to use" one of them said.
The Group Executive, e-Business & Retail products, Mr Chuma Ezirim had noted that the promo was targeted at appreciating customers for their patronage; and in line with the Bank's December-is-a-Vybe campaign. "This promo is hinged on the need to appreciate our customers for their patronage, especially as we have had an increased engagement and usages of the various services offered by our mobile-friendly wallet product," Ezirim said when the promo was being launched.
Interestingly, the promo also includes new customers and users of the app. By simply downloading the mobile app from the play store, or using the *894# USSD string to sign up, anyone can qualify for the promo. The promo runs till January 22, 2022, so what are you waiting for as you could be the next winner of any of these fantastic prizes.
As the premier Bank in West Africa and the leading financial inclusion services provider in Nigeria for over 127 years, First Bank of Nigeria Limited has remained at the forefront of promoting digital payment in the country, and the Firstmonie Wallet is one of the channels for digital transactions.
Little wonder FirstBank was named "Most Valuable Bank Brand in Nigeria" six times in a row (2011 – 2016) by the globally renowned "The Banker Magazine" and "Best Retail Bank in Nigeria" for seven consecutive years (2011 – 2017) by the Asian Banker International. FirstBank also bagged the Excellence in Retail Financial Services Awards and "Best Bank in Nigeria" by Global Finance for 15 years.
Culled from Nairametrics