England's 1966 World Cup-winning goalkeeper Gordon Banks has died aged 81
ADETOLA, M.A
Regarded as one of the game's greatest in his position, Banks was named Fifa goalkeeper of the year six times and earned 73 caps for England.
He is perhaps best known for his wonder save from Pele during the 1970 World Cup against Brazil. Born in Sheffield, he won the League Cup with Stoke and Leicester, before retiring in 1973.
"It is with great sadness that we announce that Gordon passed away peacefully overnight," his family said."We are devastated to lose him but we have so many happy memories and could not have been more proud of him."
Sir Bobby Charlton, who was part of the team alongside Banks that won the World Cup in 1966, said: "Gordon was a fantastic goalkeeper, without doubt one of the best England has ever had.
"I was proud to call him a team-mate. Obviously we shared that great day in 1966 but it was more than that. "Even though I was on the pitch and have seen it many times since, I still don't know how he saved that header from Pele."
Banks is the fourth player of the England team that started the 1966 World Cup final to have died, after Bobby Moore, Ray Wilson and Alan Ball. Another of that XI, Sir Geoff Hurst, tweeted: "One of the very greatest. Thinking especially of Ursula, Julia, Wendy and Robert. Sad for football, Stoke City and England fans."
Stoke chairman Peter Coates said Banks, who made 250 appearances for the club, had been "poorly for a number of weeks". He told Radio 5 live: "He made his home in Stoke, and was very much part of the fabric of the club. You don't get too many like him, and he was immensely modest for all his talent.
"He was England's greatest goalkeeper when they had their finest hour." England and Manchester City forward Raheem Sterling was among the first to pay tribute, tweeting: "Of course there was that save, but it's so much more we are mourning today. RIP Gordon Banks. England legend, your legacy will live on."
Former England striker Gary Lineker said: "An absolute hero of mine, and countless others, England's World Cup winner was one of the greatest goalkeepers of all time, and such a lovely, lovely man." Ex-England goalkeeper Peter Shilton, who replaced Banks at Leicester, tweeted: "I'm devastated – today I've lost my hero."
"A world Cup winner, a legend.  RIP Gordon Banks," tweeted Leicester and England defender Harry Maguire, while Watford keeper Ben Foster said: "Had the pleasure of meeting you as an 18-year old-with my Dad, and him being completely star struck by you. Total gent. You will always be a member of the Goallys Union."
Primate Ayodele's Prophecy On Railway Explosion Comes To Pass
Primate Ayodele's Prophecy On Railway Explosion Comes To Pass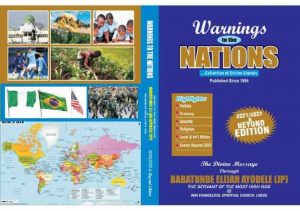 August24news.com
Sponsored by: H&H
In the prophetic ministry, Primate Elijah Ayodele is definitely not an underdog, He is one of the pacesetters of the prophetic calling in the world at the moment.
He didn't just attain that height, He got to that stage in accordance with the word of God that says a true prophet is known when he speaks and it comes to pass. Primate Ayodele is a living epistle of how the word of God described who a prophet is.
Primate Ayodele isn't a messenger of God that speaks out of intelligence or what is currently happening, he speaks about things to happen in the future and surprisingly, they come to pass. One distinct thing about his ministry is that he has been publishing a prophecy book titled 'Warnings To The Nations' since 1994 that talks about things to happen in years to come. Since he has been publishing it, over 10,000 prophecies have been fulfilled with proofs to back them up.
In the most recent edition of 2021/2022, several prophecies have been fulfilled already. The attack of Taliban on Afghanistan, attack on Mali president, military takeover in Guinea, economic crisis in the United Kingdom, Nigeria's economic crisis, disagreement between Nigerian governors, jail break in Nigeria, increase in price of commodities, many others were part of the warnings in the latest edition that have come to pass already.
Meanwhile, another one has just been fulfilled again. A former Nigerian senator, Shehu Sani had revealed in the early hours of today that he miraculously escaped death after unknown bandits bombed an Abuja-Kaduna train.
On page 146/147 of WTN 2021/2022 edition, Primate Ayodele spoke extensively on the Nigeria railway commission and warned that they should be watchful of explosions. This book has been released since June 2021, and this occurrence has just confirmed the credibility of Primate Ayodele's prophetic calling.
Of a truth, Primate Ayodele is a prophet everyone including the government should listen to. This book alone is a guide for every serious individual. Every sector of the society including sports, education, politics are captured in the prophecy book which can be gotten at his church; INRI Evangelical Spiritual Church.
Written By Adewuyi Ololade
Lagos Speaker Obasa Meets Nigeria's Ambassador to Spain
Lagos Speaker Obasa Meets Nigeria's Ambassador to Spain
AJAGBE ADEYEMI TESLIM
SPONSORED BY: H&H
The Speaker of the Lagos State House of Assembly, Rt. Hon. (Dr) Mudashiru Obasa, on Wednesday evening met with Nigeria's Ambassador to Spain, Chief Demola Seriki.
The Speaker's visit to Seriki comes few days after the king of Spain, Felipe the sixth received a letter of credence from the ambassador.
A statement by Obasa's media office quotes the Speaker as saying that the meeting with the ambassador was partly to congratulate him and to discuss issues that would be beneficial to Lagos and Nigeria.
"Ambassador Seriki is one person that can never be wished away in the scheme of the progress of Nigeria. He remains a team player and always ready to contribute to the advancement of Lagos and the country.
"Remember he is a respected political leader in Lagos State.
"His appointment as ambassador, therefore, did not come as a surprise to many of us and we are certain he will not let his country and State down. He has shown capacity and capability over time, his experience is always needed.
"Therefore, this visit is to congratulate him, assure him of our support at all times and further encourage him to continue to play his positive roles as we work for the progress of our country."
Recall that Demola Seriki, the Otun Aare of Lagos and former Minister of State for Defence, was appointed by President Muhammadu Buhari in January 2021.
He recently presented his letter of credence to the king in a ceremony that had the Spanish minister of foreign affairs and EU Cooperation in attendance.
It is noteworthy that Seriki is also a Permanent Representative of Nigeria to the United Nations World Tourism Organization (UNWTO).
African Union calls for peace conference on Libya in July
ADETOLA, M.A
The African Union (AU) has proposed a global conference in July to try to resolve the conflict in Libya with the aim of holding elections in October. The goal of the summit would be to set the framework for nationwide polls to take place in October
A statement on Tuesday said the 55-member body would like to hold "an international conference on reconciliation in Libya under the auspices of the AU and UN" during the first half of July. The declaration also requested the AU commission, alongside the United Nations and the Libyan government, take "all the necessary measures for the organisation of presidential and legislative elections in October 2019".
The North African country has been torn apart by power struggles and undermined by chronic insecurity since the NATO-backed ousting of Muammar Gaddafi in 2011.
The country has at least two rival administrations. One, recognized by the UN, is based in the capital Tripoli. While the other has made its headquarters the eastern city of Tobruk.
In addition, there are dozens of armed groups vying for power and state wealth. Suicide bombers have targeted a number of Libya's vital institutions as armed groups take advantage of the chaotic political situation.
In a separate development, forces loyal to General Khalifa Haftar of the self-declared Libya National Army (LNA) assumed full control of El Sharara, Libya's biggest oil field.
The LNA reached a remote pumping station in El Sharara last Wednesday but hadn't moved on the main field, which a force of state guards and tribesmen had seized and shut down in December.
"Peacefully, with no resistance, LNA has full control over Sharara oilfield with all its facilities," the LNA spokesman said on Twitter, adding the facility was being secured.