Food Crisis: Experts Warns, Canvass Support for Flour Milling Industry
Food Crisis: Experts Warns, Canvass Support for Flour Milling Industry
AJAGBE ADEYEMI TESLIM
SPONSORED BY: H&H
Citing the prevailing economic conditions and unfavourable regulatory frameworks, economic analysts at the financial, business and economic information hub – Proshareng, have warned the nation of an impending food crisis.
According to a recently published review of the wheat value chain, the analysts explained that due to the disruption to vital supply chains, globally and locally, as a result of several COVID-19 curtailment policies, and unfavourable FX regimes, and insecurity issues in the wheat-planting belt of Nigeria, securing food for the average Nigerian is becoming tougher to sustain.
The report highlighted the profit eroding effects of the shrinking global wheat production levels, increasing cost and skyrocketing freight/ free on board (FOB) rates placed on Nigeria-bound goods on the revenue of flour millers and bakers.
It submitted that the current price hike in the global wheat market, which the local millers rely upon to bridge the expansive supply short-fall occasioned by the low level of domestic wheat production, constitute an operational strain that is heavily impacting the cost of production of millers and have the potential to further elevate wheat-based staples prices.
Highlighting recent price volatility in the global wheat market, the analysts noted that from as early as the first quarter of 2021 the global price of wheat rose to US$642 per bushel in January 2021 and then US$650 per bushel by the end of the quarter. Further market pressures saw price settle at US$726.75 per bushel in May. By the end of June 2021, price dropped to US$693.5 per bushel, while yet another spike pushed price to US$707 per bushel in July 2021.
The sector report revealed how the millers and bakers absorb the inflationary burden and the impact of rising global wheat cost on the cost of wheat-based products. Adding that wheat-based food products are fairly price elastic and therefore any rise in the price of these products in the local markets can potentially heighten pressure on the disposable income of Nigerians, many of whom fall within the C, D, & E socio-economic spectrum.   The experts at the well-respected economic information portal revealed that a likely third wave of COVID-19 outbreak, considering the widening spread of the new Delta variant in addition to several early knocks, could see the bottom fall out entirely for the flour milling industry.
The flour milling industry plays a significant role in providing Nigeria's ever-growing population access to relatively cheaper staples. Recent industry reports show that 45% of the food variants served in Nigerian homes are wheat derivatives, and account for 75 million of the daily food portions in Nigerian households.
They urged the government to allow the millers to access FX at the I&E window, suspend the 15% cassava levy, explore other measures to support the millers and bakers, as well as assist local wheat farmers to acquire improved wheat seed varieties. They pointed to strategic tax concessions in areas that align with the backward integration target of the CBN amongst others as further measures that would forestall a cave-in of the flour milling industry.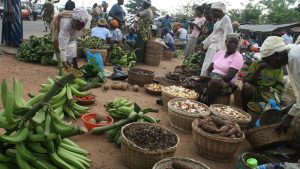 Fidelity Bank Empower Entrepreneurs to Play Big in The Non-Oil Export Market
Fidelity Bank Empower Entrepreneurs to Play Big in The Non-Oil Export Market
AJAGBE ADEYEMI TESLIM
SPONSORED BY: H&H
For developing countries such as Nigeria to accelerate economic growth, there needs to be greater private sector participation in their export sectors. This was made known by Isaiah Ndukwe, Divisional Head, Export and Agriculture, Fidelity Bank PLC, at the just concluded 11th edition of the Fidelity Bank Export Management Programme (EMP 11).
Held at the Lagos Business School, from the 4th to 8th of October 2021, the programme, covered a wide range of topics including export documentation and application of export development processes and was facilitated by leading faculty from Lagos Business School, staff of the Nigerian Export Promotion Council (NEPC) and experts in financial management and exports.
"Year-in, year-out, Fidelity Bank has demonstrated its resolve to help diversify the Nigerian economy and increase export earnings.
One of the ways we are doing this is through the Export Management Programme which provides participants with the knowledge needed to navigate both the international non-oil export market and the larger export market," explained Mrs. Nneka Onyeali-Ikpe, Managing Director, Fidelity Bank PLC when tasked on the rationale behind the programme.
The importance of exports has continually been emphasized by various bodies as it provides a means of increasing the markets for producers and especially in Nigeria's case, an opportunity to attract much needed foreign exchange earnings.
In fact, Akinwunmi Adesina, President of the African Development Bank (AfDB), speaking recently at the Mid-term Ministerial Performance Review Meeting on the topic: 'Nigeria's Economic Resurgence: The African Experience' expressed worry over disincentives to non-oil exports in the Nigerian economy. He therefore urged Nigerian fiscal authorities to remove bottlenecks in non-oil exports in order to promote economic resurgence.
One of the participants of the EMP 11, Mr. Kelechi Chukwukezirim, Chief Executive Officer of Dot Global Resources Nigeria Ltd said, "I am thankful to Fidelity Bank and Lagos Business School for this insightful and highly educative program. I came here with just an awareness of export management. However, my experience in the past five days has taken me from point zero to over 40% of quality knowledge on export management.
I am enthused at the network and platform this program created that I could leverage going forward. I am excited at what the future holds in this regard".
According to Mrs. Onyeali-Ikpe, "Previous editions of the EMP have recorded outstanding successes and made marked impacts in the lives and businesses of the participants. We are proud to say that the just-concluded eleventh edition is no exception.
The feedback we have gotten from facilitators and participants alike have been nothing short of encouraging. The turnout was tremendous and we are certain that we will witness astonishing results as the participants put what they learnt into practice."
Outspan Deepens BIP Efforts, Inseminates 100 Cattle to Boost Local Milk Production
Outspan Deepens BIP Efforts, Inseminates 100 Cattle to Boost Local Milk Production
AJAGBE ADEYEMI TESLIM
SPONSORED BY: H&H
Outspan Nigeria Limited (Outspan), a subsidiary of Olam International Limited (Olam), a leading agribusiness conglomerate, as part of a series of initiatives to boost local milk production in Nigeria, on Tuesday, October 5, 2021, flagged-off an artificial insemination programme for 100 dairy cattle in Dawakin Tofa Local Government Area (LGA), Kano state. This initiative, sponsored by Outspan is being executed in partnership with the Kano Dairy and Livestock Husbandry Cooperative Union (KADALCU).
The artificial insemination programme, according to the firm is part of its larger backward integration programme (BIP) and scaled dairy sector effort that builds on the initial setup of two fully-equipped milk collection centres (MCC) in Dalhassan and Dawakin Tofa areas of the state, in addition to the upgrade of a third MCC sited inside the Federal Ministry of Agriculture and Rural Development (FMARD) donated building also located within the sprawling milk-producing state.
The milk value chain development efforts are targeted at increasing the quantity as well as improving the quality of local milk production. It is expected that these efforts will help bridge the huge gap between local milk production and local milk consumption demand which currently stands at a staggering 70%.
Speaking during the flag-off ceremony, Manish Khede, Regional Manager at Outspan said Olam is strongly committed to backward integration ventures across its operating markets. This underpins the value chain development approach in driving food security, expanding the pool of employment opportunities and strengthening the gross domestic product (GDP) of the countries.
"Nigeria consumes an estimated 1.7 million metric tonnes of dairy products annually, of which only 30% are produced locally. We believe the gap can only be closed by partnering private investors and farmers to develop end-to-end value chain solutions," he said.
He added, "This is in line with Olam's mission of re-imagining global agriculture and food systems to provide food that's better for farmers, communities and our world. We know this can only be achieved in the long term by creating value for all stakeholders aiming to put more back into food and farming systems than is taken out."
Explaining further about Outspan's BIP, Manish Khede, said, "Apart from the MCCs, feed supplementation and artificial insemination programme, we also have plans for pasture development and small-scale model farm operations, amongst other initiatives to engage and support local communities. We look forward to getting these plans off the ground shortly – we are already in talks to secure a suitable piece of land to kick start the pilot phase for pasture and farming. We are working closely with KADALCU and the Kano State Government."
Kabiru Ali, the representative of Samaila Umar Ganduje, the District Head of Dawakin Tofa, at the flag-off ceremony, expressed his joy at the development brought into the community by Outspan.
He enthused, "Our dairy farmers will now be able to produce more milk through this artificial insemination programme. They will also make money from selling this increased milk quantity to take care of their families. What Outspan has done is laudable."
Kabiru Abdullahi who represented the Director of Livestock at the Kano Ministry of Agriculture & Natural Resources (MANR) at the event thanked Outspan for its various investments into developing the local agriculture value chain. He said that the state government is happy with the private investment drive and all the key partnerships being utilized by Outspan to implement its dairy developmental programmes.
Bilkisu Mahe Wali, Branch Controller, Central Bank of Nigeria (CBN) Kano, who was one of the special guests at the event also said, "I am happy that these diary value chain development activities are taking place in our local government. These initiatives will increase local milk production in such a way that in the nearest future our dairy farmers will be exporting fresh milk to countries within the West African region."
Olam as an organisation has always been committed to backward integration in its global ventures including Nigeria, where it has been operating for more than 30 years. Some of its flagship BIP include a 10,000-hectare rice farm and fully integrated rice mill in Nasarawa state, Tomato farm project in Jigawa state and investments in the Animal Feed Mill and Hatchery in Kaduna, amongst others.
KSADP PROCURES N60. 6 MILLION STATER KITS FOR ANIMAL HEALTH IMPROVEMENT
KSADP PROCURES N60. 6 MILLION STATER KITS FOR ANIMAL HEALTH IMPROVEMENT
TESLIMAT TOLUWALASHE TESLIM Kano
SPONSORED BY: H&H
Kano state Agro-Pastoral Development Project, KSADP has awarded contract in the sum of N60, 621, 500, for the supply of starter kits for 220 Community Animal Health Workers also known as Paravets.
The kits will contain a variety of vet tools, assorted animal drugs, cold boxes, lab coats, rain coats and boots.
This is coming ahead of the engagement and training of the Paravets by the project, to enable them deliver basic animal health services in their localities.
Shortly after signing the contract, which was awarded to SUMAK General Merchants, the State Project Coordinator, KSADP, Malam Ibrahim Garba Muhammad stated that five Paravets will be selected from each of the 44 local government areas of the state for special training, to enable them offer animal health services.
"The prospective candidates must be unemployed OND, HND or university graduates with certificates in animal science, animal health or animal production who will be trained and provided with the starter packs containing basic equipment and drugs, to enable them deliver basic community animal health services".
"In return for such services, they will charge fees to restock and make a living. They will be under the supervision of veterinarians from the State Ministry of Agriculture and they will also be engaged to assist in state-wide animal vaccination campaigns. By and large, they will keep an eye on animal health to restrain outbreaks of diseases".
"This initiative has far-reaching implications for human health besides creating jobs for our youth, who in the long term will train others to be self employed as well".