Heritage Bank, LASG Shows Commitment to Sport Development
AJAGBE ADEYEMI TESLIM
SPONSORED BY: H&H
Heritage Bank plc has reiterated its commitment to promoting sports in Nigeria, in partnership with Lagos State Government to back the 3rd Edition of the annual Lagos Value Jet Para Table Tennis championship.
The three-day para table tennis championship hosted 45 table tennis games, which held in the Molade Okoya-Thomas Hall of Teslim Balogun Stadium, Surulere Lagos.
Speaking to the media during the games, the MD/CEO of Heritage Bank stated that the bank's commitment to sports and its partnership with Lagos ValueJet Para Table Tennis resonates from the institution's brand passion to support sports, especially for the physically challenged that would help in wellbeing, health and by extension nation building.
According to him, Heritage Bank believes in development and having the tenacity to develop Nigerians both young and old, whilst encouraging the physically challenged especially the participants of the para table tennis that this game is capable of helping them to keep healthy and fit.
He commended the Para–division of the Nigeria Table Tennis Federation (NTTF), Sunday Odebode's Para Table Tennis Foundation for organizing the competition as well as the Lagos State Government for playing a leading role in the development of sports in the country.
Sekibo who was represented by Ozena Utulu, the Ag Group Head, Corporate Communications also recalled the support it received from the Lagos State government when it organised the Skoolimpics, its signature sporting event with more than 6,000 students from over 600 public and private secondary schools from the six educational districts of Lagos Sate in attendance at the three-day sporting fiesta held in 2017.
According to him, Skoolimpics is an idea conceived to bring into being a national sports festival for young people in secondary schools aimed at helping the country discover young talents who will re-ignite the spirit of excellence in competitive and recreational sports.
"The idea was intended to be a holistic development of young people in order to foster their physical, social and emotional wellbeing. It is a well-known fact that physical education and sports help in character and community building, delinquency reduction, community safety, economic and social development," Sekibo stated.
In similar manner, First Lady of Lagos State, Ibijoke Sanwo-Olu reiterated the government's commitment to continually put measures in place to play-up the welfare, wellbeing and interests of the physically challenged.
Sanwo-Olu represented by Grace Igbokwe advised the participants to continue investing the right energy and zeal into training, whilst cautioning them to take their education even more seriously and equally draw inspiration from great Table Tennis players who are making waves nationally and internationally.
Coordinator of the tournament, Sunday Odebode, said fans would witness the emergence of new stars in the kind of Christian Ikpoyi, who is rated number 10 in the world, to replace the ageing Nigerian players.
Prudential Announces Africa Cup Of Nations 2021 Sponsorship
AJAGBE ADEYEMI TESLIM
SPONSORED BY: H&H
…Sponsorship underscores the life insurer's commitment to grow and to invest in Africa
Prudential Africa has signed a sponsorship agreement with the Confederation of African Football (CAF) to become the official insurance partner of the ongoing 33rd edition of Africa Cup of Nations (AFCON) 2021.
At a press conference to announce the sponsorship, Eric Mboma, Chief Representative Officer, Prudential Northern Africa Region noted that the sponsorship underscores Prudential's commitment to the African continent.
"As we grow our business in Africa, we also want to support the passion and talent of its people. Africans share a common love for football and we are honored to be part of a tournament that unites the continent and brings together the brightest talents of African football", he said.
Mr. Mboma added, "Through sports, Prudential wants to encourage people to stay active and lead more healthy lifestyles. As a life insurer, we believe that health and wellness are important for people to live fulfilling lives."
Commenting on the partnership, Confederation of African Football (CAF) General Secretary Mr. Véron Mosengo-Omba said, "We are excited and pleased to have on board Prudential as a partner. We share a common purpose in our commitment to developing local talent as well as driving prosperity for the people of Africa."
AFCON 2021 started on January 9 and will run till February 6, 2022 with Cameroon as the host nation.
Prudential is a global financial services group providing life insurance, pensions and asset management products and services to approximately 20 million customers in Asia and Africa.

Prudential has life insurance operations in eight countries across Africa: Cameroon, Cote d'Ivoire, Ghana, Kenya, Togo, Uganda, Zambia and Nigeria.
For nearly a decade, the life insurer has been providing affordable insurance and health solutions.
Today, it serves more than 1.7 million customers through a distribution network of more than 13,000 agents and 600 branches.
Clean Nigeria Initiative; Ecobank Applauds International Football Star, David Alaba
AJAGBE ADEYEMI TESLIM
SPONSORED BY: H&H
Ecobank Nigeria has commended David Alaba for his support towards the success of the Clean Nigeria Initiative being part of the Federal Government's efforts to end open defecation in Nigeria by 2025, under the distinguished Chairmanship of Vice-President Osinbajo.
Ms. Adebukola Ademiluyi, Head Diaspora Banking, Ecobank Nigeria, said Ecobank will facilitate the disbursement of funds donated by David Alaba to build public toilets in Ogere Remo in Ogun State, but is also prepared to partner other Nigerians abroad who have interest in funding specific projects back home.
Alaba, who is a private sector Water, Sanitation and Hygiene (OPS-WASH) Clean Nigeria Campaign Ambassador as well as a Real Madrid player recently donated N13.3 million towards the initiative to curb open defecation in the country, with Ecobank, the number one Diaspora Bank facilitating the disbursement of the project funds.
Further, Ms. Ademiluyi disclosed that Ecobank was working closely with Nigerians in Diaspora Commission (NiDCOM), ably led by the Chairman/CEO, Hon Abike Dabiri-Erewa towards the engagement of Nigerians in the diaspora on policies, projects and other initiatives geared at developing the nation, noting that the bank understands the peculiar needs of the Nigerians living abroad and has created tailor-made solutions to serve them effectively.
Stating what the bank is currently doing to support Nigerians abroad on easy repatriation of funds, she advised them to avail themselves of the bank's Rapidtransfer solution to send money home to their loved ones particularly during this yuletide season, stating that "you can download the Rapidtransfer app to send money home and your beneficiary can pick up USD cash at any Ecobank branch nationwide or have it directly credited into their Ecobank domiciliary account.
You can also send money through our remittance partners such as Ria and Small World for cash pick up and direct credit. Other partners such as Western Union and MoneyGram are available for cash pick up only. You can wire funds directly to your foreign currency account through our correspondent bank in dollars, British Pounds and Euro." She noted that the bank is currently running an end of year reward scheme for remittances.
Ms. Ademiluyi added that Ecobank also helps Nigerians in the diaspora with resources for wealth management through investment in the money market, capital market, real estate and treasury products at attractive and competitive interest rates on both foreign and local currencies, stating that the bank offers financial planning advisory, including information on stocks, bonds, real estates and insurance products, in addition to helping customers retrieve outstanding dividends and missing shares. She advised them to open a multi-currency online account in Naira, GBP, USD and EURO via its website, adding that they can also download the bank's award-winning mobile banking app, Ecobank Mobile, which is available on app stores to enjoy real-time access to their accounts from the comfort of their home. 
She further said the bank is offering mortgage loans to Nigerians living abroad to finance property ownership in the country, stressing that the terms and conditions are flexible and easily accessible.
About Ecobank
Ecobank Nigeria is a subsidiary of the Ecobank Group, the leading pan-African banking group with operations in 33 African countries and international presence in four locations (London, Paris, Beijing and Dubai).
It is a full-service bank providing wholesale, retail, investment and transaction banking services and products to governments, financial institutions, multinationals, international organisations, medium, small and micro businesses and individuals. It is a major player in the distribution of financial services in Nigeria, leveraging digital platforms and an extensive distribution network of over 250 branches and about 30,000 agency banking locations.
Lagos Assembly Organized Maiden Speaker's Cup Football Tournament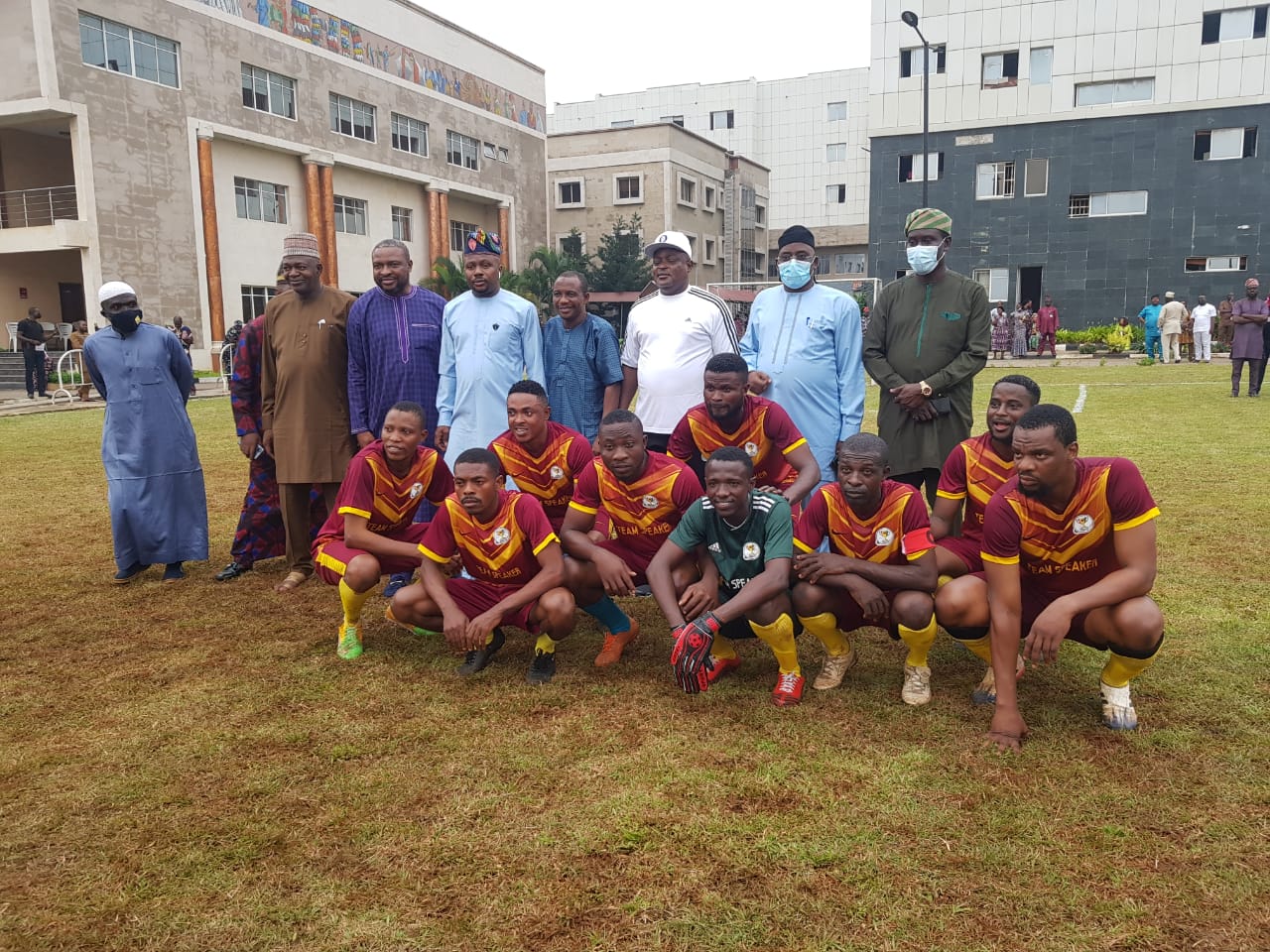 Lagos Assembly Organized Maiden Speaker's Cup Football Tournament
… harps on sportsmanship
AJAGBE ADEYEMI TESLIM
SPONSORED BY: H&H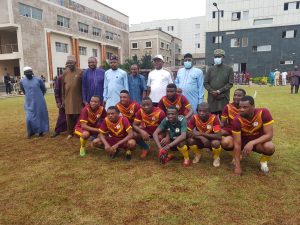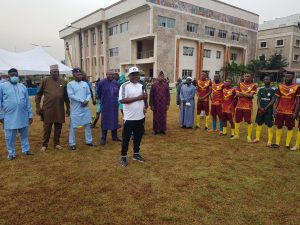 Members of the Lagos Assembly have restated their confidence in the leadership of Rt. Hon. Mudashiru Obasa, as they organized a football tournament to commemorate his forthcoming birthday celebrations.
The Maiden Edition of Speaker's Cup which was initially conceived by a group of youthful staffers of the Assembly, received a boost as notable lawmakers indicated support for the idea.
In his keynote address to herald the commencement of the week long tournament on Friday, 5th 2021, on the Assembly's football pitch Hon.
Olanrewaju Moshood Oshun reaffirmed the team spirit that exist amidst lawmakers and the unalloyed support they accord him for his leadership prowess especially in the legislative business.
Oshun who is the House committee committee on Youths, Sports and Social Development representing Lagos Mainland 2, notes that members are in one accord with the Speaker.
"It is to honour the Rt. Hon. Speaker, it is his birthday next week and we are starting it today, he has done well in terms of leadership, in terms of legislative duties, in terms of making sure the state is on the right part and for us to show the world that we are behind him.
"This is the beginning, there is still many others coming in we are working on a competition between Honourable members but you know being the maiden edition, we need a lot of planning.
"It is the first and hopefully by next year it would be bigger, better. I can tell you it is not going to be held here, it is going to be in one of our national stadiums .
"We are featuring eight teams in all, it is a five aside team football match. There is also a cash prize for the first, second and third place winners, but we will keep that secret for now.
" The final is going to played on his birthday which is on the 11th of this month, next week." Oshun reiterated.
Speaking on the importance of youths development through sports, Osun maintained that, "the youths are the future of any country and what we are doing today is supporting the dream of the Governor, we want to bring the youths off the streets so that they can start doing something for themselves.
"The Governor is building 1o mini stadia across the state that is to show you the focus of the government.
"We want to make sure that our youths are fully and legally engaged. So that we can have the youths of the future doing something right.
"We are bringing all the Super Eagles matches to Lagos now, we've played three matches, we are playing another one against Cape-Verde very soon, we want to develop our youths. It is as simple as that."
Hon. Rotimi Abiru another ranking member of the house from Shomolu constituency 2 also corroborated Oshun on the importance of the spirit of sportsmanship.
"The initiative is not a bad one, we have admonished the team to be fair, we want fair play here the better team will naturally carry the day same goes for the officiating referees too.
"This is part of bonding as a house, with the support of the committee Chairman on Sports, I can see this is well planned and it is coming up well, I cannot but wish the speaker a happy birthday in advance."
The Right Honourable Speaker, Mudashiru Obasa in his response on the tournament organized to honour expressed his appreciation while urging all to be actively involved in the activities.
" I am starting by saying thank you to you all for organizing this tournament in commemoration of my forthcoming birthday, I love this.
"It is also a way to bring all of us together, increasing camaraderie,friendship,good relationships and love amongst us.
"The teams are selected based on sincerity and merit and we are here to celebrate each other, this reaffirms our passion in ensuring the all round development of our staffers.
" I urge you all to be part of this is any form you can either by cheering the team on with you songs, clapping and more, at the end of the day whichever team that wins is our team, I pray an injury free tournament to all."
Team Speaker versus Team LAHASCOM and Team YSSD Versus Team LASLEWA played the first two opening matches
The first match ended 2-0 Team Speaker trounced Team LAHASCOM to emerge the first team to make the semi finals.
The second match between Team YSSD Versus Team LASLEWA ended 3-2 as Team YSSD emerged the second team listed for the semi finals.
The Clerk of the house, Barr. Olalekan Onafeko appreciated the timely response of concerned individuals in putting the tournament together, noting this signals the team spirit that radiates within the ranks of staffers of the Lagos State House of Assembly.
Other dignitaries that were around for the memorable tournament includes, Hon. Femi Saheed (Kosofe 2),Hon. Mojisolaoluwa Alli-Macaulay (Amuwo Odofin 1),Hon. Adedamola Kasunmu (Ikeja 2),Hon. Jude Idimogu (Oshodi 2),Hon. Olawale Abdulsubor (Mushin 2),Hon. Victor Akande(Ojo1), while the Head of Public Affairs Mrs Abisola Branco anchored the programme.