How King Sunny Ade's Prophecy To Primate Ayodele Came To Pass 20 Years After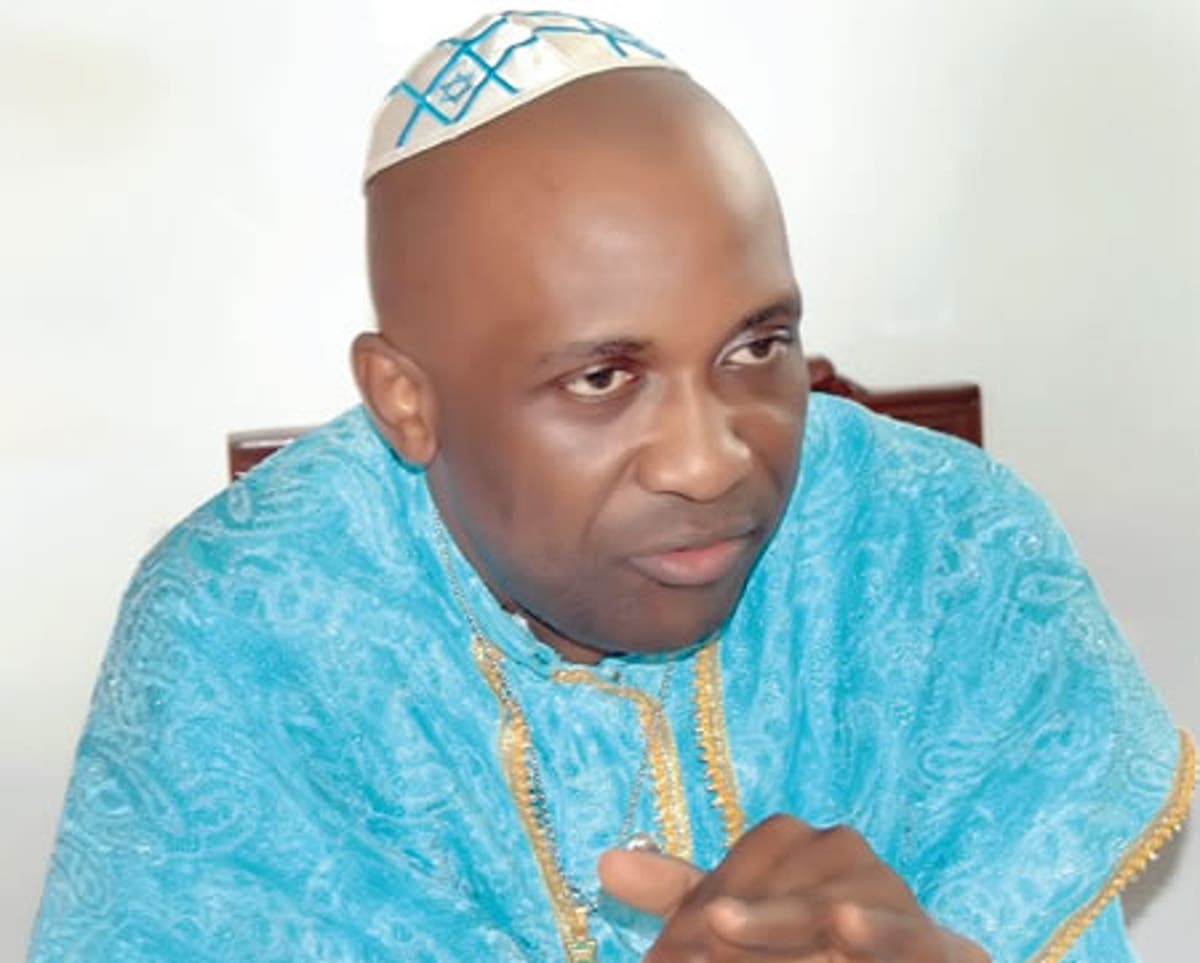 How King Sunny Ade's Prophecy To Primate Ayodele Came To Pass 20 Years After
AJAGBE ADEYEMI TESLIM
SPONSORED BY: H&H
Even in the old testament, we never heard people prophesying to prophets because it is believed that God speaks to them about everything therefore they know every of God's plan but it seems there is a difference in the case of juju maestro, King Sunny Ade who prophesied to Popular prophet, Primate Elijah Ayodele on July 7, 2000 at the then new site of INRI Evangelical Spiritual Church, Oke-Afa, Isolo, Lagos.
On that remarkable day, King Sunny Ade came in a blue V-boot Mercedes Benz, dressed in a blue shirt and blue jean to perform for Primate Ayodele's congregation being a close friend to the prophet and one who submits to the man of God as his father in the Lord. The total number of members at the church then was 500.
While performing, Sunny Ade made an unusual move that could have only been orchestrated by the spirit of God. He suddenly went to the four corners of the church and prayed significantly with a cube of sugar. Right there, he released a prophecy that the Lord of host showed him the bright future of Primate Ayodele's ministry and church. He categorically stated that Primate Ayodele will acquire more lands and will build an edifice that will contain 30,000 worshippers.
As expected, Primate Ayodele didn't believe this prophetic revelation and one can't blame him, most won't expect a juju musician to prophesy but little did he know that Sunny Ade was an angel God sent to minister to him with that prophetic revelation.
As prophesied, in 2010, 10 years after King Sunny Ade gave this prophecy, Primate Ayodele acquired more land to build more capacity because the church wasn't containing the crowd anymore but not exactly the 30,000 capacity church King Sunny Ade prophesied.
However, in 2021, a little after another 10 years, the prophecy has finally come to pass as Primate Ayodele is already building a 30,000 capacity church because of the crowd that throng INRI Evangelical Spiritual Church, Oke-Afa in every service, including weekdays and Sundays.
As King Sunny Ade isn't known to be a prophet or pastor, there was need to investigate what led to this prophetic move 20 years ago and it was discovered that King Sunny Ade is an apostle at Cherubim and Seraphim church.
To appreciate KSA for being that angel God used to foresee Primate Ayodele's growth, the man of God has decided to invite the Juju Maestro on his annual thanksgiving which comes up every February 14 to celebrate his 35th year in the service of the Lord. Since he was the one God used for him, it's important he comes to see his prophecy becoming a reality.
Therefore, all roads lead to INRI Evangelical Spiritual Church, Oke-Afa, Isolo on February 14, 2022 for this mind blowing event. Several prominent individuals including Governors, presidents, ambassadors from home and abroad will in attendance.
Juju Maestro, King Sunny Ade Set To Honour Primate Ayodele On February 14
AJAGBE ADEYEMI TESLIM
SPONSORED BY: H&H
Popular Juju maestro, King Sunny Ade has confirmed his readiness to celebrate God in the life of popular prophet, Primate Elijah Ayodele, the Leader Of INRI Evangelical Spiritual Church.
The man of God will be celebrating his annual thanksgiving on February 14, 2022 at his Lagos church and King Sunny Ade has been billed to perform at the mind-blowing event.
It is no more news that the relationship that exists between King Sunny Ade and Primate Ayodele is beyond that of a musician and a prophet but companions who have a common interest to render service to humanity.
It would be recalled that many years ago, King Sunny Ade gave a prophetic word to Primate Ayodele during a service that his church will have a large congregation of about 30,000 worshippers. This statement was made in 2000 when Primate Ayodele's congregation was just about 500 worshippers.
After two decades of this prophetic statement by King Sunny Ade, the prophecy is finally seeing the light of the day as Primate Ayodele will be unveiling a 30,000-capacity church building on February 14, 2022 as part of the programme line-up for his annual thanksgiving.
Also, February 14 will feature the mother of all empowerments as usual. In previous years, Primate Ayodele has given cars, tricycles, scholarships, cash gifts, and relief materials to his church members, the needy, without regard to their religion.
What The Year 2021 Really Mean To Me"- Fadojoe
GBOLAHAN ADETAYO
SPONSORED BY: H&H
American Based Nollywood Actor cum music star, Joseph Faduri popularly known as Fadojoe/Oba Ilu Kan has described the year 2021 which ends today 31st December as a year of upliftment and achievements for him.
The Ipetu, Ijesha, Osun State-born entertainer said this during an exclusive chat with Gbolahan Adetayo, who engaged him on social media during a programme titled "2021 Revision", an annual programme organized by Olakitan Adetutu Communications.
When he was asked about his views concerning the year, the multi-talented entertainer said, "to God be the glory, 2021 is a year of my achievements and upliftment. Though, so many unpleasant occurrences occurred during the year especially in Nigeria. Talking about insecurity in our nation, kidnapping and all that but as for me, it is a year that I can't forget in my life. Talking about my career, I can recall that I released a couple of blockbuster movies such as Eru Baba Oba part 1&2, Olongbo and 3 others, I also hit the shelves with some nice and new songs with videos. I won a couple of awards like Yoruba Movie Gist Award as Best Actor in Diaspora, Iconic Award in Canada. In the same 2021, I started getting more fame, more movie roles to play. All these mean alot to me because if you are in the entertainment industry, you will know how hard it is to achieve them. Don't also forget that in the same year 2021 that everyone is lamenting, God gave me a brand new Range Rover Sport worth $75,000, that was in April. Above all, I have been tipped to contest as the youth president of Nigeria in 2023 under the plartform of APC. As a member who would want to ask for the endorsement of our leader, Bola Hammed Tinubu. A youth movement for a new Nigeria. The official declaration for this will be made shortly", he said.
"My Biggest Regret in 2021"- American Based Actress Reveals
GBOLAHAN ADEBAYO
SPONSORED: H&H
As the end of the year 2021 is fast approaching, alot of people especially in the entertainment industry have been sharing their experiences in the year.
Though, some said the year isn't a favourable year for them but as for this beautiful United States of America based Nollywood Actress, Oyinkansola Emmanuel, 2021 it's a year she can't forget in haste.
The damsel, who is at the moment showing gratitude to her maker for what he has done for her in the year 2021, revealed to August24news.com entertainment correspondent Gbolahan Adetayo, in an exclusive chat how God has been faithful to her throughout the year.
According to her, "2021 is a year full of ups and downs but I give glory, honour and adoration to the almighty God who has brought me this far, to see the end of the year.

Thy Lord has been good to me especially in my acting career. I have the opportunity to release my debut movie on YouTube via Corporate Pictures. The movie is titled Arike Alagbo. After it was released, the viewers' comments encouraged me to push for more production because Arike Alagbo was my first production, couple with the fact that I am an upcoming actress.
The year is a blessed year for me. I am growing daily and focusing on the future because it's going to be a great one. I started getting more movie roles after the release. I am now getting the recognition I deserve in and outside the industry. I give thanks to almighty God.

Not that I don't have any regret throughout the year but I have learnt to always give thanks to God in any situation you find yourself.

There's a big regret in 2021 that I will never forget, which is the fact that I lost my mom in August 9th 2021. Hmmmmmm, it was sad but no regret whatsoever because I took care of her when she was alive.
She visited my kids, myself, my brother and his family in 2018 here in America and went back in 2019. She was a sweetpie full of patience and her wonderful memories still lingers in us all", she said