Interswitch Group Partners Codebase Technologies to Accelerate Product Innovation, Enhance Digital Financial Services Offering Across Africa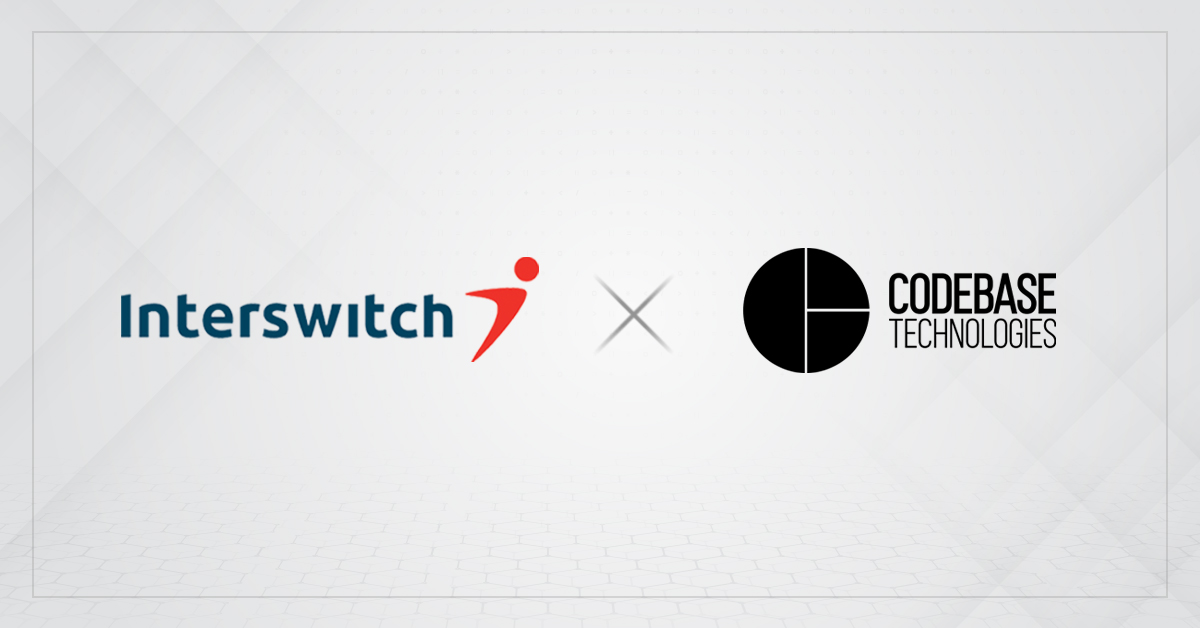 Interswitch Group Partners Codebase Technologies to Accelerate Product Innovation, Enhance Digital Financial Services Offering Across Africa
AJAGBE ADEYEMI TESLIM
SPONSORED BY: H&H
Interswitch Group, Africa's leading technology-driven company focused on the digitization of payments in Africa, has announced a new strategic partnership with Codebase Technologies (CBT), a leading global open API banking solution provider, to accelerate the digital banking transformation across the African continent.
With a shared vision of helping Africa's financial institutions and customers make the transition to digital banking, Codebase Technologies' award-winning Digibanc™ SaaS platform is the perfect complement to Interswitch's existing payments and digital banking offering; and together, the partnership will help broaden access to financial services for Africans, driving greater financial inclusion across the continent.
Digibanc™ SaaS, hosted by Interswitch, will enable financial institutions in West and East Africa with full front-to-back SaaS capabilities through a rapid and cost effective deployment model, allowing true economies of scale.
Working with the Codebase Technologies team will help Interswitch broaden its current digital offering, whilst leveraging Interswitch's brand recognition to increase the reach and visibility of Digibanc™ SaaS in Africa.
The partnership will also enable banks, fintechs and other corporates take advantage of new, leading technologies, so that they can continue to meet the evolving market and customer demand.
In turn, customers will be able to access an extensive range of innovative banking and payment products that meet their existing and future needs.
Interswitch's Divisional CEO for Digital Infrastructure & Managed Services, Jonah Adams commented, "Africa is at the forefront of digitization, with the fintech market across the continent rapidly evolving.
There is also an increasing consumer demand for new, more accessible products and services, and for Interswitch, continuing to innovate and enhance our product propositions is critical. We are excited to partner with Codebase Technologies, bringing with them next-generation technological capabilities and expertise, as we continue our mission to increase access to financial services and drive financial inclusion across Africa."
Codebase Technologies' Commercial Director and Africa MD, Paul Nilsen, stated: "We look forward to working with Interswitch Group and launching this new, cutting-edge technology that will redefine user-centric, financially inclusive financial services and help spur innovation, economic growth, and increased access. This partnership will capitalize on Interswitch Group's in-depth knowledge of the current needs and direction of financial institutions across the Continent, as well as the progress they have made in the banking and financial services space."
About Codebase Technologies
Codebase Technologies is a leading Global Open API Banking solution provider, at the forefront of enabling banks and financial institutions (both Conventional and Islamic), as well as, the emerging Fintech ecosystem to Demystify Digital Financial Services. We help organizations create and deliver innovative and intuitive experiences across the customer lifecycle. With a presence across 4 continents, Codebase Technologies with its award-winning suite of products, including the innovative Digibanc™, a comprehensive one-stop 'Bank-in-a-box', helps its customers unlock the true potential of the next generation of digital banking.
Codebase Technologies has launched several digital banks and financial propositions across the UAE, Malaysia, Bahrain, UK, and Africa Regions with a proven success rate and unparalleled speed to market. Growing at an exponential rate, Codebase Technologies has established itself as the digital banking technology pioneer in the global banking industry.
Learn more at: www.codebtech.com
About Interswitch Group
Interswitch is a leading technology-driven company focused on the digitization of payments in Nigeria and other countries in Africa. Founded in 2002, Interswitch disrupted the traditional cash-based payments value chain in Nigeria by supporting the introduction of electronic payments processing and switching services.
Today, Interswitch is a leading player with critical mass in Nigeria's developing financial ecosystem and is active across the payments value chain, providing a full suite of omni-channel payment solutions. Interswitch's vision is to make payments a seamless part of everyday life in Africa, and its mission is to create transaction solutions that enable individuals and communities to prosper across Africa.
Interswitch's broad network and robust payments platform have been instrumental to the development of the Nigerian payments ecosystem and provide Interswitch with the infrastructure to expand across Africa. Learn more at: www.interswitchgroup.com
For more information contact:
For Interswitch Group
Tomi Ogunlesi
Group Marketing & Corporate Communications
gmcc@interswitchgroup.com
+234 1 6283888 Ext 125
For Codebase Technologies
Tom Romanski
Marketing Lead
Tel: +973 33 555 911
Email: romanski@codebtech.com
ESG and the Oil & Gas sector: ABSA Advocates a Balanced View
ESG and the Oil & Gas sector: ABSA Advocates a Balanced View
AJAGBE ADEYEMI TESLIM
SPONSORED BY: H&H
Developing a social investment plan that utilizes proceeds from the oil and gas sector is critical to stimulating impactful growth across the African continent.
This view was shared recently by Camillo Atampugre, the Director of Resources and Energy, Absa Securities, United Kingdom, while laying bare Absa Investment's focus which aims to drive sustainability and advocate for a wider pivot to the Environmental, Social and Governance (ESG) initiatives across the oil and gas sector.
According to Camillo, the oil and gas sector remains a key channel of revenue for most African countries. He mentioned that the sector accounts for an estimated 20% of the continent's Gross Domestic Product (GDP). And in places like Nigeria and Angola, the sector contributes 70% of the overall forex inflow and 60% of government tax revenues while driving growth impacts that reverberate across the labour market, the security and exchange system and other downstream segments.
He advised that considering the overt contribution of the oil and gas sector to the African economy, a strategic approach to the adoption of cleaner energy is advisable. This is to forestall a sudden snap that could hamper the attainment of the shorter to medium terms growth projection on the continent.
He further pointed out the various responsible steps being taken across the continent to ensure compliance with the various ESG requirements as regard achieving a gradual transition into cleaner energy and repositioning the oil and gas sector to sustain a balanced socioeconomic impact along the trajectory.
"Recognising the strategic role of the sector in their economies, places like Angola and Nigeria have taken steps to improve Governance elements.
In Angola, the President has put significant focus on cleaning up the image of the sector and courting foreign investors while the Nigerian national assembly recently passed the Petroleum Industry Bill which is aimed at making it easier for investment into Nigerian oil and gas operations", Atampugre explained.
Citing the social investment roles being played by the major operators in the oil and gas sector Atampugre revealed: "For instance, oil major Shell has played a pivotal role in investing in healthcare infrastructure to help in the fight against the likes of Ebola and HIV as well as being a major party in the first community-based health insurance program in the country. Similarly, dual-listed oil and gas player Oando has trained over 2800 teachers and financially supported 88 schools via its Oando Foundation".
He referred to the framework for achieving a faster transition to cleaner energy. Amongst them is the renewed emphasis placed by government and operators in the energy sector in Africa to implement regulatory and social investment strategies that are aimed at alleviating poverty and providing access to affordable energy.
He concluded that Absa, a specialist investment bank, is committed to helping the continent achieve its socioeconomic growth agenda as well as provide guidance that ensures compliance with various ESG goals.
He said: "As an investment bank that specialises in funding oil and gas projects in Africa and has a deep understanding of the continent, we look forward to working on projects which tick all three of the ESG elements in a socially conscious manner".
InterswitchSPAK: Inspiring The Next Generation in Tech
InterswitchSPAK: Inspiring The Next Generation in Tech
AJAGBE ADEYEMI TESLIM
SPONSORED BY: H&H
Amid a flurry of reality television shows across a gamut of themes keeping viewers glued to their screens, there can never be enough educational programmes that aim to develop and hone the knowledge base of students, and this is where the InterswitchSPAK competition comes in.
The InterswitchSPAK competition was developed with a narrowed focus on subjects around Science, Technology, Engineering and Mathematics (STEM), with a view to sustaining interests in these subject areas for students in schools across the African continent.
The programme also serves as a reminder of the importance of improving the standards of STEM education on the continent, while providing the students with an opportunity to participate on a platform that avails them access to better education. The programme equips young African students with a renewed mindset to owning the solutions to Africa problems.
Highlighting the foregoing point, the winner of the InterswitchSPAK 2.0 competition, 16-year-old Oyindamola Aje of Jesuit Memorial College, amplified the goal of the competition in a "thank you" message to the InterswitchSPAK organisers in a video.
Oyindamola who is currently pursuing an honours degree in Chemical Engineering at the Texas A&M University expressed his gratitude to the management of Interswitch Group for giving Africa students a platform such as the InterswitchSPAK.
He restated the company's invaluable support to pursue his dreams and their commitment to fulfilling their promise which includes a N7.5 million in scholarship, a well programmed brand-new laptop, and monthly stipends.
The video clearly reiterates the mission of the competition, which is to empower young Africa students in the STEM subject area and support them to carve a clear path in their individual careers that would in turn "make Africa a better place".
The InterswitchSPAK National Science Competition is for students in all Senior Secondary Schools (SSS2) across the country, be it public or private, with a N12.5 million university scholarship prize to the winners, and free registration.
The first-place winner gets N7.5 million spread over a period of five years while pursuing an undergraduate programme, a laptop and monthly stipend.
The second-place winner gets N4 million over a period of three years, a laptop and monthly stipend. The third prize winner gets N1 million, which is received within the year with a laptop.
Students in high school in Kenya also participate in the competition, thereby fostering an inter-country and intra-continental educational experience.
As a technology giant, especially in the digital payment space, Interswitch continues to entrench itself as a bastion of advancement in the tech sector, and through the InterswitchSPAK competition, students who have found themselves enamoured of the possibilities present in STEM are given opportunities to make their dreams a reality.
Aside from the exciting prizes for the first, second, and third place winners, they also get the optional chance of being an intern at Interswitch, giving their career in STEM a jumpstart.
Created in 2017, the competition has gone on to positively impact the lives of the participants, and the journey appears to not slow down, as the programme organisers have put measures in place to ensure that the 2021 edition is conducted after the competition was suspended the previous year due to the pandemic.
Nigeria's Multibillion Dollar Eurobond Offering Is Step In The Right Direction – Akinwuntan
Nigeria's Multibillion Dollar Eurobond Offering Is Step In The Right Direction – Akinwuntan
AJAGBE ADEYEMI TESLIM
SPONSORED BY:H&H
The Managing Director, Ecobank Nigeria, Patrick Akinwuntan has described Federal Government's plan for a Eurobond issuance in the International Capital Market (ICM) as a step in the right direction, stressing that the fundamentals and potentials of the nation's economy are strong with capacity to meet its debt obligations.
Akinwuntan, who was assessing the global market as Nigeria makes its announcement of multibillion dollar Eurobond offering, during an interview on Arise TV  Lagos, said the economy is showing strong trends owing to investments in infrastructure such as road and rail transportation which is giving a lot of positive impact to the overall economy, adding that the private sector is also making remarkable improvement in power sector, telecoms, and information technology.
According to him, "You look at the fundamentals, what is the story of this economy? You look at Nigeria, the fundamentals are strong, coming from the lessons learnt in being a mono product economy which was dependent on oil. We have since embarked on the journey of diversification and we are beginning to show early fruits. Exports are improving, Africa Continental Free Trade Area (AfCFTA)
provides the opportunity to expand that even further. So, you look at the fundamentals, look at the openness of the economy, the transparency of reporting and look at the opportunities to enhance real growth, output, capacity improvements and stability of policies.
All these are factors to look at with a view of participating in the economy like that of Nigeria."
He observed that international borrowing will allow Nigeria as a country to access more foreign currencies, deepen external reserve, allows more confidence in the medium-term planning in the private sector, adding that it allows a bench mark to be established in terms of how funding and investment are priced within the local economy.
"It also gives more rooms for the local economy to be able to breathe a bit more because when the country takes on Euro bond that portion is reduced from local country financing or public sector debt within the country.
All these factors play strongly to the benefit of the private sector and the entire economy at large."
"In the last two quarters, we have seen the global market rebounding from the very deep end of the covid-19 that plagued 2020.
We have seen, since the arrival of vaccines, the gradual opening of the global economy such that there is much more optimism now in the market because we have learnt that shutting down the economy is not the best way to handle an epidemic and we have seen support from sovereigns ensuring that there is steady growth within the various economies; supply chain has opened and we have seen in sub-Sahara Africa renewed interest in the Eurobond market in the international debt market; we have seen Benin republic, Ghana, Cote d'ivoire and Kenya all are approaching the market with significant success. Over subscription in each of them ranges from 200% to 300% and an all high in Kenya close to 600% or six times over subscription.
This is a positive period for major economies like Nigeria, which is the lead economy in Africa, to take advantage and invite the global community to hear our story, invest in us and get good returns."
Citing example with Ecobank's $300 million Eurobond offer earlier in the year which was over-subscribed by 300 per cent, Akinwuntan advised those approaching international debt market to have clarity of purpose and state clearly their strengths and weaknesses.
"We are the first banking entity in Africa to do that in 2021 and it comes from our long-term planning in the economy of Africa; we are the pan African bank and when we look at Africa, Nigeria is a major player.
Quickly we understood that arising from a scenario of pandemic and all-time lows of 2020 is time to look at the brighter side and we stepped out for the $300m US Eurobond offer which met positive response from investors across the globe within the country.
We attracted more than 3 times in subscription.
But we kept to the book of doing $300m because it is based on our plan in participating in positioning Nigeria, as the leading export country in the AFCTCA environment in the continent and giving our unique position as the Pan African bank, it was very clear to us and the market responded positively.
Our experience also tells us that, what is critical is to have clarity on your strength, be very frank about your weakness or the areas of concern and how you intend to handle that positively."