Nigeria's GDP grows by 2.38 towards the end of 2018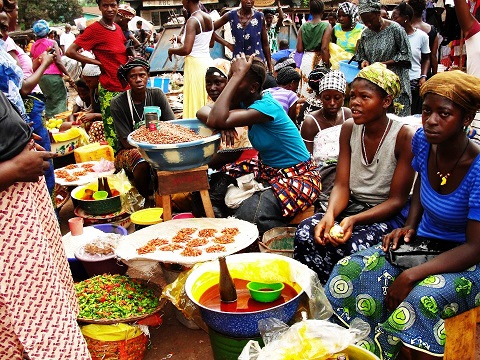 Nigeria's Gross Domestic Product, GDP, In the fourth quarter of 2018, grew by 2.38% in real terms (year-on-year), the National Bureau of Statistics, NBS, report obtained by Premier news on Tuesday says.
The growth, according to NBS, "represents an increase of 0.27% points when compared to the fourth quarter of 2017 which recorded a growth rate of 2.11%.
The report also said that the growth "indicates a rise of 0.55% points when compared with the growth rate recorded in third quarter of 2018. On a quarter bases, real GDP growth was 5.31%. The fourth quarter growth performance implied that real GDP grew at an annual growth rate of 1.93% in 2018, compared to 0.82% recorded in 2017, an increase of 1.09% points."
It says, "during the quarter, aggregate nominal GDP stood at N35,230,607.63 million, which is higher than N31,275,354.08 million recorded in the fourth quarter of 2017, a nominal growth rate of 12.65%.
"For 2018, nominal GDP was therefore recorded at N127,762,545.58 million representing a nominal growth rate of 12.36% when compared to N113,711,634.61million recorded in 2017."
Ecobank Partners Vanguard|Economic Forum Series, Convenes MSME Finance Summit On Lending To Small Businesses
Ecobank Partners Vanguard|Economic Forum Series, Convenes MSME Finance Summit On Lending To Small Businesses
AJAGBE ADEYEMI TESLIM
SPONSORED BY: H&H
Ecobank Nigeria and Vanguard Economic Forum Series have announced that they are convening an MSME virtual summit to promote and encourage lending  support for micro, small and medium enterprises (MSMEs) in the face of changing operating environment in the country.
The virtual summit with the theme: Unlocking Credit Growth in a Changing MSME Lending Landscape, will be broadcast and streamed live via zoom platform scheduled for May 21st by 11am.
Click here to Register:👉 cutt.ly/ecobankmsme or
The conference in strategic partnership with Nigerian Association of Small & Medium Enterprises (NASME) and Small & Medium Enterprises Development Agency of Nigeria (SMEDAN) will convene keynote speakers and panelist from regulatory agencies of government, policy decision makers, non-governmental organisations (NGOs), business and industry thought leaders. The speakers and panelists carefully drawn from the banking, trade associations and other key sectors of the economy are subject matter experts in MSMEs and lending.
Confirmed speakers include Mr Olukayode Pitan, Managing Director/Chief Executive, Bank of Industry (BoI); Dr. Dikko Rada, Director General, Small and Medium Enterprise Development Agency (SMEDAN); Adenike Adeyemi, Executive Director, Fate Foundation; Eke Ubiji, Executive Secretary, Nigerian Association of Small & Medium Enterprises (NASME) and a representative of Central Bank of Nigeria (CBN), amongst others. The Guest Of Honour will be the Special Adviser to the President on Ease of Doing Business, Jumoke Oduwole, while Patrick Akinwuntan, Managing Director of Ecobank Nigeria will be the Chief Host.
Announcing the conference in Lagos, Emeka Agada, Country Head, SME Ecobank Nigeria Limited said the Summit as a thought leadership content platform would deeply dialogue on the critical role of MSMEs as the economic engine room of any prosperous nation and the need to support the sub sector with capital, including examination of key issues and ways of achieving the objective through digital financial inclusion for the MSMEs. He disclosed that there will be audience engagement of members of various trade groups such as NASME (Nigerian Association of Small & Medium Enterprises) and SMEDAN (Small and Medium Enterprise Development Agency ) with a view to detailing various lending options. He further  reiterated that the 'Ecobank Digital Series' is in line with the Bank's vision to consolidate a modern pan-African market, contribute to the economic development and financial integration of the continent.
Also speaking, Jude Ndu, Director, Vanguard Conferences and The Economic Forum Series says: "As a follow up to the hugely successful Ecobank Digital Financial Inclusion virtual summit, we are indeed pleased and delighted with the ongoing high-level strategic partnership with Ecobank Nigeria in the area of concept development, synthesis, design and execution of high profile thematic bespoke events. The upcoming conference speaks to the strong sense of confidence the bank has in us to help curate thought leadership content and context for the brand in line with its marketing objectives.
He noted that the MSME conference would help Ecobank communicate and connect with Nigeria's largely MSMEs on its lending options and support, adding that the bank will also showcase its strength in the digital banking space such as its  innovative digital payment channels like the  OmniPlus, Omnilite and digital sales collections channels like Ecobankpay NQR amongst other financial service offerings to close the large financial Inclusion gap and a direct response to mitigating the economic challenge post-COVID-19.
The Ecobank Digital Series is a virtual programme organised by Ecobank to educate and enlighten the public on crucial issues of public interest, especially as it relates to their financial empowerment.
I Did Not Breach NPA Rules, Exempt Dangote From Statutory Charges
I Did Not Breach NPA Rules, Exempt Dangote From Statutory Charges
SPONSORED BY: H&H
Suspended Managing Director of the Nigerian Ports Authority (NPA), Hadiza Bala Usman, on Tuesday dismissed media reports ( not included) suggesting that the NPA management under her leadership breached NPA rules and exempted the Dangote Group of companies from paying certain statutory charges at the Onne Ports, River State.
"I wish to state with all emphasis that these accusations are false and mischievous," she said in a statement.
According to her, "Even the letter dated February 5, 2019(published in the media report), communicating the Authority's  decision on this subject to the management of Intels Nigeria Limited states in the last paragraph:
"Hence, the Authority therefore directs that all cargoes of Messers Dangote Industries Limited and INDEED ALL IMPORTERS BEING DIRECTED TO ONNE PORTS for customs clearance, specifically for these projects, and are multi-purpose in nature to be treated by applying the same operational rates used by other multi-purpose terminals." 
This paragraph is explicit about the fact that all multi-purpose cargoes diverted to Onne were expected to benefit from this directive."
Giving the background to the directive, Mrs Bala Usman said: "Until 2018 when the Authority wrote when the Federal Government approved the decategorisation of Onne Ports as the solely designated oil and gas terminal in Nigeria, only oil and gas cargoes called at the ports, contrary to global practices in the maritime industry.
"For reasons, which included national security, ease of doing business as well as the need for Nigeria to embrace international best practices, this oil and gas monopoly was removed in 2018, with the effect that all categories of cargoes could call at the Onne Ports. This means that importers could choose and have their cargoes delivered at any of our port locations regardless of what their consignments were.
"With that decision, it followed that tariffs must be reviewed to reflect the specific category of cargo being imported as opposed to the rates that existed when the Onne Ports received only oil and gas cargoes.
"This reality got more urgent when the congestion at the two ports in Lagos became worsened by uncleared cargoes meant for construction at the Petrochemicals Refining Gas and Fertilizer project of the Dangote Groups at the Lekki Free Trade Zone. At a point, the company wrote to inform the Authority that it was expecting 60,000 containers and 1,000,000 (One million metric tonnes) Break Bulk cargo. If these were allowed to proceed to Lagos, it would have turned into an emergency.
"To avert this situation and give the ports in Lagos some respite, the Authority advised Dangote and other importers to utilise the Onne Ports, which has then been decategorized from being an exclusive oil and gas facility.
"Let me reiterate that this decision, alongside every other one taken by the Executive Management Team under my leadership was in the best interest of Nigeria. We also considered ensuring ease of doing business for people who transact business at our ports. I consider it unfortunate that anyone would attempt to play on the intelligence of Nigerians by twisting the facts especially when they are harmed with the "leaked letter"."
Ecobank Partners NiDCOM to Mobilise Nigerians Abroad for National Development
Ecobank Partners NiDCOM to Mobilise Nigerians Abroad for National Development
 AJAGBE ADEYEMI TESLIM
SPONSORED BY: H&H
The Managing Director, Ecobank Nigeria, Patrick Akinwuntan has stated that the bank is  privileged to work closely with the Nigerians in Diaspora Commission, (NiDCOM) and will continue to pursue one of its key mandates of helping to enhance the economic development and integration of Africa through its support to Nigerians living and working abroad.
Speaking at the maiden edition of the Diaspora Quarterly Lecture Series with Ecobank as the sole banking partner which took place on Saturday, 8th May, 2021, he noted that Ecobank remains a critical bridge for Nigerians abroad, as it has made huge investments in the necessary platforms to enable them connect with home seamlessly.  The event held online and had over 2000 participants from across all the continents in attendance.
"Nigerians in the diaspora play a  major role in nation building, their contribution goes a long way to catalyse economic development. For us at Ecobank, we are a pan-African institution positioned to foster the economic growth and integration of our continent so we are particularly pleased to work closely with the Nigerians in Diaspora Commission (NiDCOM), ably led by the Chairman/CEO, Hon Abike Dabiri-Erewa".  "We are committed to ensuring that every Nigerian living abroad is able to remit home seamlessly and affordably, access viable investment opportunities and as the financial institution of choice for Nigerians abroad, we have deployed the necessary resources to actualise this." He stated.
The Minister of Interior, Ogbeni Rauf Aregbesola, who was also present, reiterated the readiness of the government to collaborate with Nigerians in the diaspora, highlighting the new processes put in place to facilitate passport issuance, noting that all backlog of passport applications would be cleared by the end of May 2021.
Also speaking, the Hon. Minister of State, Foreign Affairs Amb.  Zubairu Dada said harnessing the human capital and material resources of Nigerians in the diaspora towards the socio-economic, cultural and political development of Nigeria can no longer be ignored. He pointed out that the Nigerian diaspora community is well educated, resourceful, skilled and exposed to global best practices.
The NiDCOM Chairman/CEO, Hon. Abike Dabiri- Erewa explained that the Diaspora Quarterly Lecture Series is projected to be a major aspect of national discourse, where Nigerians abroad can be kept abreast of the government's policies, programmes and projects.