Ooni Calls for Promotion of Yoruba Language and Culture
Ooni Calls for Promotion of Yoruba Language and Culture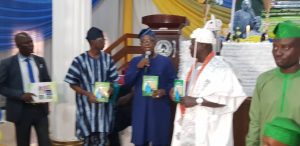 AJAGBE ADEYEMI TESLIM
SPONSORED BY: H&H
His Imperial Majesty, Oba Adeyeye Ogunwusi,  Ojaja II, the Ooni of Ife, has called for the promotion of Yoruba language and culture which he said must not be allowed to go into  extinction.
The monarch who was represented by Oba Dr. Adebisi Segun Layade JP, the Alara Odaaye of Ara Land Ife, Osun State made this call at the public presentation and launch of a book about the life and times of late sage, chief Jeremiah Obafemi Awolowo.
He tasked traditional rulers to champion the promotion of Yoruba language as it is the only way their culture could also be preserved.
"Most of our people when they go outside the shores of our country they choose to speak English language above the Yoruba language.
" It is a misnomer, whenever I travel to the northern part of the country, I speak Yoruba and when they notify me that they don't understand I ask them to get an interpreter.
"I deliberately won't speak in English language as they would have preferred, we ought to promote our own language because in other climes they use the mother tongues to teach their wards.
"Yoruba language is easy to translate and good for transmission of knowledge to the children.
Also supporting the stance, His Royal Highness Oba Oladipo Olaitan, The Alaago of Kajola Alaago, Osun State and Deputy Leader Pan Yoruba Socio-Cultural Organisation, Afenifere maintained that Yoruba language must be preserved at all cost.
He appraised the qualities of the late sage, lamenting the turn of events now a clear cut departure from what he stands for, as all seem to be without a defined purpose and void of direction.
The monarch said, "I am particularly impressed with our Yoruba language that is being purposefully energised here, we are losing it a typical Yoruba man cannot speak English, what is the purpose?
"You price yourself high because you can speak English, French and German but your own language you can't speak it.
"The German man will always speak his language any where even at the United Nations same for the French man but we will go there and speak English, what sense does that make?
"It is easier for you to learn and comprehend in your own language and when you lose your culture, you lose everything.
"The way they took us into slavery and they are still taking us into slavery is because we've refused to follow our culture, when you don't know who you are, how will you become anything in life?
"We've lost our roots, we've lost everything that is why we are where we are, you first of all have to know where you are coming from to get anywhere.
Hon. Setonji David, the Lagos State House of Assembly committee Chairman of Information, Strategy and Security who represented the Speaker Rt. Hon. (Dr.) Mudashiru Obasa also corroborated the need for Yoruba Language preservation.
"Everything that has to do with our language is so important to me as far as I'm concerned total freedom is guaranteed when you speak your language, any nation that is going to develop must revert back to its original language, it is easier for the Asian countries to communicate because of this.We need to get back the potency of Yoruba language.
He also eulogize late Chief Obafemi Awolowo noting that he was a  beneficiary of his free education scheme at all levels in Lagos State.
The Author of the book titled 'Awolowo Akikanju Asiwaju (AAA)', Mr. Lagada- Abayomi Olanrewaju, while speaking with newsmen after the event, revealed what spurred him to write the book, citing instances of many collections of  prose works written by authors in other parts of the world, to celebrate unique personalities who have paid their dues and impacted their nation and the world positively.
He added that the disconnect he sighted in the generation of people in the world today is basically due to the absence of good write ups, that can immortalise the good virtues portrayed by the characters for upcoming young ones to learn about heroes with whom they one way or the other have a bond.
"I feel the dearth of information about the great feats of our heroes in this part of the world and the void it is causing in our children's social development, this drove me to write this book so as to engrave the memories of our forebear, late Chief Obafemi Awolowo in gold for yet to come generation.
"This is what obtains in other climes and I think it is high time we started doing same here, that gave birth to this piece targeted at re enacting the life and times of the late sage". Lagada said.
Mr.Obadiah Sunday Akindele Deputy Director Curriculum development and evaluation  Ministry of Education  Science and Technology, Ogun State who represented the state Commissioner for Education Hon.Arigbabu .A. Abayomi while launching the book hinted that the state is poised to enlist the book in their curriculum come January 2022 .
2023: Tinubu is Unstoppable- Oriade LCDA Chairman
2023: Tinubu is Unstoppable- Oriade LCDA Chairman
AJAGBE ADEYEMI TESLIM
SPONSORED BY: H&H
The chairman of Oriade Local Council Development Area (LCDA) in Ojo area of Lagos, Hon. Ramota Akindola Hassan has said that nobody could stop the national leader of the All Progressive Congress (APC), Asiwaju Bola Ahmed Tinubu from becoming the next president of Nigeria in 2023.
Hassan stated this while receiving a delegation from the Lagos State House of Assembly Correspondents' Association (LAHACA), who paid her a courtesy visit in her Oriade office on Thursday.
The former lawmaker who is a strong follower of Tinubu said that they were all ready to kick start the campaign for Tinubu's presidential ambition , adding that it was a South-West agenda.
" Go and write it down, Asiwaju Bola Ahmed Tinubu, the Jagaban Bogu is our next president,  nobody can stop him because this is a South West Agenda, SWAGA, and it is our turn.
Nobody can stop Tinubu from becoming the next president, including the betrayers. They did it to late chief Obafemi Awolowo,  they did same to late Basorun MKO Abiola,  but they can't stop Tinubu", she said.
Responding to those who said Tinubu may not be physically fit and should allow a younger person, Hassan said that the man was more than fit to rule the country.
"Those saying he is not fit, he is too old, he should let younger people run don't know what they are saying".
"The last time we went to UK parliament to observe their plenary, come and see their parliamentarians, many of them were above 70 years of age. Asiwaju is capable and fit by all standards".
"Allow him to run, we are ready to support him, anything it's going to cost us, most of these people saying this are people who have benefited from him. There is no state in this country where they don't come to Asiwaju for support during elections.
"Asiwaju is fit, mentally,  physically and financially,  he will not die, those wishing him death are the ones that will die before their time, he will outlive them all", Hassan maintained.
Speaking about life as a former lawmaker, the Oriade LCDA boss said she missed the legislative arm, adding that she preferred it to the excutive arm.
"I prefer the legislative arm to the excutive,  I was exposed to so many things as a lawmaker which I don't have the previlege even as an executive chairman now".
"We underwent a lot of trainings that broadened our frontiers as lawmakers then, we learnt about different fields because as a lawmaker, you have to be vast in everything", she said.
Commenting on her style of leadership, she said what endeared her was good human relations.
" My unique selling point is that I welcome people, I don't build barricade around myself, I relate with my staff well, we eat together, if you come around, you will barely know who is the boss, that's my lifestyle.
" That was why when I was a lawmaker, I won the award of the most friendly lawmaker of the year and since I left the assembly, I don't think anyone has won that award", said Hassan.
The second term council Chairman who took time to reel out her achievements in office, assured her people of more dividend of democracy.
"I will do more if given more resources, we have just acquired a land that we are using to build a befitting legislative building,  and a LASIEC office, work will soon begin there".
"Nobody enters our local government with tears that we don't wipe his or her tears in a little way we can, regardless of their party affiliations", said Hassan.
Lagos Speaker Obasa Meets Nigeria's Ambassador to Spain
Lagos Speaker Obasa Meets Nigeria's Ambassador to Spain
AJAGBE ADEYEMI TESLIM
SPONSORED BY: H&H
The Speaker of the Lagos State House of Assembly, Rt. Hon. (Dr) Mudashiru Obasa, on Wednesday evening met with Nigeria's Ambassador to Spain, Chief Demola Seriki.
The Speaker's visit to Seriki comes few days after the king of Spain, Felipe the sixth received a letter of credence from the ambassador.
A statement by Obasa's media office quotes the Speaker as saying that the meeting with the ambassador was partly to congratulate him and to discuss issues that would be beneficial to Lagos and Nigeria.
"Ambassador Seriki is one person that can never be wished away in the scheme of the progress of Nigeria. He remains a team player and always ready to contribute to the advancement of Lagos and the country.
"Remember he is a respected political leader in Lagos State.
"His appointment as ambassador, therefore, did not come as a surprise to many of us and we are certain he will not let his country and State down. He has shown capacity and capability over time, his experience is always needed.
"Therefore, this visit is to congratulate him, assure him of our support at all times and further encourage him to continue to play his positive roles as we work for the progress of our country."
Recall that Demola Seriki, the Otun Aare of Lagos and former Minister of State for Defence, was appointed by President Muhammadu Buhari in January 2021.
He recently presented his letter of credence to the king in a ceremony that had the Spanish minister of foreign affairs and EU Cooperation in attendance.
It is noteworthy that Seriki is also a Permanent Representative of Nigeria to the United Nations World Tourism Organization (UNWTO).
Delta Flays UK Government's Travel Advisory