Speaker's game: Lagos Assembly plans two weeks activities for Obasa@50
AJAGBE ADEYEMI TESLIM
Sponsored by: H&H
The Speaker's cup, an annual sporting event put together by staff of the Lagos State House of Assembly to commemorate the birthday of Rt. Hon. (Dr) Mudashiru Obasa, kicks off Monday, 24th,October 2022.
The week-long games and sport competition signals an upgrade compared to the edition held last year which was all about football tournament alone.
Speaking about the commencement of the sporting activities scheduled to celebrate the State legislature's number one man, the Chairman of the House of Assembly Committee on Youth and Sports, Hon. Lanre Oshun, said that this year's edition promises lots of added fun as there would be more games.
"On Monday, 24th October, we will receive athletes from the other arms of government at the Lagos Assembly for the 2022 Speaker's Game themed: 'The Golden Age Edition' to celebrate our Speaker till his birthday on Friday, 11th November 2022. It will be fun packed all the way.
"I don't think the celebration is too much for someone who leads a House that is now above the common standards of excellence," Oshun said.
The following games are scheduled for the week long programme: football, Volleyball, Table Tennis, Basketball, Tug 'O' War, Ludo, Ayo Olopon.
Qatar 2022: Primate Ayodele's Prophecy Still Coming To Pass As Big Teams Lose Out
Qatar 2022: Primate Ayodele's Prophecy Still Coming To Pass As Big Teams Lose Out
AJAGBE ADEYEMI TESLIM
Sponsored by: H&H
Times without number, God has proven that He knows the end of a thing from the beginning and he also reveal these mysteries to his prophets, as we read in the holy bible.
One of the most consistent prophet in the world as we speak is Primate Elijah Ayodele, the leader of INRI Evangelical Spiritual Church whose ministry doesn't talk about a sector alone; he gives prophecies on every sector of the country and his justification for this is that God is interested in every area of man's life.
Primate Ayodele is popular for his prophecies on politics, sports, education, security, governance, cooperate organizations, individuals, to mention a few. He has more than 15,000 prophecies on these sectors and they have all come to pass.
As we know that we are in the world cup era and as usual of him, Primate Ayodele gave some prophecies before the tournament started during an interview session. He made it known that countries should not rely on star players because they will mess their team up. He mentioned some players and warned coaches against relying on them in order not to lose out.
Unfortunately, many of them never listened to this warning and they are now suffering the consequences. The big teams of the tournament are losing out already. We saw how Brazil despite having several star footballers got disqualified after losing to Croatia yesterday, Netherlands too lost to Argentina in the Quarter-final matches. We saw how Morocco defeated almighty Spain in the round of 16 too, and many other situations that have rendered the star players irrelevant and unable to save their country from disqualification.
More matches are still coming in the quarter final matches and we will keep fingers crossed on the performance of the star footballers in the matches. However, Primate Ayodele's prophecy has been continued to come to pass so far in this tournament.
NFF President, Ibrahim Gusau Hosts Primate Ayodele, Presents Customized Jersey
NFF President, Ibrahim Gusau Hosts Primate Ayodele, Presents Customized Jersey
AJAGBE ADEYEMI TESLIM
Sponsored by: H&H
The Leader Of INRI Evangelical Spiritual Church, Primate Elijah Ayodele has been received by the president of the Nigeria Football Federation, Alh Ibrahim Gusau at his Abuja office.
In a statement released by his media aide, Osho Oluwatosin, it was revealed that the NFF president expressed his gratitude to Primate Ayodele for his support towards his emergence as the president.
Gusau, who was joined by his team to receive the renowned man of God made it known that He hasn't met the prophet before but was surprised that He continued to mention his name as the best choice to become the next NFF president after Amaju Pinnick.
He noted that Primate Ayodele's prayers and prophecy was instrumental to his emergence as the NFF President while affirming that he is indeed a true man of God.
In his response, Primate Ayodele explained that He is only doing what God asked him to do by supporting Gusau in prayers to become the next president of the NFF as God revealed.
He then urged Gusau to use football to unite the country because the sector has so much to offer in curbing disunity and insecurity in the country.
He expressed his surprise at the performance of Morocco in the ongoing FIFA World Cup, noting that Nigerian can do more in the next World Cup with Gusau's administration.
He then advised Gusau to start preparation towards international competitions, create space for the country's ex-professional footballers, carry local players along and ensure God is involved in the affairs of the nation's football.
" We can use football to unite Nigeria. When there is football, Nigerians comes together as one body."
"I was impressed seeing Morocco at that stage and I believe Nigeria can do more. We can go as far as getting to final stage of the next World Cup if we start the preparations now. We can stop insecurity with sports. Let's create a space for Most of these professionals and ex footballers, they can make impact."
"If Nigeria goes to world cup and we get the finals, the country will be better. I encourage you to also carry home-based players along."
"Also, in your commitee, some will not like your policies, not all will be your friend, there are some who just want to be there, they won't be there with all their heart, let's do everything with the fear of God and love because that's the beginning of success."
"Let's also mix prayers with football because it will help us so much. Before picking a coach, let's put it in God's hands."
"Nigeria must come home with the next AFCON, we are going to Egypt too next year to ensure that we win the cup. Let's do it with love and fairness. We need to commit our football in the hands of God for us to excel."
"Supporters club is a mess because they are not united, I urge you to please call them to order so they can come as one body. Our fields too, take your proposal to FIFA, let there be activities in our stadiums."
"I will support you with prayers, God will support you.I congratulate you once again for your victory, it's my prayer that God will lead and be with you. Let's all work in love and unity."
In his reactions, Gusau appreciated Primate Ayodele for his prayers while assuring that the federation will always listen to the man of God after which he presented a customized jersey to the man of God.
"I thank you for this important visit, I want to assure you that we will always listen to you, we believe in prayer and we will continue to pray."
"We will continue to pray, this is your own time, if you can say it and It came to pass, my success will also be your success. I know God will be with you and I wish you good health and under my leadership, I will not disappoint Nigerians and do my best to ensure I get the best for Nigeria."
Behold winners of Speaker's games tournaments
AJAGBE ADEYEMI TESLIM
Sponsored by: H&H
The speaker's game organized to commemorate the 50th birthday celebration of the Lagos State House  of Assembly Speaker Rt.Hon Mudashiru Obasa, which started  Monday, 24th October and will reach its climax on Friday, 11th November, 2022 has already churned out winners in Table Tennis, Basketball,Volleyball, Ludo,Draught and Ayo Olopon games.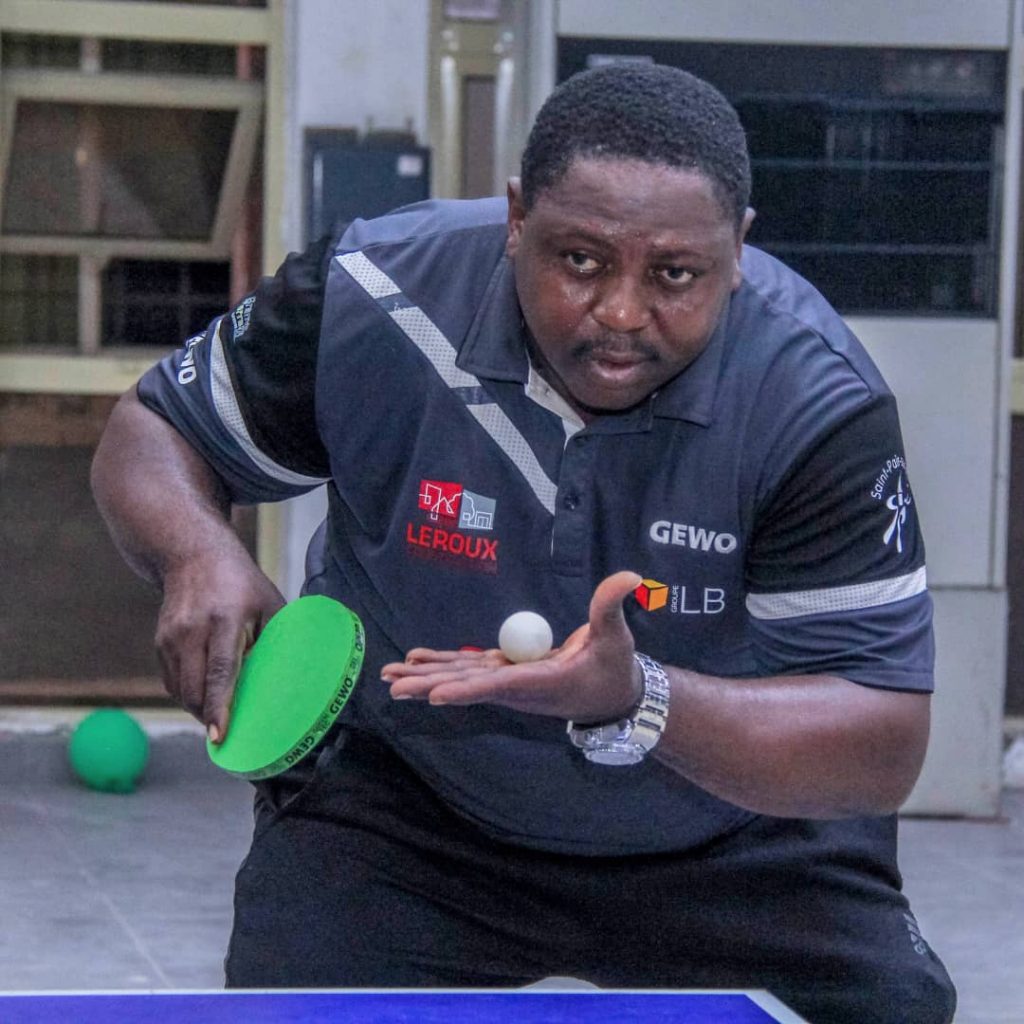 Mr. Shakiru Adeleye of the Vice Chairman of the Lagos State House of Assembly Correspondents Association (LAHACA) top the table tennis tournament having defeated Mr. Olaosebikan Ebenezer with 2-0 straight wins in the tournament tagged: 'The Golden Age Edition'.
The final stage competition featured Shakiru beating his counterpart 11-8 and 11-7 in two games respectively.
He expressed his appreciation for the opportunity afforded him to showcase his talent.
"I use this medium to promise my Station Lagos Television more wins in Table Tennis game."
Finalists in other games also emerge winners and were duly announced and handed cash prizes.
In Ludo game Giwa Nosimot slugged it out with Babatunde Idowu to emerge winner, in draught
Ehigiator Omosefe displayed his dexterity and calculating moves, which place him ahead of Jimoh Ahmed the other contestant.
Ayo Alopon game featured Akintunde felicia emerging winner at the final games played on Wednesday 9th November, 2022 at the Lateef Jakande Auditorium the venue of some of the indoor games.
The basketball and volleyball finals also ended with the Speaker team winning both tournaments.
On the sideline a raffle draw was held which churn out lucky individuals winning lots of amazing prizes during the games.