Standard financial management for MSMEs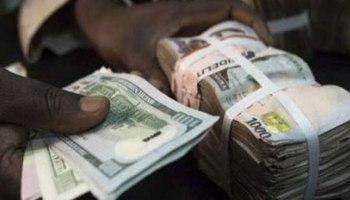 Welcome to 2019 business year. Many may call it political or more appropriately, election year, while others would call it whatever that matches their vocation or profession, but for this column dedicated to start-up entrepreneurs it is a new business year, irrespective of whatever that is happening in the entire society. Don't get distracted, discouraged or disillusioned by the environmental circumstances. Stay focused on your entrepreneurial journey. The situation/ circumstances will still change but your success targets remains. Naira There is no adequate funding of researches in Nigeria – Utomi Last year we treated three major series in this column, spanning 49 weeks with 38 sub-topics. The three major series were, Preparing Your Business for Bank Loan, Loan Facility Packages in Banks (about 8 banks were treated) and Business Management Practices for Small Businesses. I am not sure how many we are going to see this year but we are starting with a series on FINANCIAL MANAGEMENT FOR START-UPS. It is going to run for about two months or more. The importance of sound or standard financial management practices in the life of micro, small and medium enterprises (MSMEs) cannot be over-emphasised. Elsewhere in our discussions in this column last year I noted that sound financial management practice is about the most important factor in determining if your business will attract bank loan or any other financial support or not. Even government owned financial institutions, otherwise known as development finance institutions (DFIs) and government ministerial departments will demand such before making any small business owner a beneficiary of its various support programs. Most importantly, your business is not likely to succeed without a sound financial management practice. We delve into some details from next week.
Fidelity GAIM Season 4 Final Draw To Hold On July 22
Fidelity GAIM Season 4 Final Draw To Hold On July 22
Bank To Enrich 15 Lucky Customers With Millions of Naira
AJAGBE ADEYEMI TESLIM
SPONSORED BY: H&H
Fidelity Bank Plc, top Nigerian lender, has announced plans to enrich the lives of fifteen Nigerians with a total of 39 million Naira at the final draw of the Get Alert in Millions Campaign (GAIM) Season 4 savings promo, slated for July 22, 2021.
The savings promotion, which is specifically aimed at promoting the culture of saving among Nigerians, is one of the bank's many initiatives aimed at rewarding new and existing customers for their unwavering loyalty and patronage.
Despite the fact that the promotion was halted in 2020 due to the Coronavirus (Covid-19) Pandemic and the resulting global lockdown, hundreds of Nigerians have benefited from this unique reward scheme in which lucky customers are credited with millions of naira and consolation prizes via a draw system.
The Chairman, Promo Committee, Fidelity Bank Plc, Mrs
. Richard Madiebo expressed his delight at the resumption of the savings promotion, stating that the campaign seeks to reward customers for their loyalty and patronage.  According to Mr. Madiebo, for the past twelve years, the bank has empowered new and existing customers, providing an avenue for many to change their fortunes through its savings Promo.
He stated that the bank takes pride in keeping its promises, adding that the lender would continue to look out for innovative ways to satisfy and enrich its customers across the nation.
"And as we wind down on the 4th season of the GAIM promo, we are elated at the prospect of not only driving financial inclusion across Nigeria, but also at the unique opportunity to enrich the lives of our customers especially in times of economic uncertainties", noted Madiebo
Over the years, the leading tier two Bank has continued to intensify its efforts and innovate ways towards ensuring customer and stakeholder satisfaction. Through this promo, Fidelity Bank has promoted financial inclusion through digital channels and enriched the lives of its customers even in times of economic uncertainties.
Dangote Women Empowerment Program Reaches N4.3billion in Disbursement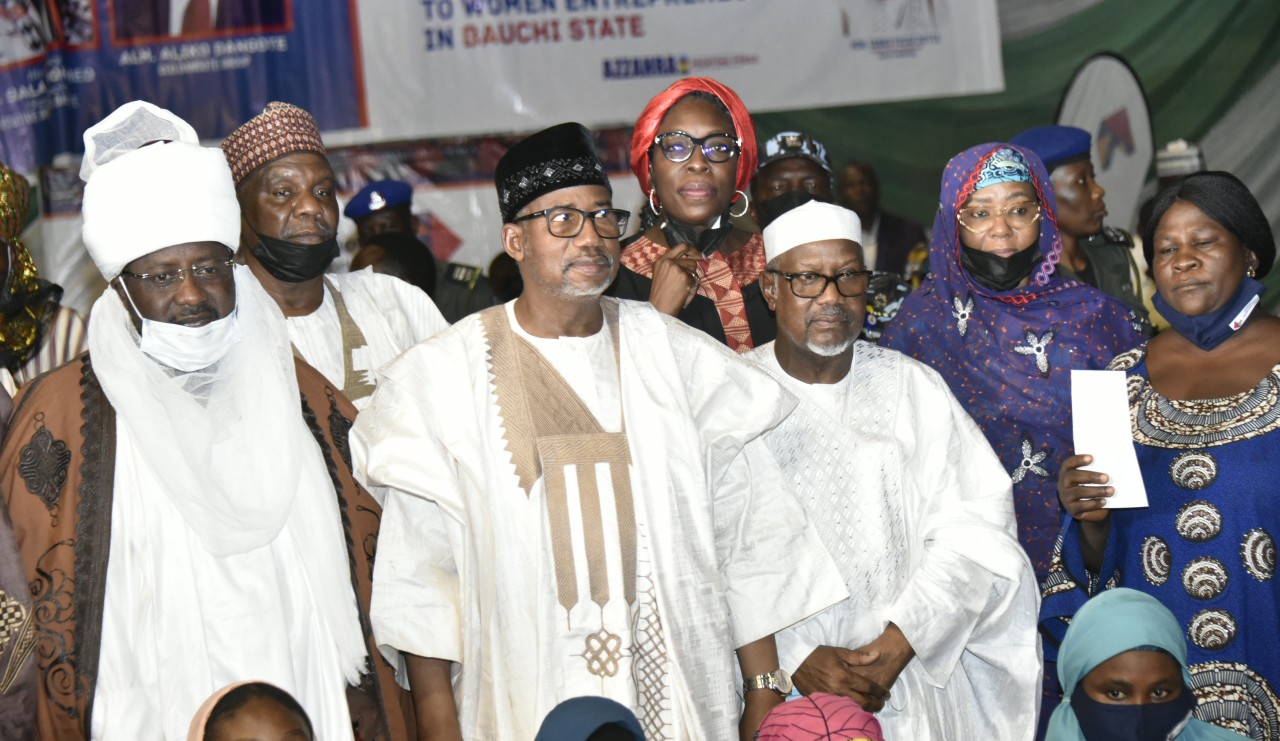 Dangote Women Empowerment Program Reaches N4.3billion in Disbursement
…he understands Nigeria better than some politicians-Gov
AJAGBE ADEYEMI TESLIM
SPONSIRED BY:H&H
The Aliko Dangote Foundation (ADF) has doled out a whooping N4.2billion as part of its unconditional Micro Grant Programme for empowering women in the rural areas across the country.
Speaking at the flag-off of its one-off unconditional Micro-grants Programme Tuesday in Bauchi, Chairman of the Aliko Dangote Foundation empowered twenty thousand vulnerable women across the 20 Local Government Areas of the State.
Dangote who was represented by the company's Group Executive Director Government and Strategic Relations, Mansur Ahmed said so far over four hundred thousand poor women have benefited from the programme in the country.
He said in Bauchi State, N200million is currently being disbursed to vulnerable women across the 20 Local Government Areas.
According to the Africa's top philanthropist, the unconditional micro grant is aimed at supporting the government effort's in empowering poor families in the State.
He said the Foundation had earmarked N10billion to be disbursed to vulnerable women across the 774 Local Government Areas in the country.
Dangote said states that have also benefitted from the scheme include: Lagos, Kano, Jigawa, Kogi, Adamawa, Borno, Yobe, Niger, Nasarawa, Sokoto, Katsina and Kwara state.
He added that the next states to benefit from the programme are: Osun, Edo, Ogun, Rivers, Anambra and Ebonyi state respectively.
"The Micro-grants programme is one component of the Economic Empowerment pillar of the Aliko Dangote Foundation. It provides disadvantaged and vulnerable women with a one-off, unconditional N10,000,00 cash transfer to boost their household income generation. This we believe will help reduce their vulnerability and meet their livelihood needs," he added. 
He said it is gratifying to note that majority of women who benefitted from the scheme have been able to grow the seed capital.
While thanking Aliko Dangote Foundation to coming to assist the vulnerable women in  Bauchi State,  Governor Senator Bala Abdulkadir Muhammad said he was very elated with ADF's intervention across the country and especially in his state.
He expressed optimism that the intervention will support lives and livelihoods of women, children and families in Bauchi State.
According to him: "Aliko Dangote is a beacon of hope for the Bauchi people. He has been creating not only business institutions at the highest levels but also touching lives at the lowest level. He seems to understand Nigeria more than some of us who are politicians. He's supporting our mothers who will help put food on our tables and train their children in schools.
"We've just named the school of nursing and midwifery after him. This is to mark his huge contribution to our societies in Bauchi."
"We are also using this opportunity to inform him that he should come and invest in Bauchi. We have the highest deposit of limestone in the country. We have the largest arable land and the largest forest. Bauchi is also very peaceful and secured."
The Governor also presented a book to the Aliko Dangote Foundation.
The book was written over a 100 years ago by Sheik Uthman Danfodio, and titled: The Principle of Leadership.
Speaking also, the Speaker, State House of Assembly Rt Hon Abubakar Y. Suleiman described the intervention as huge saying it would go a long way in supporting the poverty alleviation stride of the state government.
He said the state will continue to collaborate with the state in area of economic empowerment of womenfolk.
Commending the foundation, First Lady and wife to the Governor Mrs Aisha Bala Muhammad  said the intervention will help lift families from economic problems, even as she urged the women to invest it wisely.
Speaking, one of the beneficiaries Amina Musa, 50, said she would start micro business and use the profit to support her family.
Another beneficiary Jumai Rabiu, 47, described the intervention as huge and timely, adding that she will use the money judiciously and employ others too.
CIBN Unveils New Strategic Initiative "A-TEAM"; Solicits Ecobank's Collaboration
CIBN Unveils New Strategic Initiative "A-TEAM"; Solicits Ecobank's Collaboration
 AJAGBE ADEYEMI TESLIM
SPONSORED BY: H&H
The Chartered Institute of Bankers of Nigeria (CIBN) has unveiled a new Strategic Initiatives  with the acronym "A-TEAM" being  part of efforts by the institute to revamp banking practice in Nigeria. Speaking during a courtesy visit to the Management of Ecobank Nigeria, the President/Chairman of Council, CIBN, Bayo Olugbemi  explained that  A-TEAM as an acronym represents Accelerated Development; Technology and Digital Enhancement; Engagement for Growth; Accountability and Transparent Leadership and  Membership Drive for Value. Olugbemi commended Ecobank's consistent support for the Institute over the years to ensure  the realization of the Institute's mandate of determining the standards of knowledge and skills development for those seeking to become members of the banking profession.
The CIBN President stated: "We applaud Ecobank Academy as the first corporate member to become a member of the Global Business School Network and for the consistent support for the realization of the Institute's mandate of determining the standards of knowledge and skills to be attained by persons seeking to become members of the banking profession. We therefore seek Ecobank's collaboration and enlistment in our Endowment/Prize Awards in any subject of interest; support towards the renovation of Abuja Bankers' House; support for the establishment of banking museum by donating artefacts and other relevant materials;  and to participate actively in training programmes of the Institute."
Further, he congratulated Ecobank Nigeria and the Ecobank Group on winning several International awards, that includes the Best Retail Bank in Nigeria by Asian Banker ; Africa's Best Bank for Corporate Responsibility by Euromoney (Ecobank Group); African Bank of the Year (African Banker); Innovation in Financial Services Award from African Banker (Ecobank Group); EMEA Finance African Banking Awards 2020. Also the award of 'Outstanding Crisis Leadership – Finance & Business' awarded to Ecobank by Global Finance and the Starsight Sustainability Award by Renewable Energy Provider Starsight for deployment of solar systems in your 150 branches across West African country with an installed solar and hybrid capacity of 11 megawatts (MW) amongst several others.
In his response, the Managing Director, Ecobank Nigeria, Patrick Akinwuntan  pledged more support and collaboration with the Institute, restating that Ecobank will continue to contribute to the efforts of the Institute to become top class and remain relevant globally. According to him, "For us at Ecobank, we are extremely proud CIBNs efforts at ensuring public discourse on the future of the Nigeria economy and the banking and finance industry. This is not in isolation of the ethics, professionalism, accountability, transparency, good corporate governance without losing focus of harnessing the opportunities technology has provided in the new world order. Be assured of our maximum support and collaboration at all times.
Mr. Akinwuntan also identified with the efforts of the Institute to raise the bar of competency and capacity building in the industry, stressing that with sound professional conduct, every banker will be held in high esteem. He said Ecobank is working assiduously to ensure majority of its staff become members of the Institute, adding that the bank will also provide more mentees and mentors in its mentorship programme.  "We have a medium to long term programme to ensure all Ecobank Nigeria staff become chartered members of the Institute. At Ecobank, we take human capacity development very seriously. Some of our staff that wrote the last examinations are now chartered members of the Institute. We will also ensure bulk subscription of our staff. We will be nominating 30 mentors and 100 mentees to participate in the second mentorship programme". He stated.