To Buni, a Quintessential Bridge-Builder @ 54, by Hassan Gimba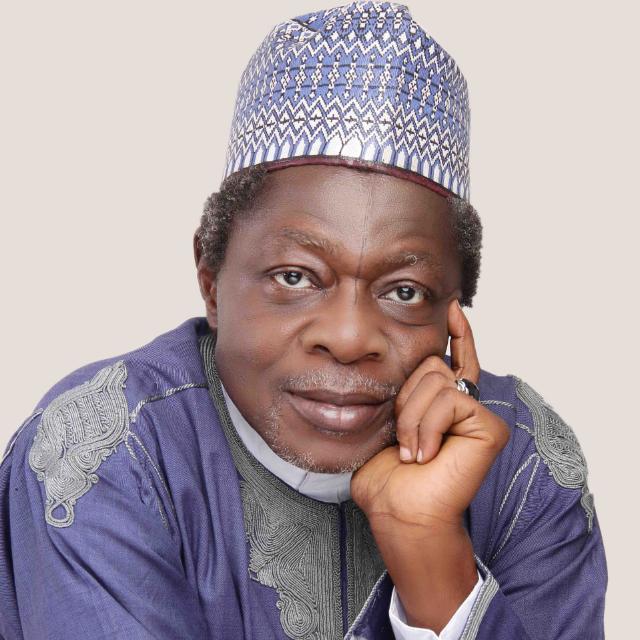 2023 General Election: The Spiritual Warfare Against Asiwaju Bola Ahmed Tinubu And The Role Of Primate Elijah Ayodele
By Lukmon Akintola
Ahead of the 2023 general election, several politicians and businessmen have started making underground moves.
While there are contenders, there are also a lot of pretenders. There is no gain saying that the likes of Atiku Abubakar, Senator Bukola Saraki, Governor Yahaya Bello are some of the contenders who have indicated their interest to contest the topmost job of President.
Indeed, there are other players like Asiwaju Bola Ahmed Tinubu and Professor Yemi Osibajo who recently declared their interest in the plum job.
Only recently, a report claimed that Professor Osinbanjo had confided in President Muhammadu Buhari that he would be contesting for president in the next election. This has proven to be a fact, as his supporters have since gone full throttle.
Tinubu's recent statement that he would not turn down invitations by groups or individuals to contest the election speaks volume of how far he is set to go to actualize his dream.
Indeed, several individuals, social groups, and organisations have continued to canvass for the former Governor of Lagos State to contest the election, even as he has already declared his ambition to President Muhammadu Buhari.
The trip to London by almost all the politicians that matter in Nigeria to greet the All Progressive Congress (APC) national leader while he recuperated in London after a successful knee surgery depicts the level of endorsement Tinubu enjoys towards the course at hand.
Indeed, it is also a common sight to see Tinunu's campaign posters in strategic locations in different states, especially in Lagos, while groups such as Tinubu Support Group (TSG), and SWAGA, a South-West initiative continue the structural work of what they hope would lead to the emergence of Tinubu as the next president of Nigeria.
Though there is nothing wrong with being ambitious, the ambition of Asiwaju Tinubu, is however one which has attracted several unpleasant comments from power brokers and political stakeholders.
In fact, his protégés including the publisher of Ovation Magazine, Dele Momodu, and Opeyemi Bamidele have blatantly denied endorsing his presidency.
While some people would be quick to tag Tinubu as the messiah of the APC, one fact which cannot be taken away from the man is that he is a powerful political juggernaut and the saviour of the APC south-west.
But is this enough to see Tinubu through to the exalted seat? From a common-sense perspective, the odds might look good for Tinubu, but the spiritual decides what happens in the physical world. The odds definitely don't look favourable for Tinubu from a spiritual perspective.
As far back as 2019, a respected man of God and the spiritual leader of Inri Evangelical Spiritual Church, Primate Elijah Ayodele had maintained that Tinubu becoming the President of Nigeria is like the camel passing through the eyes of the needle.
Specifically, Primate Ayodele said: "The national leader of the APC, Asiwaju Bola Ahmed Tinubu needs to restrategise if he wants to continue well in his political career. I see him being disgraced in the party except he quickly restrategises."
Primate Ayodele also stated that Tinubu's boys will betray him and that his political career will not exceed 2023.
The man of God also warned that Tinubu's political existence will soon end as he foresees his political sons standing against him due to the betrayal and uprising that will be raised against him.
"The plans to take over power from him are underway and almost perfected. His 'boys', those he trained politically, will betray, backstab and rise up against him."
While many have tagged Primate Ayodele a political prophet, there is no gainsaying that those who have not heeded the spiritual advice of the man of God have done so at their peril, with many still regretting their choice of action.
While it is not ideal to celebrate people's downfall, the list of people who have not heeded Primate Ayodele's advice and have lived to regret it is indeed very long.
Be that as it may, the odds have definitely been positive for those who have heeded the advice of the man of God.
In an exclusive interview with respected online news platform, www.theoctopusnews.com, Primate Ayodele, explicitly spoke on the revelations of God to him about Tinubu's presidential ambition.
He said; "I love Asiwaju Bola Ahmed Tinubu, he is a good man, a nice man, and one of the good leaders I respect as an elder statesman. But the fact is if Tinubu wants to kill Lagos, he should go for the presidency and start struggling for Lagos. He will lose the presidency and Lagos State.
"It is a warning, and I am saying this because I love him. If for any reason Tinubu gets there, say they make him president, Nigeria will collapse. Nigeria will be worst with Tinubu than Buhari, so Tinubu should not make an attempt to say that he wants to be president. He should just remain as a decision-maker and leader deciding who should go where."
Though the spiritual political fate of Tinubu looks grim, there is no denying the fact that the worst destinies have changed for the better via the intervention of God.
Today, pastors preach the story of how the destiny of Jabez in the Bible was changed when he reached out to God. Could Tinubu also enjoy this fortune, is it possible that the political fortune of Tinubu could change with the right spiritual intervention?
In the past, Primate Ayodele had called on the President Buhari-led government to seek the face of God through his prophets, true prophets who will tell him what God has revealed to them. While the Buhari government has failed to heed the advice of the man of God, the country continues to be ravaged by different challenges including economic crisis and insecurity.
Interestingly, President Buhari recently acknowledged the need for divine intervention to fight insecurity thus confirming Primate Ayodele's age-long position
With 2023 just by the corner, it becomes important to ask if Tinubu would take the wise route of seeking spiritual intervention from true prophets or if he would join the list of those who have ignored the man of God at their peril.
My take is simple. For what it's worth, Tinubu should seek the face of God from true prophets, one which I know being Primate Babatunde Elijah Ayodele. At least, by so doing he would have eliminated the "Had I Know" factor.
Lukmon Akintola is a journalist and the publisher of online news platform, www.theoctopusnews.com.
Banditry and Our Quest For Leadership, By Hassan Gimba
Banditry and Our Quest For Leadership, By Hassan Gimba
August24news.com
SPONSORED BY: H&H
I wanted to continue with my treatise on the Rule of Law as our only panacea for survival when a clarion call by the governor of Katsina State, Alhaji Aminu Masari, caught my attention.
It might have come as a shock to many when Masari called on people of his state to arm themselves, rise, and confront bandits to defend themselves. He lamented that security officials alone cannot tackle insecurity in the state.
Masari's state, like other northwest and north-central states of Zamfara, Kaduna, Sokoto, Kebbi, Niger, Kaduna and Kogi, has witnessed incessant attacks by bandits linked to the dreaded Boko Haram groups. They have killed thousands of people, kidnapped hundreds and displaced some thousands from their homes in these states.
The governor preached to his people that "it is allowed Islamically for one to defend himself against attacks. One must rise to defend himself, his family, and his assets. If you die while trying to defend yourself, you'll be considered a martyr."
He expressed displeasure that bandits have arms, while good men do not have guns to defend themselves and their families. He then declared his government's readiness to help those who desired to own arms as a way of pushing back against banditry.
This will not be the first time that a high-ranking member in this government will exhort the people to take up arms in defence of themselves. In February last year, the minister of defence, Maj. Gen. Bashir Magashi (retd) told a dumbfounded nation to rise and defend themselves against bandits and "stop being cowardly".
Said he: "In our younger days, we stand (sic) to fight any aggression coming for us…I don't know why people are running from minor things like that. They should stand and let these people know that even the villagers have the competency and capabilities to defend themselves."
But before them, the Emir of Muri in Taraba State, Alhaji Abbas Tafida, had taken the bull by the horns and thrown down the gauntlet. He threatened bandits with death if they did not leave his forests in 30 days. He said: "Our brothers, the nomadic herdsmen (Bororo) from neighbouring countries, you came to us to allow you to stay in our forest. We allowed you because you are our brothers. When you came, we welcomed you. We regarded you as fellow Muslims. But the question you must answer is, are you Muslims?
"This is a question we are waiting for you to answer. We deserve to know if you are Muslims. If you are one of us (Muslims) and you decide to stay in the forest, only to kidnap us one by one for ransom, stop it because your attitude is not acceptable to Allah. But if you are not Muslims, I want to tell you, like we fought the infidels before, we are ready to fight you with all our strength. So I have given you (Bororo) 30 days to leave my emirate. If we see any of you after the expiration of my ultimatum, we will kill him."
Before him, in December 2020, the Emir of Anka and Chairman, Zamfara State Council of Chiefs, Alhaji Attahiru Muhammad Ahmad Anka, had said that they were tired of appeals and that if nothing was done to stop banditry and attacks on traditional rulers, they should be allowed to carry weapons to protect themselves.
He made the comment when he condoled the Emir of Kaura Namoda in Zamfara State, HRH Alhaji Sanusi Muhammad Anka, who lost eight people to an ambush on his convoy by bandits.
He told journalists: "This was the second in line. Last year, the Emir of Pataskum was attacked; here in Zamfara, the Emir of Bukkuyum was also attacked and his orderly killed. I can also remember even Emir of Yauri was some time ago attacked."
However, before them all, in March 2018, Gen. Theophilus Yakubu Danjuma (retd.), former chief of army staff and minister of defence, had urged Nigerians to defend themselves against killers in the country. He made the call while speaking at the maiden convocation of the Taraba State University, Jalingo, Taraba State.
He said: "I am not a politician and politics is one profession I don't want to belong to because if I am a politician, I would not say what I am going to say to you now…When I arrived at this arena, I saw a rich cultural display, and I was amazed at the rich cultural heritage of our people. Taraba is a mini-Nigeria with diverse ethnic groups living together peacefully, but the peace in this state is under assault…There is an attempt at ethnic cleansing in the state and, of course, some rural states in Nigeria…We must resist it. We must stop it. Every one of us must rise."
He was vehemently attacked, though, but mostly based on sentiment. Now those who attacked him are mostly those crying for help.
Incidents of banditry and kidnapping have become an everyday affair. Within the first six months of last year alone, the Kajuru community, just 30 kilometres from Kaduna, was attacked and its emir and 13 members of his family abducted. A first-class traditional ruler in Kogi State, the Adogu of Eganyi in the Ajaokuta Local Government Area of the state, Alhaji Mohammed Adembe was also kidnapped by bandits along Okene-Adogo road.
Government Secondary School, Kagara in Niger State, was also a target, with 50 of the students abducted. Government Science Secondary School, Kankara, in Katsina state, was attacked and 300 students were kidnapped. Female schools were not spared as Girls' Secondary School, Jengebe in Zamfara State had about 100 of its girls kidnapped. Some have already been "married" by the bandits. Salihu Tanko Islamiya School in Tegina, Niger State was also invaded, and about 136 pupils were whisked away. Greenfield University and the College of Forestry Mechanisation, both in Kaduna and Nuhu Bamalli Polytechnic in Zaria, were violated as well. In all these abductions, some students and staff died. There were, of course, many more cases of kidnapping that never got reported in the media.
According to Nigeria Security Tracker, there have been 5,800 deaths and 2,943 kidnappings between January and June 2021. The reported cases are: North-West -1,405; North Central – 942; North East – 210; South-South – 140; South West- 169; South East – 77; Northern Nigeria – 2,557; Southern Nigeria – 386. There were 2,943 kidnap victims in 181 days, an average of 16 per day. The 12 states with the most number of deaths are – Borno: 1,137; Zamfara: 862; Kaduna: 715; Benue: 449; Niger: 407; Ebonyi: 210; Katsina: 164; Imo: 153; Kebbi: 144; Yobe: 137; Oyo: 114 and Anambra: 109, while the states with most kidnap victims were Niger, 795; Zamfara, 523; Kaduna: 479; Katsina, 289; Borno, 115; Kebbi: 103; Oyo: 63; Delta, 55; Taraba, 55; FCT, 52; and Edo, 37.
Therefore, while government officials proffering solutions outside the constitution may shock some people, many people were not surprised. These officials were not talking in private but to the media, so they were deliberate. It may be a confirmation of what the thinking is in the corridors of power. And what this tells us is that the government is increasingly getting into despair and the security agencies are at their wit's end.
But that is okay. I mean, if the government will accept that bandits and insurgents are overwhelming the nation's security forces, then that is being transparent and we can easily arrive at a solution.
One solution is for the government to organise a people's militia that will flush out all those marauders. It can encourage each local government to muster at least 5,000 of its youth that will be trained to confront the bandits. The Nigerian government should transform the war against the bandits into a people's war for self-defence by training and arming these youths. We must take the battle to every inch of the space occupied by the bandits. Possibly, all settlements in the bush should be cleared and moved to the main roads.
That strategy proved successful in both Iraq and Syria. But it is not only in Iraq or Somalia alone. Here in Nigeria, some communities have stood eyeball to eyeball with bandits and insurgents and, as a result, found themselves some peace. Biu in Borno State and Azare in Bauchi State readily come to mind.
When Boko Haram members set the people of Biu in their sights, killing them arbitrarily, the elders met and decided to "kill the enemy within". Known community members who aided the terrorists were arrested in a sting operation and summarily executed. Extrajudicial, of course, but it was a period of war and self-survival was paramount. Putting sentiment aside, parents gave up their sons, friends pointed at friends, and all culprits were dealt with. Boko Haram chiefs had to send a delegation to the town seeking a truce. Since then, Biu found peace as Boko Haram never attacked them again, leaving them in peace while other northeastern towns have known no respite from Boko Haram.
Next week we shall resume with our treatise on rule of law, the culmination of which is on the sort of leadership and leader we should look for in 2023. This is because even this issue discussed in this piece can be solved with good leadership.
—
Hassan Gimba
The Rule of Law, Nigeria's Only Hope for Survival (3), By Hassan Gimba
Many patriots concerned with our rapid nose-diving in morals and abandonment of the rule of law believe that the British left too early. Some theorise that perhaps if our independence, achieved on a platter of gold, was delayed for 20 more years, we would have still been on the course.
Had we gotten our independence in 1980, about three generations of Nigerians would have gone through tutelage under the prim and proper Britons rather than just one generation. And perhaps respect for the rule of law might have been so engraved in our national psyche, they reason.
Well, our situation has passed the level of lamentation. What we should aim at, after identifying the cause(s) of our problem(s), is proffering the way out.
The most important thing is for our crime-fighting and justice enforcement capability to be strengthened.
At the height of the EndSARS protest, I wrote that the Nigerian Police Force, with the motto 'The Police is Your Friend', whose mission is to 'make Nigeria safer and more secure for economic development and growth; to create a safe environment for everyone living in Nigeria and to build a people-friendly police force that will respect and uphold the fundamental rights of all citizens. But is the Force friendly? Do its operatives care for our rights?
The Nigeria Police have done its best to be accepted by Nigerians as an altruistic institution. It has created an excellent motto and at a time even changed its name by excising force, but apparently it has stuck. Happy to use force, often it never pretends to be a friend, even earning for itself the sobriquet 'Kill and Go', especially when the Police Mobile Force (PMF) was in vogue.
Even though many innocent citizens have died in its hands, the Nigeria Police have done wonderfully well in crime-solving that, sometimes, one wonders whether they use magic. Apart from excelling in international missions, they have cracked a lot of seemingly hopeless cases at home.
This is despite the known fact that the police in Nigeria are underpaid, under-trained, under-equipped and under-appreciated. The welfare of the average police officer is appalling as the force's big guns convert provided funds for personal use, exhorting their juniors to "wait for your time".
But the rot in the police force is beyond SARS. It is foundational, historical, institutional, traditional as well as cultural that only education (training is part of education) can improve them and save our country from their atrocities. In the first place, the primary reason the colonialists established the police was to protect British economic and political interests and the police achieved that through brutal subjugation of indigenous communities by the use of violence, repression, and excessive use of force.
Nigerian leaders who took over from the colonialists have continued to use the police in a similar vein. So all ministers, legislators, entrepreneurs, their wives, children, girlfriends, businesses, residences, etc, all have adequate police protection while our communities and streets do not have enough.
Though it is a Nigerian phenomenon for anyone in a uniform of whatever shade to be a tyrant, the police officer must be educated to know that the personal safety and wellbeing of every Nigerian is his primary duty, not the opposite as has been the case most times. His loyalty is foremost to the Nigerian constitution, not to any individual. He must be humane, law-abiding, conscientious and people-friendly. But their bosses (of course there are excellent ones) must be fair to the institution and subordinates by jettisoning the mantra, 'Wait for your time."
Again, it is not just about salary. A poor mind will still lust for more, no matter how much his take-home pay is. Coupled with education, the police officers' welfare must also be looked into. What obtains now, right from training school, can only produce frustrated individuals. He should not be allowed to put his life on the line for us while the state treats him with disdain.
Then we must enhance our intelligence-gathering methods. There used to be a time when the Crime Investigation Department of our police was famed for its many successful exploits. Likewise, the Department of State Services is still doing a wonderful job. I know this because the DSS played a major role in decimating Boko Haram members living in towns.
Perhaps what remains is to resuscitate our information gathering abilities because apart from technology, human intelligence (HUMINT) gathering through stool pigeons, etc, cannot be overemphasized.
Our judiciary and its capacity to deliver timely, just and fair judgment on cases involving the weak and the strong must be improved. Timely judgment delivery takes care of case clogs. Cases that have been begging for attention overwhelm the courts because of their plodding nature. Some cases can take years, even decades, before they can be foreclosed.
There also has to be the least interference in the dispensation of justice. Where the executive stops a case through nolle prosequi or outrightly tells the judge to hands off a case, or even deliberately refuses to attend proceedings, must stop.
We have witnessed how criminals who break the laws of the land are given a soft landing. There are cases where governments "pardon" those who have taken up arms against the state. These are insurgents who have slaughtered, maimed, burned public and private property. To pardon them while nothing is done to mitigate the pain of those they harmed, or their families in both the civilian and uniformed populations, sends the wrong signal.
Next, which may be the last part of this treatise, we shall look at the role of leadership in entrenching the rule of law in a country. We shall also attempt to suggest the type of leadership that suits us as a nation with diversity and possibly a leader that may be capable.–
Hassan Gimba