Elections: We Are Concerned About Democracy In Nigeria – US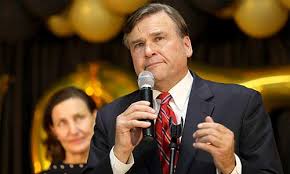 Eniola Olayemi
US Ambassador to Nigeria, Mr Stuart Symington, on Friday, said his country had concerns about Nigeria's democracy.
Symington stated this when he visited the Inspector-General of Police, Mr Mohammed Adamu, in Abuja.
He said that the US was aware of the security challenges confronting Nigeria and the efforts of the Police to tackle them.
The envoy, however, said he was optimistic that the right things were being done to ensure that peace and security reigned in the country.
"I am here to give my support to the Nigeria Police Force," he said.
Responding, the IG said that the Police, under his watch, was tackling the security challenges in parts of the country.
He, however, pointed out that the challenges could not be tackled without the support of citizens.
"We are also seeking the support of the diplomatic community. We need your support in the area of training for our personnel which you have done several times, "he said.
Adamu called for further assistance from the US in the area of technology to further enhance operational capacity of the force.
The US and the United Kingdom recently announced repercussions, including visa restrictions, for election interference and election-related violence in the forthcoming polls in Nigeria.
Both nations stated the elections were important not only for Nigeria, but for Africa.
Pension Funds Investment in Real Estate, Infrastructure Will Grow Assets – Ojumu
August24news.com
Sponsored by: H&H
The Head of Equities and Fixed Income sales, Absa Nigeria, Simi Ojumu, speaks on the operations of Absa in Nigeria, how to diversify pension portfolio and how Pension Funds Administrators can meet their recapitalisation targets
Question: We noticed a stronger presence of Absa in Nigeria. Tell us about your operations in Nigeria.
Answer: Absa is a leading Pan-African Bank with a strong footprint and proven on the ground capabilities across the African continent. In 2010, Absa established a corporate and investment banking representative office comprising 3 bankers. The team has since expanded.
We now have two licensed subsidiaries namely Absa Capital Markets Nigeria Limited and Absa Securities Nigeria Limited; both firms are fully owned subsidiaries of Absa Group Limited. We are licensed by the Nigerian Securities and Exchange Commission ("SEC") to provide financial advisory, capital raising services and Stockbroking services in the Nigerian capital market.
Absa Capital Markets Nigeria Limited and Absa Securities Nigeria Limited were established in 2017 to further expand Absa's product and service offerings in Nigeria.
Question: As the custodian of Absa's pension portfolio in Nigeria, what is your opinion on the pension industry in Nigeria, how has the Contributory Pension Scheme (CPS) fared?
Answer:The Nigeria pension industry has really evolved and in the right direction too. This significant growth we have seen is incident on the enactment of the Pension Reform Act (PRA) of 2004. While that Act has been replaced with the PRA 2014, the growth trajectory we have witnessed in the pension industry is hinged on the PRA of 2004.
Prior to the PRA of 2004, the industry was near stagnant catering to only a few of the Nigerian workforce. With the PRA, it became mandatory for every employer with more than 5 staff strength to enroll its staff in the scheme and contribute. Today, the Contributory Pension Scheme (CPS) has enabled millions of Nigerians to have inputs on who manages their pension funds. A savings culture is being imbibed, as both employee and employer must contribute towards the employee's retirement. The CPS, through the multiple operators and agencies- the Pension Fund Administrators (PFAs), Pension Fund Custodians (PFCs), Closed Pension Fund Administrators (CPFAs) and the regulator National Pension Commission (PenCom) has created an ecosystem of career path, employment, business and investment opportunities for several Nigerians.
In less than two decades, Nigeria's Net Assets Value of Pension Assets has grown fromFederal government budgetary pension deficit estimated at N2 trillion as at June 2004 to N13.6 trillion as at January 2022. Its contribution to GDP has grown from 0.9% in 2004 to 9% in January 2022. Of the N13.6 trillion Net Assets Value, over 60% of the funds are invested in FGN Securities, while the rest are spread across local money market securities, states governments securities, real estate, mutual fund, corporate debt securities, infrastructure funds, private equity, cash and other assets.
Indeed, the CPS has fared well, but there is room for growth.
Question: With a labour force of over 80 million Nigerians, only 9.5 million have Retirement Savings Accounts (RSAs). What would you say is responsible for this? And how can it be improved?
Answer: Despite the considerable success of the PRA 2014, the CPS has faced and continues to face some challenges. Low coverage, lack of political will on the part of state governments (only 24 states in the country have adopted the law), inadequate awareness on the scheme's benefits and the inability to ensure strict compliance by the parties, especially the Federal Government who is the largest employer of labour. Several bills, requesting exemption of different groups of Federal government employees continue to be put forward, even with the knowledge that this will cause a disruption to the flow of the CPS as we know it.
Concerted efforts should be made to ensure the complete success of the CPS. More public and private sector organizations should participate in the scheme. The Federal government should adequately fund its employees' accrued benefits. Compliance should be ensured, and massive awareness should be carried out by all the parties involved.
Question: How have the pension assets fared, in terms of contribution to GDP?
Answer: The bulk (61%) of the pension assets, as of the end of January 2022, was invested in Federal Government securities, providing the Federal Government with low-cost long-term funds to implement its capital budget. PFAs also invested in companies listed on the Nigerian Stock Exchange, with 7% of funds invested at the end of January 2022. In addition to providing stable ownership in key firms, PFAs also improve corporate governance in listed firms they invest in, this is due to their collective investing power, which they can use to enforce best practice in corporate governance. Furthermore, PFAs invested 7% of pension funds, in the same period, in private sector corporate bonds, providing the firms with long-term cheap funding to finance growth.
The Net Assets Value of Pension Assets under the Contributory Pension Scheme, N13.6 trillion represents 9% of nominal GDP
Question: Should a part of pension assets generated in Nigeria be invested in global markets?
Answer: This is already being done, as the pension assets are invested in a much-diversified portfolio, including a mixture of global and local equities, which is strictly regulated by the PenCom. PFAs willing to invest in global markets will seek PenCom's approval.
Currently,majority of the pension funds are invested in government securities (federal and state governments bonds), there are other investments in the stock exchange, corporate bonds, real estate, private equity, infrastructure funds and there is the need for diversification to foreign markets for higher returns and hedge against inflation, currency fluctuation and market volatility.
Other diversification considerations should include alternative and non-traditional investments as consistent with global trends. However, the PenCom restrictions on the percentage of funds that can be invested in various sectors, markets and financial institutions, should be further reviewed. The current percentage of funds allowed to be invested in real estate, private equity and infrastructure funds are grossly inadequate if we want to grow the Nigerian pension assets to GDP to the 100% mark as obtained in other markets.
Beyond investment in global markets, the investment portfolio for the PFAs should be critically reviewed in terms of performance. It is important to ensure that inflation does not erode the value of these assets and investments over time.
Question: What can the National Pension Commission (PenCom) do to increase participation in the CPS and compliance from existing employers?
Answer:There is a need for massive awareness on the implications of partial and non-compliance with the PRA 2014 by private employers, state governments and the federal government as well.It is uncharitable for any state government or any employer of labour, be it in the public or private sector, to delay enrolling their workers in the new pension scheme. There is also the need for stricter enforcement to ensure that state governments and private employers remit pension deductions to workers' PFAs. There is the need for PenCom to engage the critical stakeholders here; State houses of Assembly, National Assembly, the Financial Reporting Council of Nigeria (FRCN) to drive compliance in enrollment and remittances.
Question: The Pension Reform Act 2014 amendment is in its final legislative stages. With the amendment seeking to exempt the Nigerian Police Force (NPF) from the PRA 2014, what will be the immediate effect on the economy in view of the current budget deficit of N6.2 trillion?
Answer: Exemption of the personnel of the NPF would imply additional financial burden on the Federal Government by way of unsustainable pension obligations.
As of September 2021, there were 304,963 police personnel based on IPPIS data, and actuarial valuation revealed that the retirement benefits (pension and gratuity) liability of this personnel under the defunct Defined Benefits Scheme would amount to about N1.84 trillion.
The liability under the CPS for the same NPF personnel is made up of N213.4 billion with accrued pension rights and monthly employer pension contributions of about N2.2 billion.
In the light of this and the current budget deficit, all parties involved need to seek other solutions, as withdrawing the NPF from the scheme could destabilize the entire model and will impact heavily on an over-burdened budget.
Question: How will the amendment impact on the savings culture of Nigerians?
Answer: It may set an unhealthy precedence of various groups wanting to pull out of the CPS, which will in turn, negatively impact on the savings culture hitherto imbibed. The mandatory nature of the contributions has helped employers and their employees to be directly involved in saving for their pensions and ensure accountability in the process. Compared to what was in existence during the era of Defined Benefits where there were no funds and people waited forever to receive their retirement benefits.
Again, it brings us to the need for increased awareness for the benefits of the CPS, its contribution to economic growth and the security it portends against defined benefits.
Question: The deadline for recapitalisation of Pension Fund Administrators is upon us and we have seen the initiation of some mergers and acquisitions in the pension industry. Increasing the shareholders' funds from N1 billion to 5 billion per PFA, how do you see this affecting the pensions industry?
Answer: This is the second recapitalization the pension industry has seen since the inception of the Contributory Pension Scheme, and it is a sign of growth in the industry. As the assets under management and the PFA portfolios grow, the recapitalization becomes necessary.
The PFAs will need to retain their skilled workers and attract top-tier talent. There is need for digitalization, post Covid-19.
For those who have been unable to meet the capital base on their own, they have gone the route of Mergers and acquisitions, to make them bigger players in the pension industry.
Question: How will the M&As affect the contributors' assets and will there be any downsides?
Answer:PenCom announced the approval of three Mergers and Acquisitions on March 2, 2022, these mergers and acquisitions enable the entities to pull their resources together and become a larger force. The new PFAs will have the combined Assets Under Management (AUM) of the previously separate PFAs under one umbrella, which gives them more resources at their disposal.With smooth transitions, there should be no negative effects to the contributors' assets.
However, smooth transitions are also largely dependent on the Investment bank that facilitates the reorganization and, in this case, the mergers and acquisition. This is one of the core services of Absa Group in Nigeria. At Absa Nigeria, we have proven expertise to manage mergers and acquisitions to ensure smooth transition of the new company.
Question:How can the Pension Fund Custodians (PFCs) take a more active role in the CPS?
Answer: Pension Fund Custodians (PFCs) are responsible for keeping safe custody of pension assets on trust on behalf of contributors. The main functions of PFCs are to receive pension contributions on behalf of PFAs; settle transactions and undertake activities relating to the administration of pension fund investments on behalf of PFAs and to notify the PFA within 24 hours of the receipt of pension contributions from employers.
The role they play in ensuring the safety of the contributor's assets cannot be over emphasized.
Question: With Absa being experts in the Fixed Income and Equities trading space, how would you advise policy makers to go about improving the business of pensions?
Answer: The most important thing would be to ensure the sustainability of the contributory pension scheme. Ensuring participant compliance by the Federal, State governments and the private sector, creating awareness of the benefits, creating an investor-friendly environment, are some of the ways that policy makers can ensure that the pension sector continues to thrive and improve its contributions to the country's GDP.
We Will Act Base on UN Resolution, Nigeria Foreign Minister, Onyeama
August24news.com
Sponsored by: H&H

The attention of the Honourable Minister of Foreign Affairs Geoffrey Onyeama has been drawn to an online publication where he was reported to have said in an interview that Nigeria was ready to impose  sanctions on Russia for Invading Ukraine.
The Minister clearly said, We would act in the framework of the UN, and if there was a UN Resolution, we would be obliged, but there would not be because Russia has a veto power.

Que:  "Several countries have imposed sanctions on Russia is Nigeria making any practical move in that direction?

Ans:  This is going to be a collective action. The UN has to act, and we are going to act and engage within the framework of the United Nations. So if UN, for instance, adopts and imposes sanctions on Russia, we will comply with UN resolutions on any matter.

Que: How detrimental would that be to our investments concerned with Russia?
Ans: Certainly, it will have an impact, I'm not sure that we have huge investments in Russia. It's not a country in which we have huge investments. We have good relations with Russia, but as I said, Russians vetoed the Security Council. They are chairing the Security Council. So it's gone to the General Assembly.

Que: Can we bear the anger of Moscow based on our relationship, Nigeria we go the way UN goes?
Ans: You won't have sanctions because Russia has the veto power in the Security Council, so you will not have a situation when the Security Council is going to accept to impose sanctions on Russia, because Russia has the veto power and is chairing the Security Council
Developing Economies Need a Fair Energy Transition Strategy – Chairman, Stanbic IBTC
AJAGBE ADEYEMI TESLIM
Sponsored BY: H&H
Exclusive Interview with Stanbic IBTC Chairman, Mr. Basil Omiyi where he gave Justice to many Questions and sundry   
1.  What is your view of the financial industry since 2021 begun?
The financial industry has played a vital role in the global economic recovery since the novel COVID-19 adverse impact in 2020. The Nigerian financial sector, particularly the banking industry, has been exceptionally responsive to the challenges in the domestic environment. The resilience of the Nigerian financial sector is undoubtedly reassuring, and the Central Bank of Nigeria has been supportive in various aspects. However, due to the fragile economy, high inflation rate, Naira devaluation, and an intensely competitive business environment, the financial sector grapples with harsh macroeconomic conditions.
2. Environmental, Social and Governance (ESG) have become of increasing interest among companies in the last couple of years. How is Stanbic IBTC promoting and adopting this concept?
At Stanbic IBTC, we are well onboard the ESG paradigm. We recognise that our core business activities must support and contribute to inclusive and sustainable economic growth. We have thus adopted SEE (Social, Environmental and Economic) Impacts as one of our strategic value drivers. The SEE value driver requires us to think differently about the broader ESG impacts of our business activities, both direct and indirect impacts. 
In operationalising the SEE value driver, we seek to identify and explore opportunities to provide financial solutions, products, and services that help address social, economic, and environmental challenges. This also requires that we work with our clients, service providers, and other stakeholders to promote positive SEE outcomes while minimising negative SEE impacts.  
3. There have been various calls for the adoption of green energy, especially among corporate organisations. Recently, Stanbic IBTC held its Sustainability Week, where the need for zero-emission was discussed. How important is green energy to sustainability development in Nigeria, and what can other corporates, for example, major financial institutions do to drive this principle?
For development in Nigeria to be sustainable, there must be an appropriate balance to ensure the environment and society are not negatively affected by economic activities, both today and in the future. We acknowledge that the economy and society are wholly owned subsidiaries of the environment; hence we must strive to ensure that the environment remains stable to support economic and social activities. 
Green energy (Solar, Wind, Hydro etc.) thus presents an opportunity to pursue economic development while ensuring minimal adverse impacts on the environment. Green energy is devoid of carbon emissions (unlike fossil fuel energy sources) which harms the environment and is one of the major contributors to climate change. Corporates, including financial institutions, can gradually shift to cleaner energy sources for their operations. Also, financial institutions can help advance this shift by facilitating funding (in line with their risk appetites), which will be necessary to achieve growth in the green energy space.
However, the journey to a green energy world has only just begun. As you saw at COP26 (Conference of Parties 26), the world is attempting to obtain the commitment of Nation States to the Net-zero emission world. Progress is being made, but it is slow, and there are contentious positions. At this stage, most developing economies do not have the technology for green energy. Neither can they afford the cost of green energy if they are to continue providing for their people and societies and improving their standard of living. The developed world, which is disproportionally responsible, on both gross and per capita basis, for the bulk of carbon emission into the atmosphere, is unwilling to drastically cut their energy consumption, as they wish to maintain the standard of living of their people. Therefore, there is a need for a just energy transition strategy that is fair to all and affordable to all.
4. How has your organisation been able to reduce its carbon footprint, especially in the banking halls and areas where staff members interface with customers?
Building Environmental Resilience is one of our four Sustainability pillars in Stanbic IBTC. This pillar demonstrates our focus on environmental footprint management. In line with this, we have implemented and continued to expand on programs to reduce our carbon footprints. The key areas include: 
– Reduction of energy consumption in our office locations using energy-efficient fittings; retrofitting our office locations to maximise cooling and reduce energy wastage; the Switch-off and Unplug (SOUP) initiative after working hours.
– Adoption of cleaner energy sources across our office locations. We installed solar energy solutions across over one-fourth of our branch locations. In addition, we have adopted the use of natural gas (which is cleaner than diesel and petrol) for our energy consumption at our Idejo and Walter Carrington Crescent head office campuses. 
– We also have the Go-Green program across some branch locations to reduce energy and paper consumption and improve water efficiency. 
Besides reducing our carbon generation, we have recently also adopted Tree Planting programs to help us with carbon sequestration. So far, we have facilitated the planting of over 300 trees, and this number will grow significantly in the coming years.  
5. What measures has Stanbic IBTC as a group taken to combat climate change?
We acknowledge the need for urgency in halting climate change, and Stanbic IBTC is contributing its quota to addressing this issue. In addition to the programs discussed earlier (aimed at reducing carbon footprints from our operations), we are also working with vendors and customers to provide solutions that can help address climate change issues. This is reflected in one of our seven focus SEE Impact Areas – Climate Change and Sustainable Finance – where the Group seeks to provide financial solutions to support climate change mitigation and adaptation measures. 
We also continue to advance awareness around climate change amongst the general public; leveraging our social media platforms and webinars, for instance, the recently concluded Net Zero Webinar. Similarly, our parent company, the Standard Bank Group hosted a Climate Summit in partnership with University of London's School of Oriental and African Studies. We continue to take awareness communication initiatives by sharing practical tips that people can adopt to help address climate change. 
6. We know that marketing and advertising is very necessary to any business – yours inclusive. What plans are in place to adopt sustainable advertising models which help the environment and move away from traditional advertising?
As an organisation, we have begun practicing sustainability marketing. One of the ways we have done this is drastically reducing our investment in traditional print media advertising and up-weighting investment in digital advertising. We have also instituted Sustainability Saturdays, where we educate the general populace across digital platforms on all issues about sustainability, highlighting what we, as a company, have invested in socially and our environmental impacts in the areas we operate. These are embedded in our marketing strategy. Another way we practice sustainable advertising is by ensuring that our marketing is consumer-oriented. Our engagements with our customers are innovatively value-adding to the customers. Lastly, our solutions, products, and services are useful to all strata of society.
7. How well will you say Nigerian businesses and corporate organisations are doing in terms of protecting the environment?
I would say there is growing awareness amongst Nigerian businesses on the need to protect the environment. Some organisations are genuinely adopting measures to manage their environmental footprints in line with their commitments and or regulatory requirements. 
However, we are barely scratching the surface as a lot of work still needs to be done to develop appropriate regulations and enforce existing regulations to ensure compliance with environmental best practices and standards. Also, a lot still needs to be done in collaboration amongst stakeholders (regulators, NGOs, corporates, communities) to advance environmental protection in Nigeria. 
8. In your opinion, how has the pandemic affected the adoption of sustainable environmental practices?
The COVID-19 pandemic presented a potent reminder of the need for businesses to adopt sustainable practices that can help minimise disruptions to business arising from such black-swan events. It was interesting to note how organisations quickly adopted sustainable environmental practices such as using digital conferencing systems and reducing business travel, which is a key contributor to global emissions.  Therefore, in my opinion, the pandemic accelerated the adoption of sustainable environmental practices.
9. As a company that is big on CSI projects, how do you contribute in ensuring your host communities benefit from sustainable environmental practices?
As a socially responsible organisation, we develop initiatives to impact the communities in which we operate. Over the years, we have donated several water borehole projects to our host communities as part of our role in improving the standard of living of these communities. Access to clean water is part of the United Nations Sustainable Development Goals and we deliberately chose solar energy to power these water sources. Being an SDG-oriented organisation, another reason we have opted for the high quality solar powered borehole machines is to reduce the impact of fossil fuels on the environment.
We also have embarked on tree planting activities as part of our CSI initiatives; which we have been able to sustain due to our partnership with the Nigerian Conservation Foundation (NCF). As part of our 30th anniversary activities in 2019, we planted 30 trees at Lekki Conservation Centre (LCC), an urban jungle in the heart of Lagos. We further planted 30 trees in each of the six geopolitical zones of the country. We have also encouraged staff to participate in tree planting activities through their departmental CSI initiatives. This is one of the practical methods we have taken towards reducing carbon footprints and achieving net zero emissions.
10. What can be done differently in the financial sector in Nigeria to ensure more people begin to pay attention to issues that affect the planet?
I believe that the societal influence of the financial sector in driving positive changes has not been fully harnessed. On one hand, the public perception of the financial sector needs to be improved such that it claims its rightful place in society and get the public assured that it functions for the greater benefit of the society. The industry is expected to lead by example by continuously improving sustainability drives in their business operations, for instance, Stanbic IBTC Group has committed to and is working towards achieving net-zero emissions by 2050.
On the other hand, the financial sector is responsible for adopting measures that will influence its various stakeholders such as providing them with sustainable investing opportunities and prioritising compliant stakeholders.
There is a need for collaboration amongst stakeholders (government agencies, regulators, environmental experts, financial institutions, NGOs, Communities) towards developing an ecosystem for environmental financing. This will encourage and facilitate increased adoption of environmentally beneficial practices, solutions, or programs.
11. What is your expectation for the industry as a whole in the near future?
Without mincing words, 'innovation-driven change'. Technology is rapidly advancing, competition is getting stiffer, and the regulatory environment is changing. The industry is generally looking out for improved ways to grow scale and remain relevant in society. The potentials for innovations to transform the financial ecosystem are almost limitless, and these courses are still being charted.