BREAKING: BREAKING: Wole Soyinka Endorses Kingsley Moghalu For Presidential Candidate Of The Young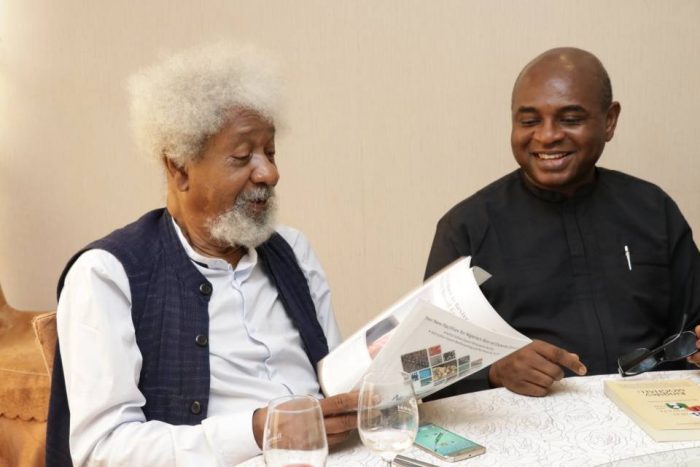 Eniola Olayemi
Professor Wole Soyinka through the Citizen Forum, a group conveyed by him, has announced the endorsement of the presidential candidate of the Young Progressive Party (YPP), Kingsley Moghalu.
This announcement was made in a statement personally signed by Soyinka and released on Friday morning.
While making Moghalu his preference, Soyinka noted that neither the Forum nor himself, "belongs to any Third Force or other Consensus seeking councils by any other name and called on Nigerians to "ignore any such attributions."
On the conviction of the former Deputy Director of the Central Bank of Nigeria, Soyinka said, "Over the past few months, we studied the careers, experiences and track records of most of the presidential aspirants, and most intensely those actually short-listed by the opposition parties themselves.
"Like millions of Nigerians, we watched the debates. I physically interacted with some of the acknowledged top contenders, in some cases several times. We participated in HANDSHAKE ACROSS NIGERIA, where some candidates presented their briefs.
"Among others, I delivered a keynote address. We watched television interviews. We have exchanged notes with highly respected international Civil Servants.
"Assessment parameters considered before the choice include, "mental preparedness, analytical aptitude, response to the nation's security challenges, economic grounding, grasp of socio-political actualities, including a remedial concern with the Nigerian image in foreign perception etc. etc. not forgetting a convincing commitment to governance and resource decentralization – commonly referred to as Restructuring."
He expressed optimism that Moghalu would enjoy wide range support form Nigerians to say, "Evil Spirit, leave us be!" being the meaning of "Moghalu"
Early Warning Systems Against Electoral Violence
Eniola Olayemi
Ahead of the forthcoming general election, the former President of Nigeria, Goodluck Jonathan, has warned politicians against making statements that could lead to violence.
Jonathan expressed his worry over the fear that the forthcoming election would be peaceful, free and fair.
He stated that any lover of this country would not lend support to any threat to the peace of the country.
The former President said this at a peace conference with the theme: 'Peaceful elections and national development," organised by the Goodluck Jonathan Foundation, on Thursday, in Abuja.
"We must do everything to avoid conflict because it is always difficult to erase these feelings.
"If people feel INEC and similar bodies are fair to all, it will make citizens behave better but if you do otherwise, it will be a recipe for crisis.
"We are convinced that anyone, either in government or outside government, who truly loves Nigeria will not want to play the role of the villain by lending his support to any action that instigates crises."
"As the ongoing democratic process unfolds, with the rest of the world watching with keen interest, we are also mindful of the worries of Nigerians on whether it would end peacefully.
"Our political leaders must realise that the greatest and most enduring legacy to leave behind is that of peace and development.
"These breed of politicians often ignore the fact that to be patriotic is to love your country and be prepared to live and die for her honour, reputation, freedom, progress and the ascendancy of the common good.
"You can restore destroyed infrastructure almost to its former state or even better, but you cannot easily repair people's psyche, reconcile aggrieved persons and restore hope in a nation, once they are damaged in destructive leadership struggles.
"We experienced the civil war that ended since 1970 but up to date, the feelings are still in even children who were not born at that time because of the stories they get told and that is why we must do everything to avoid conflict because it is always difficult to erase these feelings."
Nigeria Women Calls For Free And Fair Elections
Eniola Olayemi
Mrs Idayat Hassan, the Director Center of Democracy and Development, has called on stakeholders to ensure that the general elections are devoid of violence
Hassan made the call on Tuesday in Abuja at the 2019 National women peace rally on peaceful elections, tagged "Women for Peace".
She said that the nation needed a peaceful place to live in after the Feb. 16 and March 2 general elections.
"We are calling people to vote in peace and to ensure that the elections end in peace in accordance with electoral laws.
"We should tell our families , husbands, children and friends that violence is not encouraged or accepted in these elections," she said.
Hassan noted that women were at the receiving end because their husbands and sons could be victims of thuggery during elections
According to her, the rally is an avenue to encourage people to cast their votes in peace in accordance with electoral laws.
She also said that the rally was a call for women to participate and use their huge numbers of over 41 per cent of the population to participate more in politics.
Mrs Ebere Ifendu, President, Women in Politics Forum, also called on stakeholders, the Nigeria Police Force, Independent National Electoral Commission and others to ensure that the elections were peaceful, free , fair and violence free.
Ifendu said that women were ready to vote but needed to be assured that they would not be violated and their children would not be used as political thugs during the elections.
She further said that the women were using the forum to seek for free passage to go and exercise their rights and demanded that electoral guidelines should be followed during the general elections.
Ifendu, however, noted that women could use their number to determine who would be elected as a leader but were uncomfortable because of the heated polity.
She further said that the rally was to sensitise women to participate and vote massively in the elections, adding that stakeholders should make it possible to happen.
Elections: We Are Concerned About Democracy In Nigeria – US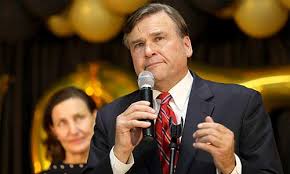 Eniola Olayemi
US Ambassador to Nigeria, Mr Stuart Symington, on Friday, said his country had concerns about Nigeria's democracy.
Symington stated this when he visited the Inspector-General of Police, Mr Mohammed Adamu, in Abuja.
He said that the US was aware of the security challenges confronting Nigeria and the efforts of the Police to tackle them.
The envoy, however, said he was optimistic that the right things were being done to ensure that peace and security reigned in the country.
"I am here to give my support to the Nigeria Police Force," he said.
Responding, the IG said that the Police, under his watch, was tackling the security challenges in parts of the country.
He, however, pointed out that the challenges could not be tackled without the support of citizens.
"We are also seeking the support of the diplomatic community. We need your support in the area of training for our personnel which you have done several times, "he said.
Adamu called for further assistance from the US in the area of technology to further enhance operational capacity of the force.
The US and the United Kingdom recently announced repercussions, including visa restrictions, for election interference and election-related violence in the forthcoming polls in Nigeria.
Both nations stated the elections were important not only for Nigeria, but for Africa.