Fast Rising Singer, Okiki Bright Graces Oriyomi Hamzat's Maiden Event in Ibadan {Video}
AJAGBE ADEYEMI TESLIM
SPONSORED BY: H&H
Across Nigeria especially his Oyo State base, Alhaji Oriyomi Hamzat is well reputed as a leading pillar and unwavering advocate and icon of truth, social justice, rights activism and love for the masses orchestrated through broadcast journalism and philanthropy.
His highly influential radio station, Agidigbo FM which has taken Nigeria by Storm rules the airways with millions of followers across the globe who tune in and participate in its popular call-in Programmes.
Fast rising Singer, Okiki Bright was one of the prominent Nigerians who graced the maiden edition of the Oriyomi Hamzat Fam Initiative (Alhaji Hamzat's fans club) event at the Lekan Salami Stadium in Ibadan, Oyo State on Thursday.
The highly colorful event which had thousands of attendees including Hamzat's fans and others filling up the massive stadium to capacity also had many dignitaries, eminent Nigerians and top entertainers including former Chief Justice of Oyo State, Fuji king, Alhaji Saheed Osupa, popular comic actor Muyiwa Adegoke aka Londoner and numerous others.
An highpoint of the special event was the inauguration of the executive council of the Hamzat fans club at state, zonal and local government levels across the state.
Speaking at the event, Okiki Bright who was besieged by fans as he made his way into the VIP section expressed delight at the privilege of being selected among top entertainment icons including King Saheed Osupa to grace the event.
He urged his fans to watch out for his forthcoming album tagged "AMBITION" billed to be released in October which also promote didactic themes of social justice, fairness, hardwork, betrayal and pursuit of happiness.
The youthful singer said the release of "Ambition," a fusion of traditional Fuji and contemporary music promises to leave an indelible mark on the Nigerian music scene.
Bright added that, "He was particularly happy to attend the event because his personal views about life aligns with the organiser, Alhaji Oriyomi Hamzat's philosophy of social justice, truth and equity as necessary pillars for building a peaceful, happy and thriving society where people can enjoy life to the fullest and maximize their potentials."
In Okiki Bright, Nigeria finds a different breed of Fuji musician today, reminiscent of the late Dr. Sikiru Ayinde Barrister. His musical journey encompasses the rich heritage of Fuji music, blended seamlessly with contemporary beats.
Much like Barrister, Okiki Bright's compositions carry didactic messages, weaving tales of morals and vicissitudes deeply rooted in Yoruba culture and lores. What sets him apart is his ability to present these cultural narratives on danceable modern rhythms with a sweet melodious voice, making his music not just an auditory delight but a cultural experience.
While thanking the thousands of attendees at the event, Alhaji Hamzat, who was beaming with smiles and walking freely among the crowd said his love for the masses and his personal joy in enthronement of truth, justice and fairness drive all his activities including broadcast for social justice and philanthropy, thanking his sponsors and donors and promising never to relent in his pursuits.
Hamzat, a down to earth but no nonsense veteran presenter adored especially by grassroots women and his radio station feature special programmes solely dedicated to investigating cases of oppression, intimidation, victimisation, rape, murder and all sorts of malfeasance.
The suspects are exposed on air and justice is pursued through collaboration with law enforcement agencies and necessary government officials.
The recent conviction of Alhaji Rahman Adedoyin over the gruesome murder of a post graduate student at the Obafemi Awolowo University who lodged at his hotel, could be credited to Hamzat and his Agidigbo FM which prominently exposed the suspects while they tried in vain to sweep the horrible crime under the carpet.
Singer, Okiki Bright Speaks on "Ambition" Album, Industry Struggles in New Explosive Interview
AJAGBE ADEYEMI TESLIM
SPONSORED BY: H&H
on the 6th of November, 2023, Nigerian Fuji musician Okiki Bright released his much-anticipated album, "Ambition." Distributed and marketed by Role Model Entertainment, this album marks a significant milestone in Okiki Bright's career, and it's already making waves in the music industry. Today, the artist took to the airwaves at Fresh FM in Ibadan for an exclusive interview hosted by Alhaji Saheed Babatunde, where he delved into the various aspects of the album and shared insights on the challenges within the music industry.
"Ambition" on All Streaming Platforms
Before diving into the interview details, it's worth noting that "Ambition" is now available on all major streaming platforms. Listeners can enjoy the fusion of indigenous Fuji rhythms with contemporary melodies that Okiki Bright brings to life through this album. The music promises to be a captivating auditory experience, staying true to the didactic traditions of the genre while embracing innovation.
Insights from the Interview
During the interview at Fresh FM, Okiki Bright opened up about his journey, the inspiration behind "Ambition," and the struggles he's faced in the music industry. He discussed how his music is a bridge between tradition and modernity, much like his mentor, Chief Adewale Ayuba. The artist emphasized the importance of cultural narratives and morals in his compositions and how they are presented on danceable modern rhythms, creating not just music but a cultural experience for his audience.
The interview shed light on the enduring power of mentorship in the music industry and the coexistence of diverse musical styles, carrying on the torch lit by legends like Dr. Sikiru Ayinde Barrister. Okiki Bright's journey and his latest album exemplify the fusion of tradition and ambition within the rich tapestry of Nigerian music.
As "Ambition" continues to gain traction on streaming platforms, music enthusiasts can immerse themselves in the cultural and musical experience that Okiki Bright brings to life. The interview at Fresh FM not only provided insights into the album but also underscored the artist's dedication to preserving the rich heritage of Fuji music while pushing the boundaries of innovation.
Stay tuned for more updates on Okiki Bright's musical journey and the ongoing success of "Ambition," as it leaves an indelible mark on the Nigerian music scene.
I'm here to set a new standard -DJ Gleefully
AJAGBE ADEYEMI TESLIM
SPONSORED BY: H&H
Upwardly mobile Disc Jockey, Adenmosun Aramide Adeniyi otherwise known as DJ Gleefully has said that his mission is to set a new standard in the Nigerian entertainment sector.
DJ Gleefully, who has toured many parts of Nigeria performing at top music concerts and shows, expressed that while he respects his predecessors in the game, his dream is to set new standards.
His words: "We must appreciate the passion and sacrifices of those who made disc jockeying a profession to be reckoned with in Nigeria. However, as the younger generation, it is a challenge on us to build on what these legends have done, and sustain the legacy.
"My dream is to float a one-stop entertainment complex -a melting pot for established and young DJs. I will also initiate a laudable international reality show for DJs. With our contribution to the social scene, I think DJs deserve more global recognition," DJ Gleefully noted.
Why I celebrated Nigeria's Independence with a comedy show in the US -Helen Paul
AJAGBE ADEYEMI TESLIM
SPONSORED BY: H&H
Frontline Nigerian entertainer, Dr Helen Paul, has explained why she celebrated her country's 63 years of independence with a comedy show tagged 'HelenPaul360' in Maryland, United States of America.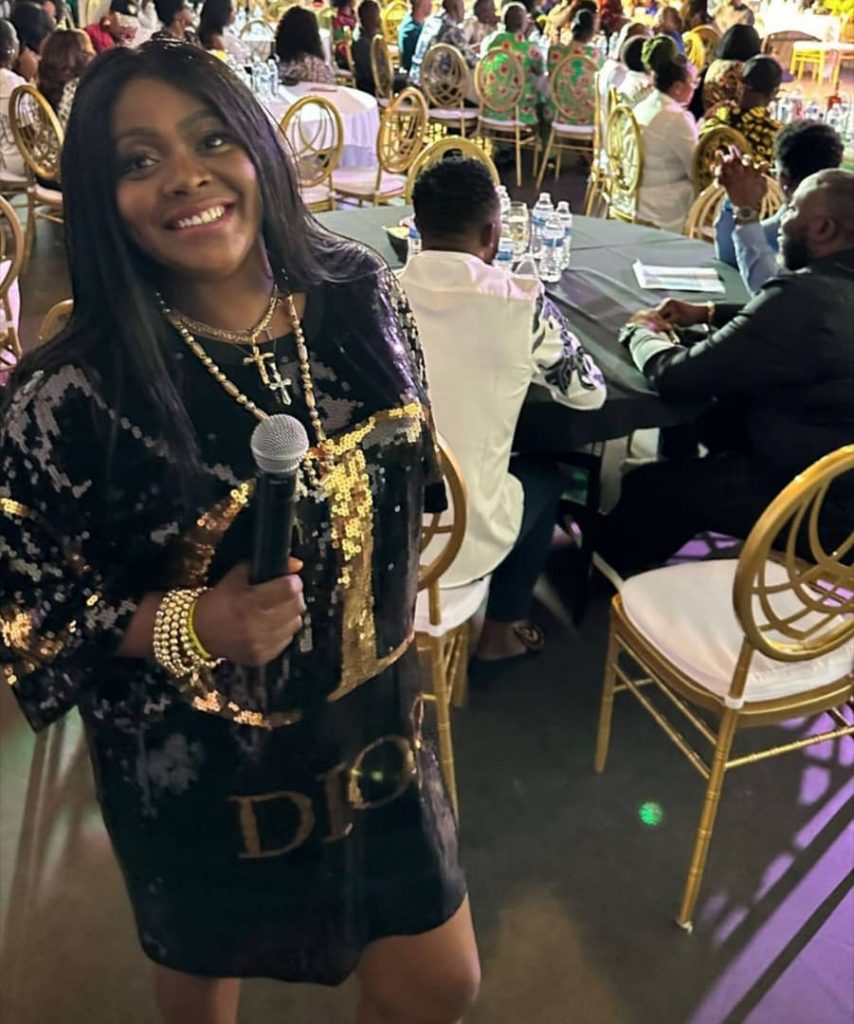 The star-studded show was held on Sunday, 1 October, at Grand Occasion Laurel, Maryland, USA amid pomp and ceremony, with top-notch performances from veteran Nigerian entertainers.
No doubt, Helen Paul has once again raised the bar, as the elated and thrilled audience in God's own country kept asking for more.
It was indeed a night of unstoppable entertainment, with spectacular performances by the host, Helen Paul, Adex Artquake, Lord of Ajasa, Dekunle Fuji, Olu Maintain, Side One, Yemi Sax and the 'Ijoya' crooner, Weird MC.
Other entertainers who creatively kept the audience at the edge of their seats at the soldout event include Jeddy, Wamilele, Isaac Gerrard, Holy Mallam, CY, Gbenro Ajibade, Wale Adebayo (Sango), DJ Tee and Doris Simeone.
Helen's husband, Barrister Femi Bamisile, was also in attendance to support his amiable wife.
The event, Produced by Africa Comedy Live and managed by Akinlolu Jekins, reached its crescendo with an energetic performance by Weird MC, who literally held the audience captive with her repertoire of monster hit cuts.
Heart of Sapphires International Foundation supported the event, presenting many gift items to attendees. Other brands like Advantage Wealth, Serenity, Kingsway Kitchen, Harpic, Ajinomoto, Noah Ogunyide, Idris Quadri Studios, JK Productions and Labi Sound Productions also contributed to the event's success.
Speaking of her decision to celebrate Nigeria's Independence in the US, Helen said "Nigeria is arguably the most popular black nation, and the world can't get enough of our creativity and talent. They keep asking for more, and we have more than enough talents to match the international demand. The idea is to show the world that despite the challenges currently facing Nigeria, we still have a rich culture and potential that are second to none."