Police To Withdraw Over 20,000 Security Aides Of VIPs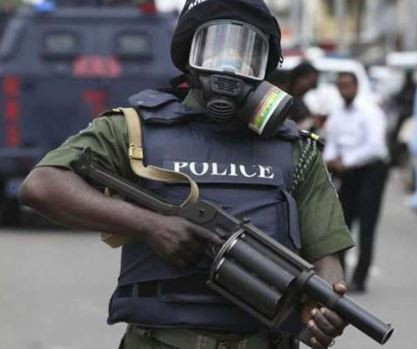 Eniola Olayemi
Withdrawal of policemen is going to cut across all borders, including politicians, party chairmen, state commissioners and businessmen. It will affect everyone that has policemen attached to them.
Nigeria Police Force (NPF) has said it would withdraw officers attached to 'Very Important Persons' in preparation for the forthcoming elections.
ACP Frank Mba, Force Public Relations Officer (PRO), said this in an interview the Punch newspaper.
He said politicians would be affected by the recall because the force needs every officer to maintain peace and security at the coming elections.
Mba said: "The withdrawal of policemen is going to cut across all borders, including politicians, party chairmen, state commissioners and businessmen. It will affect everyone that has policemen attached to them.
"There are two basic rationales for the withdrawal of policemen; One, we need all hands on deck for the purpose of securing the electoral process.
"Number two, we also need to be proactive in ensuring that unscrupulous people do not hide under the cover of security or policemen providing security to create problems during the elections. These are some of the reasons we need to mop up as many policemen as possible."
Mohammed Adamu, Acting Inspector-General of Police, had on Wednesday stated that the force would provide security for observers, escort sensitive materials, as well as to protect critical national assets during the elections.
"In order to ensure full mobilisation and deployment of personnel for these duties, we shall in the coming days prune down or order the withdrawal of SPU and CTU operatives that are currently on non-essential duties including those attached to certain categories of personalities," he said.
SANWO-OLU ORDERS TOTAL BAN ON OKADA IN SIX LOCAL COUNCILS, NINE LCDAs
…Governor: 'Okada Menace In Lagos Disturbing, Residents Must Embrace Safe Alternatives'
…Second Phase Of Okada Ban Coming
AJAGBE ADEYEMI TESLIM
Sponsored by: H&H
Against the backdrop of growing menace and nuisance constituted by commercial motorcycles, popularly known as Okada, Lagos State Government has imposed a fresh ban to curtail the unruly activities of the riders.
Governor Babajide Sanwo-Olu, on Wednesday, announced a total ban on Okada on all highways across six Local Government Areas (LGAs) and nine Local Council Development Areas (LCDAs) of the State.
Effective from June 1, 2022, the Governor directed security operatives to enforce the proscription order across the listed councils. The affected councils are Eti-Osa, Ikeja, Surulere, Lagos Island, Lagos Mainland, and Apapa.
The total ban order extends to all LCDAs under the listed councils.
The Governor gave out the directive at a meeting with Commissioner of Police, Area Commanders and Divisional Police Officers (DPOs) at the State House in Alausa.
The fresh Okada ban followed the February 2020 restriction placed on the activities of the commercial motorcycles.
Sanwo-Olu said the Government took the decision in line with the State's Transport Sector Reform Law of 2018 to immediately address the chaos and menace created by operations of Okada in the listed areas.
Sanwo-Olu told the police to enforce the order without compromise, sternly warning that the State Government would not condone any security formation that relaxes the new ban in its jurisdiction.
He said: "After critical review of our restriction on Okada activities in the first six Local Government Areas where we restricted them on February 1, 2020, we have seen that the menace has not abated. We are now directing a total ban on Okada activities across the highways and bridges within these six Local Government and their Local Council Development Areas, effective from June 1, 2022.
"This is a phased ban we are embarking on this period, and we expect that within the short while when this ban will be enforced, Okada riders in other places where their activities are yet to be banned can find something else to do. We have given the notice now and we expect all commercial motorcycles plying the routes in the listed councils and areas to vacate the highways before enforcement begins. The enforcement will be total."
Sanwo-Olu advised residents patronising Okada riders on highways to embrace the alternative transport schemes already provided by the Government to plan their journey. He said the Government had provided Last Mile Buses, medium-capacity and high-capacity buses in the affected areas for the convenience of commuters.
The Governor insisted that Okada riding on the highways remained unsafe and would no longer be tolerated. He said the State Government had been ramping up construction work on its two rail line projects to further increase the choices of commuting for residents.
He said: "We have provided Last Mile buses in the affected areas; they are working and effective. We also have medium-capacity buses and high-capacity buses working in these areas. Before the end of the year, we are also bringing the rail along these corridors with their terminals. We have provided jetties as well to provide alternatives.
"We will not sit back and watch criminally-minded people use that mode of transportation (motorcycles) to perpetrate crimes and criminality in Lagos. Lives are being lost on a daily basis, preventable accidents are happening every day and the riders are not respecting any of our traffic laws. The situation has led to a complete breakdown of law and order. This ban has come to stay and will not tolerate any weakness in enforcement."
Commissioner of Police, Abiodun Alabi, directed his men to ensure complete enforcement of the Governor's order in the listed councils and areas.
Act Now to Avoid Another Violent Protest Worse Than End SARS in Lagos: NURTW to Sanwo-Olu
By Our reporter
The National Union of Road Transport Workers (NURTW),Lagos chapter has called on the Lagos State governor Mr Babajide Sanwo-Olu to prevail on the suspended chairman of the union Alhaji Musiliu Akinsanya, to vacate the union's office to avert another looming protest worse than End SARS.
Speaking through the caretaker committee chairman of the National union in Lagos state, Comrade Fatai Adeshina popularly known world wide as Akeweje Egbeda during a press conference in Lagos on Wednesday ask the governor to act fast.
Speaking with newsmen, Akeweje asked the Governor to instruct the embattled Lagos park management chairman popularly called MC Oluomo to vacate the office in accordance with the national body's directives.
It will be recalled that the association has forwarded a letter to the state Governor on a proposed peaceful protest slated for tomorrow Thursday 19 of May, 2022.
The peaceful protest is slated to pick up from the Governor's office in Alausa Ikeja, Lagos down to the NURTW state office at Agege, Lagos.
Akeweje told our correspondent that the embattled chairman of the union Alhaji Musliu Akinsanya aka Mc Oluomo has been told to vacate the office since April 2nd this year but has remained in the office in defiance to the instruction of the national leadership of the association.
Akeweje is calling on the to prevail on him to avoid possible breakdown of law and order that will engender serious security breach
According to Akeweje, "NURTW is the authentic body for transport business in Lagos state, we are all experience members of the union from different branch's and unit in Lagos state, we are also card carrying members of the All Progressive congress (APC) under the leadership of our father who is Asiwaju BOLA AHMED TINUBU our incoming presidency come 2023.
Commenting on the protest, NURTW National Chairman, Alhaji Tajudeen Baruwa confirmed the proposed protest by its Lagos branch urging them remain peaceful even in the face of provocation.
Our correspondent gathered that Akeweje led NURTW will be embarking on a peaceful protest tomorrow with over 5,000 members of the union.
Italy, Dubai-Bound Drugs Blocked in Lagos As NDLEA seizes 203,879 Tramadol Tabs in Abia, Kaduna, Yobe, Kogi Raids
…Busts syndicate behind fake employments into security agencies, arrests 4 members
AJAGBE ADEYEMI TESLIM
Sponsored by: H&H
Fresh bids by drug cartels to export Tramadol, Ecstasy MDMA and Cannabis to Milan, Italy and Dubai, United Arab Emirates through the Murtala Muhammed International Airport, MMIA, Ikeja Lagos have been foiled by operatives of the National Drug Law Enforcement Agency, who also seized 203, 879 tablets of various pharmaceutical opioids and illicit substances in raids across Abia, Kaduna, Yobe and Kogi state.
At the Lagos airport, a female passenger, Odia Emiliana Efe was arrested on Monday 9th May why trying to board Royal Air Moroc flight from Lagos via Casablanca to Milan, Italy with 1000 tablets of Tramadol 200mg concealed in food items.
Five days after, Friday 13th May, a freight agent Kareem Ibrahim was arrested at the SAHCO cargo shed of the airport for attempting to export food items in which were hidden blocks of cannabis weighing 6.65kg and 24grams of ecstasy drug, MDMA to Dubai in UAE.
In Abia, three trucks loaded with drugs coming from Lagos and Onitsha, Anambra were intercepted in Aba, Abia state. When properly searched in the presence of the owners on Wednesday 11th May, 67,100 tablets/capsules of Tramadol and 12,650 ampules of pentazocine, morphine and dopamine were recovered.
On the same day, NDLEA operatives in Kaduna arrested a notorious drug dealer, Shehu Kabiru a.k.a Dan-Zaira, wanted by the Kastina Command of the Agency for jumping bail. Recovered from him include: 45,000 tablets of Diazepam weighing 41.5kg; 50,000 tablets of Exol, weighing 15.6kg; 1,500 tablets of Rohypnol weighing 700 grams and 300 bottles of codeine weighing 41.5kg.
In Yobe state, no fewer than 7,029 tablets of Tramadol, D5, and Exol as well as 1.5kg cannabis were recovered from a drug dealer, Ibrahim Yakubu when his hideout was raided in Unguru town on Sunday 8th May, while in Rivers state, one Chekiri Richard Obomanu was arrested at Eleme area on Wednesday 11th May with 207.2kg cannabis.
No less than 19,600 tablets of Tramadol coming from Onitsha, Anambra state to Abuja were intercepted and recovered along Okene/Abuja highway on Wednesday 11th May by NDLEA operatives in Kogi state.
Meanwhile, five members of a syndicate, which conducts fake recruitment into security agencies, have been arrested in coordinated operations in Zamfara, Kebbi and Bauchi state.
Leader of the gang, Yakubu Sani was first arrested in Gusau, Zamfara state.
His criminal gang issues fake NDLEA employment letters and identity cards to unsuspecting members of the public for the sum of N400, 000 per person.
A follow up operation in Zuru, Kebbi state led to the arrest of another gang member, Ibrahim Isah, while three others; Dahiru Musa Limanchi, Gambo Danladi and Umar Abubakar were nabbed in Bauchi state.
Recovered from them include: a fake NDLEA ID card; NDLEA guarantor form; INEC offer of appointment letter; Nigerian Customs Special Replacement Form and appointment letter; Nigerian Correctional Service Replacement Form; Credentials of some Applicants; Receipts and passport photos; Five sim packs and one MTN SIM card.
Chairman/Chief Executive of NDLEA, Brig. Gen. Mohamed Buba Marwa (Retd) commended the officers and men of the MMIA, Abia, Kaduna, Yobe, Rivers and Kogi for the arrests and seizures.
He equally acknowledged the well-conducted operations in Zamfara, Kebbi and Bauchi that nailed five members of a criminal gang scamming innocent job seekers with fake employment letters.
He charged them and their compatriots across all Commands not to rest on their oars but should continue to aspire to beat previous records.