CHRSJ drags faceless Police Officer before Police Authority over plan illegal arrest of Wahab Ajala
CHRSJ drags faceless Police Officer before Police Authority over plan illegal arrest of Wahab Ajala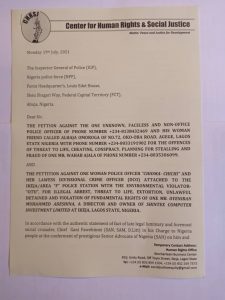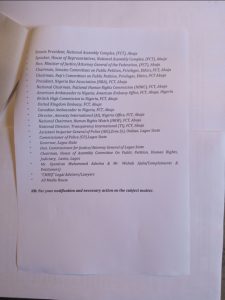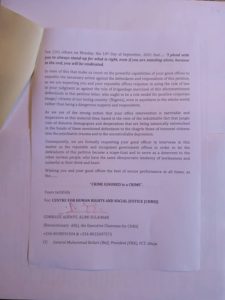 AJAGBE ADEYEMI TESLIM
SPONSORED BY: H&HA
human rights organization the Centre for Human Rights and Social Justice (CHRSJ) has dragged a faceless police officer with phone number:-(+234 8138432469), before Police authorities in the land.
CHRSJ, however, alleged the faceless Police officer of conniving with one Alhaja Omoroga(+234 8033191902) of NO.72, Oko-Oba Road,Agege area of Lagos State, to be threatened a Lagos Plumber,Mr. Wahab Ajala( +234 8035306099) over spoiled Toilet Sink fixed for over six years ago in Omoroga's house.
Detailing the incident, the human rights organization disclosed that truly, Mr. Wahab Ajala of N0.15,Igbehinadun Street,off Apex School,Alaso-Aminkanle, Kola-Agbado area of Lagos State, took the work of fixing the Toilet Sink at Alhaja Omoroga's house over six years ago and it was learnt that the Sink got destroyed recently and Omoroga called Mr. Ajala and explained what happened to the Toilet Sink and Ajala told Omoroga to buy another Sink and promised to come and fixed it for her.
But Mr. Ajala reminded Alhaja Omoroga of his N32,000 balance of workmanship of the work he did over six years ago and this is where Omoroga flying up and told Ajala to go and buy new Toilet Sink and come to fix it for her and failure to do so, would lead to his( Ajala) arrest by rough handling him by the faceless Police officer.
And since then,the faceless Police officer claimed to be attached to PWD-Yard located along Oshodi Express Way,Lagos, has been calling Ajala to show up in their office.
It further disclosed that the faceless Police officer claimed to be working with "IRT" and (F-SARS) office located at Harold Shodipe Street,GRA , Ikeja, Lagos State.
According to the Petition Letter dated July 19th,2021 and signed by the Executive Chairman of the Centre (CHRSJ), Comrade Adeniyi Alimi Sulaiman and copies were made available to newsmen on Sunday and as well forwarded to Inspector General of Police (IGP), Lagos State Commissioner of Police (CP) and host of others.
He strongly condemned the action of the faceless Police officer over illegal action by conniving with Alhaja Omoroga and turning PWD-Yard to Police Station.
Comrade Sulaiman recalled a Police Officer called "IKURAYMON" with phone number:-(+234 8024102711) attached to the same PWD-Yard, did to one Accountant by Profession, Mr. Junaid Seun Muhammed (+234 8066681435), recalling another Officer of the same PWD-Yard,Supol Abiola with phone number:-(+234 8139252323),also did to one Mr. Ridwan Showemimo and his wife (+234 7016242403) in July,2019, if not for intervention of the Centre for Human Rights and Social Justice (CHRSJ) through its Petition Letter dated Tuesday 2nd day of July,2019,the above mentioned innocent citizens would have been sent to great beyond by lawless Police Officers.
Speaking further on the issue, he declared that investigation has revealed that it has been the habitual character of Alhaja Omoroga always did to many people like;"Baba Tohib, Baba Islamiyat,her tenants, house agents" and many other people in Agege and its environs.
Sulaiman who doubles as Convener, Save Lagos Group (SLG), declared that aforementioned Officers were using their position as Police Officers to always defraud unsuspected members of the public between N50,000 to N400,000 for bribe called bail money.
He added that evidences have shown that as a result of proceeds from illegal arrest of innocent citizens, Ikuraymon has used the proceeds to build/ bought four (4) gigantic residential buildings at Aboru,Iyana-Ipaja area of Lagos State and also spent money lavishly on Fuji Musicians at home and abroad, the group Concluded.
Nestlé Trains Over 1,000 Children on Sustainability
AJAGBE ADEYEMI TESLIM
Sponsored by: H&H
Nestlé Nigeria is helping over 1,000 children, beneficiaries of Nestlé for Healthier Kids
(N4HK) program in six primary schools in Ogun State and the FCT to imbibe a
sustainability mindset at an early age.
In collaboration with the International Climate Change Development Initiative (ICCDI),
Nestlé Nigeria is training the primary five learners on a more sustainable approach to
managing and recycling waste in a bid to enable them become better stewards of the
planet.

This is one of the initiatives to support the company's ambition of ensuring that none of
its packaging, including plastics, ends up in landfills as litter, or in waterways, rivers or
oceans.

In a statement announcing the kick-off of the training at Methodist Primary School 2,
Ago-Oko, Abeokuta, Ogun State, the Corporate Communications and Public Affairs
Manager of Nestlé Nigeria PLC, Victoria Uwadoka said, "Nestlé Nigeria is committed to
driving more sustainability awareness to help protect the planet for future generations as
embedded within our purpose at Nestlé.
We are therefore delighted with the collaboration of all stakeholders including the Ogun State Ministry of Environment, Ogun State Ministry of Education, Science and Technology, Ogun State Universal Basic Education Board and
the Special Adviser to Governor on Education on this shared objective."

"As multiple researches have proven, habits imbibed early in life are more likely to remain
with us into the future.
Therefore, training children on the importance of protecting our environment is a strong contribution towards ensuring more responsible management of post- consumption waste as they grow, taking us closer to achieving a waste free future."

Elaborating on the objectives of the training, Mr. Olumide Idowu, founder of the international Climate Change Development Initiative said, "The sustainability training is designed to equip the children with the requisite knowledge and support, enabling them take responsibility in school and at home.
Everyone, including children, needs to be
involved in this huge task of protecting the environment.".
The Chairman, Ogun State Universal Basic Education Board (SUBEB) Dr Femi
Majekodunmi represented by the Board Secretary, Mr. Olalekan Kuye, commended
Nestlé Nigeria for the laudable initiative aimed at enhancing sustainable environment friendly practices within public primary schools in the state.
He stated that training learners on waste management and recycling will ultimately contribute positively to a safe
and hygienic environment.

In her comments, The Special Adviser to the Ogun State Governor on Primary and
Secondary Education, Mrs Ronke Soyombo appreciated Nestlé's consistent contribution
and investment in education within the state.
She stated that the expected outcomes of
the training are positive behavioral change to enhance environmental sustainability and
in addition, the opportunity for learners to be upskilled on the conversion of waste to
useful items.

In 2021, over 150 children in 2 primary schools in Ogun State benefited from the
Sustainability Training. This year, the program has been scaled up to 6 N4HK beneficiary
schools, 4 in Ogun State and 2 within the FCT.
The schools include – Methodist Primary
School 2, Ago-Oko, Abeokuta, Oke Ona United Primary School, Abeokuta, NUD Primary
School, Owode and All Saints Primary School, Owode. The schools in the FCT are UBE
Primary School Kuje and Science Primary School, Kuje.

Nestlé for Healthier Kids (N4HK) is a flagship initiative which aims to help 50 million
children globally lead healthier lives by 2030.

In Nigeria, N4HK incorporates a school-based nutrition education program, which helps
children imbibe healthy habits including good nutrition, active lifestyles through adequate
physical activities, good hygiene practices and healthy hydration.
Aura by Transcorp Hotels Wins Tourism Innovation Award
AJAGBE ADEYEMI TESLIM
Sponsored by: H&H
Aura by Transcorp Hotels, the online booking platform which allows people to book hotels and short let apartments, experiences, and order food anywhere in Nigeria, has received a Special Recognition Award for Tourism Innovation at the 5th edition of the Nigeria Tourism Awards.
According to the organisers of the award, the recognition is aimed at celebrating industry icons who have contributed to the growth of tourism in Nigeria.
"We are proud to receive the Special Recognition Award for Tourism Innovation less than a year after our official launch. With aura by Transcorp Hotels, we cater to the three major things people think about when they travel – where they stay, what they eat, and things to do.
With our verified accommodation – hotels and apartments – and carefully curated experiences, we have over the past 10 months shown people reasons to travel within the country, whether for business or leisure, solo or as a family or group," said Ifeoma Okafor-Obi Business Development Director, aura by Transcorp Hotels.
"With just a few clicks on our platform, users can be on their way to enjoy their best staycation ever, visiting hidden gems in different parts of the country and staying in hotels and apartments that feels like home, Okafor-Obi added.
Also commenting on the recognition, Dupe Olusola Managing Director/CEO Transcorp Hotels Plc, owners of aura by Transcorp Hotels stressed that the platform has proven to be a tool for revolutionising domestic tourism in Nigeria.
"World over, governments use domestic tourism as a tool to eliminate poverty, generate employment, improve economic growth, upgrade infrastructure, as well as support and develop local and national pride.
As Nigeria's leading hospitality company, we have set the pace in providing a platform that shows people beautiful places to travel across Nigeria, and gets the perfect place to stay, improving the attractiveness of different destinations in the country," the MD/CEO added.
"It is quite encouraging that our investment in aura by Transcorp Hotels to support the development of domestic tourism has not gone unnoticed."
aura by Transcorp Hotels provides a great selection of exquisite properties at the best prices, carrying out verification on all listings on the platform to ensure 2 / 2 that guests are choosing from the right pool of options, and in keeping with the known high standards of the parent company Transcorp Hotels Plc.
To enjoy access to unique accommodation, food and localised experiences listed on aura by Transcorp Hotels, users must register at aura.transcorphotels.com. They can also download aura by Transcorp Hotels on Google Play and Apple App Store.
Aura by Transcorp Hotels is very easy to use, but should users need any support, they can reach out via WhatsApp (+234 812 003 000) or the dedicated customer experience number 01 3434499.
About aura by Transcorp Hotels
Aura by Transcorp Hotels is an online platform that helps you book accommodation, order great food and everything you need for memorable lifestyle experiences.
Download Aura on Google Play or Apple App Store. You can also visit aura.transcorphotels.com
Act Now to Avoid Another Violent Protest Worse Than End SARS in Lagos: NURTW to Sanwo-Olu
Ajagbe Adeyemi Teslim
Sponsored by: H&H
The National Union of Road Transport Workers (NURTW),Lagos chapter has called on the Lagos State governor Mr Babajide Sanwo-Olu to prevail on the suspended chairman of the union Alhaji Musiliu Akinsanya, to vacate the union's office to avert another looming protest worse than End SARS.
Speaking through the caretaker committee chairman of the National union in Lagos state, Comrade Fatai Adeshina popularly known world wide as Akeweje Egbeda during a press conference in Lagos on Wednesday ask the governor to act fast.
Speaking with newsmen, Akeweje asked the Governor to instruct the embattled Lagos park management chairman popularly called MC Oluomo to vacate the office in accordance with the national body's directives.
It will be recalled that the association has forwarded a letter to the state Governor on a proposed peaceful protest slated for tomorrow Thursday 19 of May, 2022.
The peaceful protest is slated to pick up from the Governor's office in Alausa Ikeja, Lagos down to the NURTW state office at Agege, Lagos.
Akeweje told our correspondent that the embattled chairman of the union Alhaji Musliu Akinsanya aka Mc Oluomo has been told to vacate the office since April 2nd this year but has remained in the office in defiance to the instruction of the national leadership of the association.
Akeweje is calling on the to prevail on him to avoid possible breakdown of law and order that will engender serious security breach
According to Akeweje, "NURTW is the authentic body for transport business in Lagos state, we are all experience members of the union from different branch's and unit in Lagos state, we are also card carrying members of the All Progressive congress (APC) under the leadership of our father who is Asiwaju BOLA AHMED TINUBU our incoming presidency come 2023.
Commenting on the protest, NURTW National Chairman, Alhaji Tajudeen Baruwa confirmed the proposed protest by its Lagos branch urging them remain peaceful even in the face of provocation.