CHRSJ drags faceless Police Officer before Police Authority over plan illegal arrest of Wahab Ajala
CHRSJ drags faceless Police Officer before Police Authority over plan illegal arrest of Wahab Ajala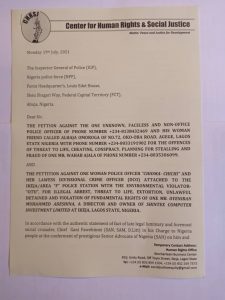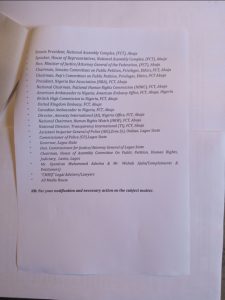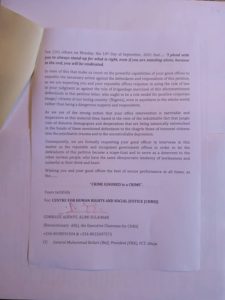 AJAGBE ADEYEMI TESLIM
SPONSORED BY: H&HA
human rights organization the Centre for Human Rights and Social Justice (CHRSJ) has dragged a faceless police officer with phone number:-(+234 8138432469), before Police authorities in the land.
CHRSJ, however, alleged the faceless Police officer of conniving with one Alhaja Omoroga(+234 8033191902) of NO.72, Oko-Oba Road,Agege area of Lagos State, to be threatened a Lagos Plumber,Mr. Wahab Ajala( +234 8035306099) over spoiled Toilet Sink fixed for over six years ago in Omoroga's house.
Detailing the incident, the human rights organization disclosed that truly, Mr. Wahab Ajala of N0.15,Igbehinadun Street,off Apex School,Alaso-Aminkanle, Kola-Agbado area of Lagos State, took the work of fixing the Toilet Sink at Alhaja Omoroga's house over six years ago and it was learnt that the Sink got destroyed recently and Omoroga called Mr. Ajala and explained what happened to the Toilet Sink and Ajala told Omoroga to buy another Sink and promised to come and fixed it for her.
But Mr. Ajala reminded Alhaja Omoroga of his N32,000 balance of workmanship of the work he did over six years ago and this is where Omoroga flying up and told Ajala to go and buy new Toilet Sink and come to fix it for her and failure to do so, would lead to his( Ajala) arrest by rough handling him by the faceless Police officer.
And since then,the faceless Police officer claimed to be attached to PWD-Yard located along Oshodi Express Way,Lagos, has been calling Ajala to show up in their office.
It further disclosed that the faceless Police officer claimed to be working with "IRT" and (F-SARS) office located at Harold Shodipe Street,GRA , Ikeja, Lagos State.
According to the Petition Letter dated July 19th,2021 and signed by the Executive Chairman of the Centre (CHRSJ), Comrade Adeniyi Alimi Sulaiman and copies were made available to newsmen on Sunday and as well forwarded to Inspector General of Police (IGP), Lagos State Commissioner of Police (CP) and host of others.
He strongly condemned the action of the faceless Police officer over illegal action by conniving with Alhaja Omoroga and turning PWD-Yard to Police Station.
Comrade Sulaiman recalled a Police Officer called "IKURAYMON" with phone number:-(+234 8024102711) attached to the same PWD-Yard, did to one Accountant by Profession, Mr. Junaid Seun Muhammed (+234 8066681435), recalling another Officer of the same PWD-Yard,Supol Abiola with phone number:-(+234 8139252323),also did to one Mr. Ridwan Showemimo and his wife (+234 7016242403) in July,2019, if not for intervention of the Centre for Human Rights and Social Justice (CHRSJ) through its Petition Letter dated Tuesday 2nd day of July,2019,the above mentioned innocent citizens would have been sent to great beyond by lawless Police Officers.
Speaking further on the issue, he declared that investigation has revealed that it has been the habitual character of Alhaja Omoroga always did to many people like;"Baba Tohib, Baba Islamiyat,her tenants, house agents" and many other people in Agege and its environs.
Sulaiman who doubles as Convener, Save Lagos Group (SLG), declared that aforementioned Officers were using their position as Police Officers to always defraud unsuspected members of the public between N50,000 to N400,000 for bribe called bail money.
He added that evidences have shown that as a result of proceeds from illegal arrest of innocent citizens, Ikuraymon has used the proceeds to build/ bought four (4) gigantic residential buildings at Aboru,Iyana-Ipaja area of Lagos State and also spent money lavishly on Fuji Musicians at home and abroad, the group Concluded.
Sanwo-Olu, Mustapha for GOCOP 5th Annual Conference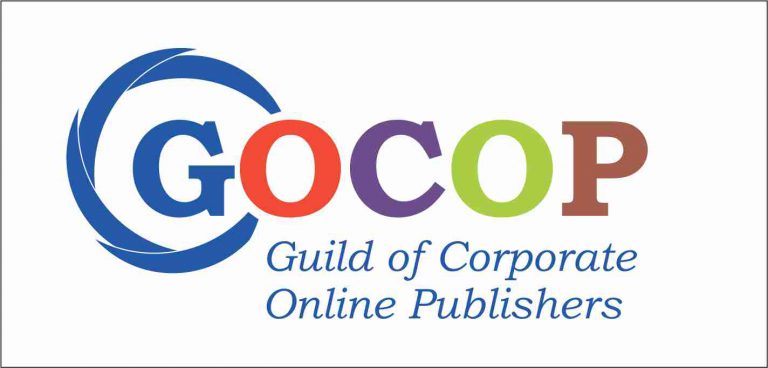 Sanwo-Olu, Mustapha for GOCOP 5th Annual Conference
AJAGBE ADEYEMI TESLIM
SPONSORED BY: H&H
The Guild of Corporate Online Publishers (GOCOP) has confirmed Governor Babajide Sanwo-Olu of Lagos State and Secretary to the Government of the Federation (SGF), Boss Mustapha, as chairman and keynote speaker, respectively. at its fifth annual conference August24news.vom has learnt.
A statement signed by GOCOP Publicity Secretary, Olumide Iyanda, said Mr. Mustapha will speak on the conference theme COVID-19 Pandemic: Recovery and Reconstruction in Nigeria."
Panelists at the conference, which holds on October 7, 2021, at the Sheraton Hotel, Lagos, starting at 10am, are the Lagos State Commissioner for Health, Professor Akin Abayomi, and Director, Nigeria Centre for Disease Control (NCDC), Dr. Yahaya Disu.
Mr. Sanwo-Olu, the Chief Incident Commander for the prevention and control of COVID in Lagos, will preside over the conference.
The choice of topic for the conference is informed by contemporary political, economic, security, socio-cultural challenges facing Nigeria occasioned by the coronavirus pandemic, which has crippled socio-cultural and economic activities not only in Nigeria but around the world and the concerted efforts made nationally and globally to tame the scourge, GOCOP said.
ESG and the Oil & Gas sector: ABSA Advocates a Balanced View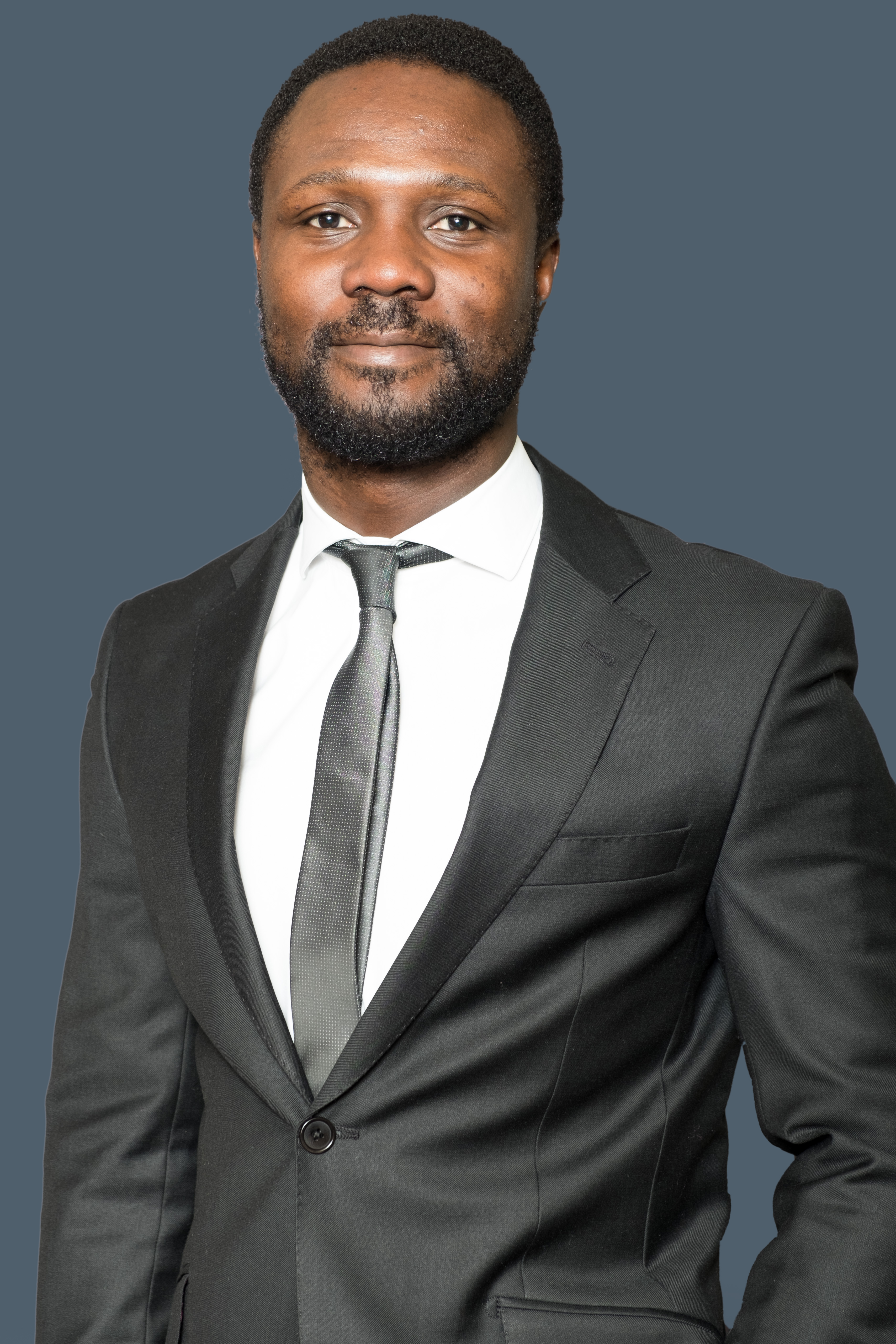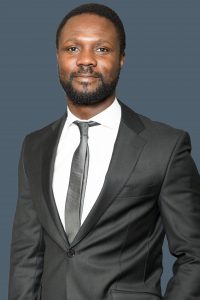 ESG and the Oil & Gas sector: ABSA Advocates a Balanced View
 AJAGBE ADEYEMI TESLIM
SPONSORED BY: H&H
Developing a social investment plan that utilizes proceeds from the oil and gas sector is critical to stimulating impactful growth across the African continent.
This view was shared recently by Camillo Atampugre, the Director of Resources and Energy, Absa Securities, United Kingdom, while laying bare Absa Investment's focus which aims to drive sustainability and advocate for a wider pivot to the Environmental, Social and Governance (ESG) initiatives across the oil and gas sector.
According to Camillo, the oil and gas sector remains a key channel of revenue for most African countries.
He mentioned that the sector accounts for an estimated 20% of the continent's Gross Domestic Product (GDP). And in places like Nigeria and Angola, the sector contributes 70% of the overall forex inflow and 60% of government tax revenues while driving growth impacts that reverberate across the labour market, the security and exchange system and other downstream segments.
He advised that considering the overt contribution of the oil and gas sector to the African economy, a strategic approach to the adoption of cleaner energy is advisable.
This is to forestall a sudden snap that could hamper the attainment of the shorter to medium terms growth projection on the continent.
He further pointed out the various responsible steps being taken across the continent to ensure compliance with the various ESG requirements as regard achieving a gradual transition into cleaner energy and repositioning the oil and gas sector to sustain a balanced socioeconomic impact along the trajectory.
"Recognising the strategic role of the sector in their economies, places like Angola and Nigeria have taken steps to improve Governance elements. In Angola, the President has put significant focus on cleaning up the image of the sector and courting foreign investors while the Nigerian national assembly recently passed the Petroleum Industry Bill which is aimed at making it easier for investment into Nigerian oil and gas operations", Atampugre explained.
Citing the social investment roles being played by the major operators in the oil and gas sector Atampugre revealed: "For instance, oil major Shell has played a pivotal role in investing in healthcare infrastructure to help in the fight against the likes of Ebola and HIV as well as being a major party in the first community-based health insurance program in the country. Similarly, dual-listed oil and gas player Oando has trained over 2800 teachers and financially supported 88 schools via its Oando Foundation".
He referred to the framework for achieving a faster transition to cleaner energy. Amongst them is the renewed emphasis placed by government and operators in the energy sector in Africa to implement regulatory and social investment strategies that are aimed at alleviating poverty and providing access to affordable energy.
He concluded that Absa, a specialist investment bank, is committed to helping the continent achieve its socioeconomic growth agenda as well as provide guidance that ensures compliance with various ESG goals.
He said: "As an investment bank that specialises in funding oil and gas projects in Africa and has a deep understanding of the continent, we look forward to working on projects which tick all three of the ESG elements in a socially conscious manner".
Ooni Calls for Promotion of Yoruba Language and Culture
Ooni Calls for Promotion of Yoruba Language and Culture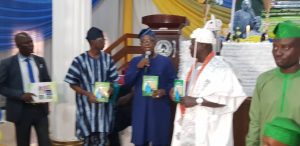 AJAGBE ADEYEMI TESLIM
SPONSORED BY: H&H
His Imperial Majesty, Oba Adeyeye Ogunwusi,  Ojaja II, the Ooni of Ife, has called for the promotion of Yoruba language and culture which he said must not be allowed to go into  extinction.
The monarch who was represented by Oba Dr. Adebisi Segun Layade JP, the Alara Odaaye of Ara Land Ife, Osun State made this call at the public presentation and launch of a book about the life and times of late sage, chief Jeremiah Obafemi Awolowo.
He tasked traditional rulers to champion the promotion of Yoruba language as it is the only way their culture could also be preserved.
"Most of our people when they go outside the shores of our country they choose to speak English language above the Yoruba language.
" It is a misnomer, whenever I travel to the northern part of the country, I speak Yoruba and when they notify me that they don't understand I ask them to get an interpreter.
"I deliberately won't speak in English language as they would have preferred, we ought to promote our own language because in other climes they use the mother tongues to teach their wards.
"Yoruba language is easy to translate and good for transmission of knowledge to the children.
Also supporting the stance, His Royal Highness Oba Oladipo Olaitan, The Alaago of Kajola Alaago, Osun State and Deputy Leader Pan Yoruba Socio-Cultural Organisation, Afenifere maintained that Yoruba language must be preserved at all cost.
He appraised the qualities of the late sage, lamenting the turn of events now a clear cut departure from what he stands for, as all seem to be without a defined purpose and void of direction.
The monarch said, "I am particularly impressed with our Yoruba language that is being purposefully energised here, we are losing it a typical Yoruba man cannot speak English, what is the purpose?
"You price yourself high because you can speak English, French and German but your own language you can't speak it.
"The German man will always speak his language any where even at the United Nations same for the French man but we will go there and speak English, what sense does that make?
"It is easier for you to learn and comprehend in your own language and when you lose your culture, you lose everything.
"The way they took us into slavery and they are still taking us into slavery is because we've refused to follow our culture, when you don't know who you are, how will you become anything in life?
"We've lost our roots, we've lost everything that is why we are where we are, you first of all have to know where you are coming from to get anywhere.
Hon. Setonji David, the Lagos State House of Assembly committee Chairman of Information, Strategy and Security who represented the Speaker Rt. Hon. (Dr.) Mudashiru Obasa also corroborated the need for Yoruba Language preservation.
"Everything that has to do with our language is so important to me as far as I'm concerned total freedom is guaranteed when you speak your language, any nation that is going to develop must revert back to its original language, it is easier for the Asian countries to communicate because of this.We need to get back the potency of Yoruba language.
He also eulogize late Chief Obafemi Awolowo noting that he was a  beneficiary of his free education scheme at all levels in Lagos State.
The Author of the book titled 'Awolowo Akikanju Asiwaju (AAA)', Mr. Lagada- Abayomi Olanrewaju, while speaking with newsmen after the event, revealed what spurred him to write the book, citing instances of many collections of  prose works written by authors in other parts of the world, to celebrate unique personalities who have paid their dues and impacted their nation and the world positively.
He added that the disconnect he sighted in the generation of people in the world today is basically due to the absence of good write ups, that can immortalise the good virtues portrayed by the characters for upcoming young ones to learn about heroes with whom they one way or the other have a bond.
"I feel the dearth of information about the great feats of our heroes in this part of the world and the void it is causing in our children's social development, this drove me to write this book so as to engrave the memories of our forebear, late Chief Obafemi Awolowo in gold for yet to come generation.
"This is what obtains in other climes and I think it is high time we started doing same here, that gave birth to this piece targeted at re enacting the life and times of the late sage". Lagada said.
Mr.Obadiah Sunday Akindele Deputy Director Curriculum development and evaluation  Ministry of Education  Science and Technology, Ogun State who represented the state Commissioner for Education Hon.Arigbabu .A. Abayomi while launching the book hinted that the state is poised to enlist the book in their curriculum come January 2022 .