CHRSJ drags faceless Police Officer before Police Authority over plan illegal arrest of Wahab Ajala
CHRSJ drags faceless Police Officer before Police Authority over plan illegal arrest of Wahab Ajala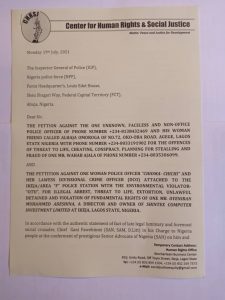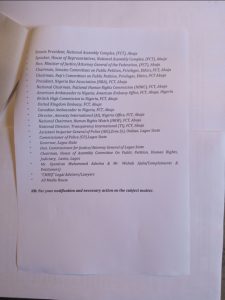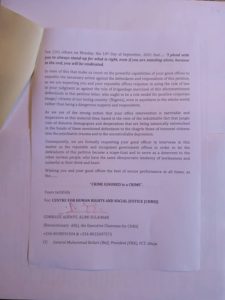 AJAGBE ADEYEMI TESLIM
SPONSORED BY: H&HA
human rights organization the Centre for Human Rights and Social Justice (CHRSJ) has dragged a faceless police officer with phone number:-(+234 8138432469), before Police authorities in the land.
CHRSJ, however, alleged the faceless Police officer of conniving with one Alhaja Omoroga(+234 8033191902) of NO.72, Oko-Oba Road,Agege area of Lagos State, to be threatened a Lagos Plumber,Mr. Wahab Ajala( +234 8035306099) over spoiled Toilet Sink fixed for over six years ago in Omoroga's house.
Detailing the incident, the human rights organization disclosed that truly, Mr. Wahab Ajala of N0.15,Igbehinadun Street,off Apex School,Alaso-Aminkanle, Kola-Agbado area of Lagos State, took the work of fixing the Toilet Sink at Alhaja Omoroga's house over six years ago and it was learnt that the Sink got destroyed recently and Omoroga called Mr. Ajala and explained what happened to the Toilet Sink and Ajala told Omoroga to buy another Sink and promised to come and fixed it for her.
But Mr. Ajala reminded Alhaja Omoroga of his N32,000 balance of workmanship of the work he did over six years ago and this is where Omoroga flying up and told Ajala to go and buy new Toilet Sink and come to fix it for her and failure to do so, would lead to his( Ajala) arrest by rough handling him by the faceless Police officer.
And since then,the faceless Police officer claimed to be attached to PWD-Yard located along Oshodi Express Way,Lagos, has been calling Ajala to show up in their office.
It further disclosed that the faceless Police officer claimed to be working with "IRT" and (F-SARS) office located at Harold Shodipe Street,GRA , Ikeja, Lagos State.
According to the Petition Letter dated July 19th,2021 and signed by the Executive Chairman of the Centre (CHRSJ), Comrade Adeniyi Alimi Sulaiman and copies were made available to newsmen on Sunday and as well forwarded to Inspector General of Police (IGP), Lagos State Commissioner of Police (CP) and host of others.
He strongly condemned the action of the faceless Police officer over illegal action by conniving with Alhaja Omoroga and turning PWD-Yard to Police Station.
Comrade Sulaiman recalled a Police Officer called "IKURAYMON" with phone number:-(+234 8024102711) attached to the same PWD-Yard, did to one Accountant by Profession, Mr. Junaid Seun Muhammed (+234 8066681435), recalling another Officer of the same PWD-Yard,Supol Abiola with phone number:-(+234 8139252323),also did to one Mr. Ridwan Showemimo and his wife (+234 7016242403) in July,2019, if not for intervention of the Centre for Human Rights and Social Justice (CHRSJ) through its Petition Letter dated Tuesday 2nd day of July,2019,the above mentioned innocent citizens would have been sent to great beyond by lawless Police Officers.
Speaking further on the issue, he declared that investigation has revealed that it has been the habitual character of Alhaja Omoroga always did to many people like;"Baba Tohib, Baba Islamiyat,her tenants, house agents" and many other people in Agege and its environs.
Sulaiman who doubles as Convener, Save Lagos Group (SLG), declared that aforementioned Officers were using their position as Police Officers to always defraud unsuspected members of the public between N50,000 to N400,000 for bribe called bail money.
He added that evidences have shown that as a result of proceeds from illegal arrest of innocent citizens, Ikuraymon has used the proceeds to build/ bought four (4) gigantic residential buildings at Aboru,Iyana-Ipaja area of Lagos State and also spent money lavishly on Fuji Musicians at home and abroad, the group Concluded.
SME: NITDA CANVASSES FOR ADOPTION, ADAPTATION OF DIGITAL TECHNOLOGIES
AJAGBE ADEYEMI TESLIM
SPONSORED BY: H&H
The survival of the 21st century Micro, Small and Medium Enterprises, (MSME) has been said to largely depend on the adoption and adaptation of digital technologies, hence, the call on entrepreneurs by the National Information Technology Development Agency (NITDA), to embrace it to increase productivity and profitability of their businesses.

The NITDA's Director General, Kashifu Inuwa, expressed this view as a keynote speaker at the 10th edition of Abuja Enterprise Agency's Business 360 Clinics with the theme "Technology Utilisation and Innovation: Its Effect on SME Profitability and Productivity.

The NITDA's boss who was represented at the event by the Acting National Coordinator, Office for Nigerian Digital Innovation,(ONDI), Mr Yakubu Musa, said the effective utilisation of technology by SMEs will result in improved efficiency, and invariably leads to higher productivity. So, productivity increases when SMEs focuses on progress, rather than perfection.

He maintained that there is a significant impact on the economic survival of the nation if technology is embraced.
He said, "Technology utilisation exerts a significant impact on the economic survival of nations, particularly, in today's high-technology market where technological innovations are rapid and disruptive.
This has become the gains derived from the adoption and adaptation of existing technologies while also investing in the creation of new technologies to ensure sustained growth in Nigeria's SMEs.

While acknowledging that technological progress allows for efficient production of superior goods and services by SME, Kashifu noted that it remains the drivers of global economic growth. "They play a major role in the economies of all the countries in the world by their contribution to national economic growth and employment. SMEs contribute greatly to job creation and overall economic growth," he added.

The DG informed that NITDA has undertaken several collaborative initiatives and programmes that are positively impacting on Nigeria's SME.
He listed some of the collaborations to include partnership with Nigeria Export Promotion Council (NEPC), on Digital Marketing for SMEs, Gender Techpreneurship Workshop for Women, partnership with the AEA on Digital Innovation Training for 300 secondary school students in the Federal Capital Territory, and many more.

Earlier in his welcome address, the AEA Chief Executive Officer, Malam Shehu Abdulquadir, described the theme as very apt because it hinged on technological adaptation towards the profitability of SMEs because the outbreak of COVID-19 has brought a lot of distribution which has made technological adaptation compelling.

He stated further that the program was aimed at supporting the recovery of SMEs from the COVID-19 pandemic, adding that, supporting SMEs after the pandemic would help them gain their traction back.

He revealed that the Agency has disbursed N200 million to 850 SMEs in Abuja and by next month, it is expected to disburse other tranches of 3.5 million USD to over 2,500 SMEs.

He said beneficiaries of the first tranches have retired the grant disbursed by the Agency from the World Bank assuring that "we are going to get more people from diverse stakeholders across all the six councils in the FCT to benefit from it.
Photos As Speaker Obasa, Lawmakers Get Certificate Of Reture
…Legislators thank Lagosians for mandate
AJAGBE ADEYEMI TESLIM
SPONSORED BY: H&H
The Speaker of the Lagos Assembly, Rt. Hon. Mudashiru Obasa, and other lawmakers-elect received their Certificate of Return from the Independent National Electoral Commission (INEC) on Thursday promising to ensure a greater Lagos at the 10th Assembly.
"On behalf of my colleagues, we will continue to build on the success of the current Assembly when we resume for the 10th Assembly. We want to assure Lagosians that we will continue to make laws, pass motions and resolutions that will bring progress to Lagos and protect the interests of residents.
"That's the assurance that I have from the 39 other members-elect," Dr. Obasa told journalists at the event which had Governor Babajide Sanwo-Olu and Deputy Governor Obafemi Hamzat in attendance.
A total of 38 lawmakers-elect from the All Progressives Congress (APC) and two from the opposition received their Certificate of Return.
The Speaker thanked his constituents in Agege and Lagosians for their support for the APC.
"I thank my people in Agege for their consistency, loyalty and support at all times. And to Lagosians, we say thank you. At least APC has 38 lawmakers-elect out of the 40 for the House of Assembly. We have the three senatorial seats and a whole lot in the House of Representatives. We are very happy about this and have reasons to thank Lagosians.
"We are going to support the Governor in his assignments to bring growth and progress to Lagos State as well as protect the lives and property of our people. However, supporting the executive arm does not mean we are going to compromise or abandon our constitutionally guaranteed responsibilities," Obasa said.
He expressed optimism that Lagos will benefit from the centre in the next administration because "we have a President-elect that we all have absolute confidence in and who had done very well in Lagos State with good track record.
"We are sure that with him, many of our national challenges would be resolved because he has the capacity and knowledge to deliver. I have no doubt in my mind about it."
ALFADARAI WITNESSES THE ISSUANCE OF CERTIFICATE OF RETURN TO THE GOVERNOR ELECT AND DEPUTY GOVERNOR ELECT IN LAGOS
The State Commandant, NSCDC, Lagos state Command, Commandant of Corps Usman Alfadarai, fdc, mnim, mpa, fisn, today, Thursday, 30th March, 2023, witnessed the issuance of certificate of return to the Governor – Elect, Mr Babajide Olusola Sanwo – Olu and the Deputy Governor – Elect, Dr Kadri Obafemi Hazmat, of Lagos State, from the Honourable Resident Electoral Commissioner, of the State, Mr Olusegun Agbaje, at the office of the Independent National Electoral Commission in Yaba.
In addition, the members of the State House of Assembly also received their certificates of return today.
The event, which was also witnessed, by the Lagos Commissioner of Police, Idowu Owohunwa, mni, also had a lot of dignitaries from INEC and other relevant bodies, including visible media presence seen there today.