CHRSJ drags faceless Police Officer before Police Authority over plan illegal arrest of Wahab Ajala
CHRSJ drags faceless Police Officer before Police Authority over plan illegal arrest of Wahab Ajala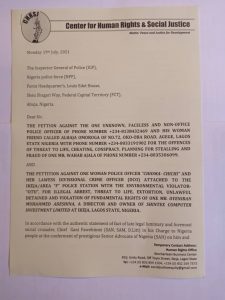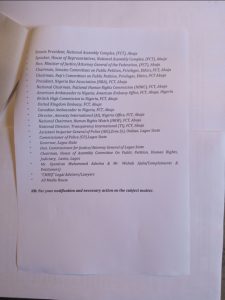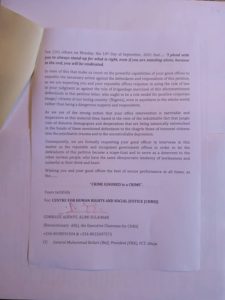 AJAGBE ADEYEMI TESLIM
SPONSORED BY: H&HA
human rights organization the Centre for Human Rights and Social Justice (CHRSJ) has dragged a faceless police officer with phone number:-(+234 8138432469), before Police authorities in the land.
CHRSJ, however, alleged the faceless Police officer of conniving with one Alhaja Omoroga(+234 8033191902) of NO.72, Oko-Oba Road,Agege area of Lagos State, to be threatened a Lagos Plumber,Mr. Wahab Ajala( +234 8035306099) over spoiled Toilet Sink fixed for over six years ago in Omoroga's house.
Detailing the incident, the human rights organization disclosed that truly, Mr. Wahab Ajala of N0.15,Igbehinadun Street,off Apex School,Alaso-Aminkanle, Kola-Agbado area of Lagos State, took the work of fixing the Toilet Sink at Alhaja Omoroga's house over six years ago and it was learnt that the Sink got destroyed recently and Omoroga called Mr. Ajala and explained what happened to the Toilet Sink and Ajala told Omoroga to buy another Sink and promised to come and fixed it for her.
But Mr. Ajala reminded Alhaja Omoroga of his N32,000 balance of workmanship of the work he did over six years ago and this is where Omoroga flying up and told Ajala to go and buy new Toilet Sink and come to fix it for her and failure to do so, would lead to his( Ajala) arrest by rough handling him by the faceless Police officer.
And since then,the faceless Police officer claimed to be attached to PWD-Yard located along Oshodi Express Way,Lagos, has been calling Ajala to show up in their office.
It further disclosed that the faceless Police officer claimed to be working with "IRT" and (F-SARS) office located at Harold Shodipe Street,GRA , Ikeja, Lagos State.
According to the Petition Letter dated July 19th,2021 and signed by the Executive Chairman of the Centre (CHRSJ), Comrade Adeniyi Alimi Sulaiman and copies were made available to newsmen on Sunday and as well forwarded to Inspector General of Police (IGP), Lagos State Commissioner of Police (CP) and host of others.
He strongly condemned the action of the faceless Police officer over illegal action by conniving with Alhaja Omoroga and turning PWD-Yard to Police Station.
Comrade Sulaiman recalled a Police Officer called "IKURAYMON" with phone number:-(+234 8024102711) attached to the same PWD-Yard, did to one Accountant by Profession, Mr. Junaid Seun Muhammed (+234 8066681435), recalling another Officer of the same PWD-Yard,Supol Abiola with phone number:-(+234 8139252323),also did to one Mr. Ridwan Showemimo and his wife (+234 7016242403) in July,2019, if not for intervention of the Centre for Human Rights and Social Justice (CHRSJ) through its Petition Letter dated Tuesday 2nd day of July,2019,the above mentioned innocent citizens would have been sent to great beyond by lawless Police Officers.
Speaking further on the issue, he declared that investigation has revealed that it has been the habitual character of Alhaja Omoroga always did to many people like;"Baba Tohib, Baba Islamiyat,her tenants, house agents" and many other people in Agege and its environs.
Sulaiman who doubles as Convener, Save Lagos Group (SLG), declared that aforementioned Officers were using their position as Police Officers to always defraud unsuspected members of the public between N50,000 to N400,000 for bribe called bail money.
He added that evidences have shown that as a result of proceeds from illegal arrest of innocent citizens, Ikuraymon has used the proceeds to build/ bought four (4) gigantic residential buildings at Aboru,Iyana-Ipaja area of Lagos State and also spent money lavishly on Fuji Musicians at home and abroad, the group Concluded.
NCC-CSIRT Urges Firmware Update after Lenovo Found Vulnerabilities in Own Products
AJAGBE ADEYEMI TESLIM
Sponsored by: H&H
Equipment manufacturer, Lenovo, has disclosed several vendor vulnerabilities in some of its products, which it said could lead to information disclosure, privilege escalation, and denial of service. 
The vulnerabilities primarily affect Lenovo Products (Desktop, Desktop-All in One, Hyperscale, Lenovo Notebook, Smart Office, Storage, ThinkAgile, ThinkPad, ThinkServer, ThinkStation, and ThinkSystem).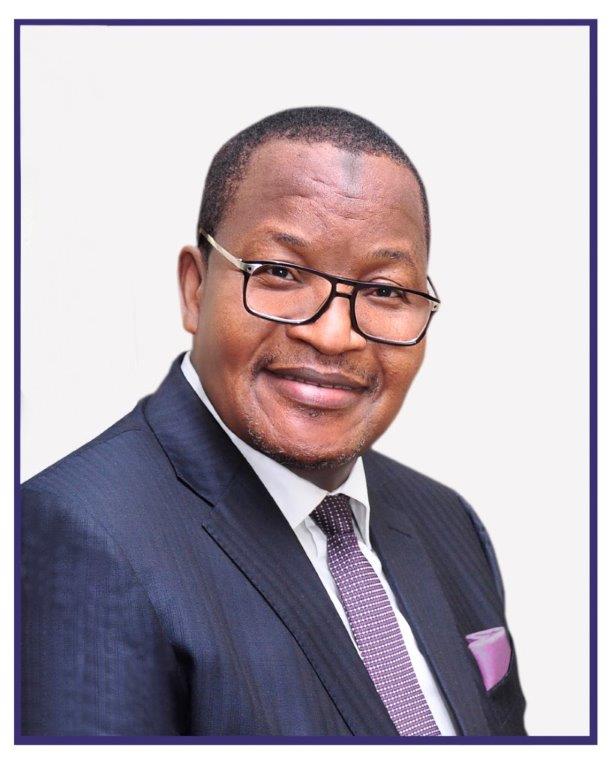 The Nigerian Communications Commission's Computer Security Incident Response Team (NCC-CSIRT), in its recent advisory, rated the probability of the vulnerability as high with an equally high damage potential. It, therefore, urged users of affected products to update their firmware.
The advisory cited the Lenovo report, first published in the second week of this month, indicating that the vulnerabilities are caused by flaws in the System Management Interrupt (SMI) Set BIOS Password SMI Handler, other systems used to configure platform settings over Windows Management Instrumentation (WMI), and a buffer overflow flaw in WMI SMI Handler.
Successful exploitation of the vulnerabilities could allow an authenticated local attacker to bypass security restrictions, gain elevated privileges and execute arbitrary code on the targeted system. The attacker could also send a specially crafted request to the targeted user to gain sensitive information, which could result in unauthorized Information disclosure, privilege escalation and denial of service on the targeted system.
According to NCC-CSIRT, the solution to addressing the vulnerabilities is for users to update their system firmware to the newer version(s) indicated for their product model.
The CSIRT is the telecom sector's cyber security incidence centre set up by the NCC to focus on incidents in the telecom sector and as they may affect telecom consumers and citizens at large.
The CSIRT also works collaboratively with the Nigeria Computer Emergency Response Team (ngCERT), established by the Federal Government to reduce the volume of future computer risk incidents by preparing, protecting, and securing Nigerian cyberspace to forestall attacks, and problems or related events.
BSG Partners FRSC in Annual "Don't Drink and Drive" Campaign
AJAGBE ADEYEMI TESLIM
Sponsored by: H&H

As part of its Corporate Social Responsibility (CSR) and efforts to complement the role of the Federal Road Safety Commission (FRSC) in ensuring the safety of all road users the Beer Sectoral Group (BSG) of the Manufacturing Association of Nigeria (MAN), is partnering with the FRSC to raise awareness against the menace of drink driving during this year's "Don't Drink and Drive Campaign" Launch in Lagos.

This was disclosed recently by the Chairman of BSG and Managing Director of Guinness Nigeria Plc, Baker Magunda during the official launch of the campaign.

The campaign was launched on Wednesday, 28th September 2022, while park rallies will be held on the 29th of September 2022 in Ojota and Berger parks in Lagos state, to enlighten road users on the dangers of drunk driving and ways.

Recall that in 2019, the campaign was held in two states, Lagos and Rivers State, and the Federal Capital Territory, Abuja, while plans for the 2020 edition of the campaign were stalled due to the Covid 19 pandemic.

To ensure that the FRSC works efficiently in its task to ensure the safety of all road users, the BSG committed to continue providing the FRSC with new breathalyzers, while assisting the agency to calibrate its existing equipment.
Magunda stated that the idea of the campaign is to support the FRSC in ensuring safety on Nigerian roads.

"FRSC as a key partner in the programme will conduct the rallies in line with the core components of the intervention. Globally, breathalyzers are reliable, quick, and accurate tools predominantly used by law enforcement officials to measure blood alcohol content," he noted.

On his part, Dauda Biu, the Acting FRSC Corp Marshall, said: "The partnership will ensure the "Don't Drink and Drive" campaign will be sustained.

"We appreciate BSG's efforts in supporting and prioritising our quest for the safety of Nigerians. The provision of breathalyzers will go a long way in checkmating drink driving on our roads", he concluded.
Why NLC, TUC Must Protect Nigeria's Democracy – Obasa
AJAGBE ADEYEMI TESLIM
Sponsored by: H&H
The survival of Nigeria's democracy should be a key focus of the Nigeria Labour Congress (NLC) and its affiliates, the Speaker of the Lagos State House of Assembly, Rt. Hon. Mudashiru Obasa, has said.
Dr. Obasa gave the charge Thursday at the 2022 Independence Day Anniversary Lecture with the theme 'Nigeria in search for an enduring political structure: imperative of structural reform' held at the NLC Ogun State headquarters.
According to him, Nigeria can only advance positively if the various unions and individuals play roles to keep the country's democracy thriving.
The Speaker, who was chairman of the event, said that the country is seen as practising democracy because there are legislative arms of government in place both at the national and sub-national levels.
He, however, lamented the attempts by some individuals in position of authority to 'pocket' these lawmaking arms of States citing how, in some instances, principal officers of Houses of Assembly are removed at the whims and caprices of single individuals in authority.
"It is hightime we all rose to protect Nigeria's political institution, the parliament. We have seen cases where the civil society looked away while democracy faces danger from some individuals.
"We have seen cases where the parliament was closed and where a governor carried inauguration of legislature by midnight.
"When you have a legislature that is answerable to a single person, you can't progress or meet collective goals or say we are practising democracy. We have heard of a state that already has four Speakers in less than four years.
"It is also surprising that even among the elite, you find that there are some people who do not know their representatives at the parliament. Yet, these parliamentarians make the laws that guide their activities and actions.
"As a union, our concern should not be about where we work, our salaries and welfare alone; we should also protect our institutions. I am not saying you should be partisan, but at least, play a role in guiding our democracy.
"In that way, it would be difficult for individuals to determine how the parliament, which is the true symbol of democracy, should operate," Obasa said.
In his short remark, Rt. Hon. Olakunle Oluomo, Speaker of Ogun State House of Assembly, noted that Nigeria simply practises civil rule and not democracy.
"If you have a vibrant legislature, you have democracy," he said.
In his address, Comrade Abinbola Bankole, chairman of the NLC in Ogun State, said though Nigeria faces many challenges, "as a labour movement, it is our considered opinion that blame-game shall take us nowhere as a people."
He said if Nigeria must work, citizens must be interested in how their country is governed.
Guest lecturer at the event, Chief Mike Ozekhomhe (SAN), noted that the problems with Nigeria are fundamental and systemic. He suggested a new constitution for the country.
"No president who rules Nigeria will do well. Until we do serious structural adjustment or realignments, none of those who would rule Nigeria can make any spectacular difference," Ozekhomhe said while expressing optimism that Nigeria will be successful again.
On his part, Nafiu Aiyedun, Ogun State Head of Service, who represented Governor Dapo Abiodun, promised that the government would continue to focus on the welfare of workers.