CHRSJ drags faceless Police Officer before Police Authority over plan illegal arrest of Wahab Ajala
CHRSJ drags faceless Police Officer before Police Authority over plan illegal arrest of Wahab Ajala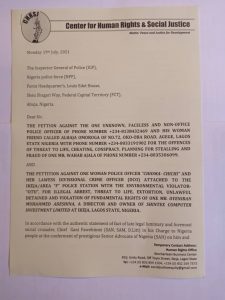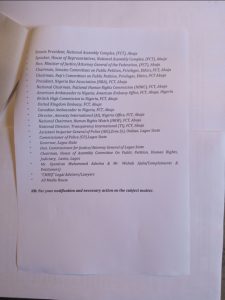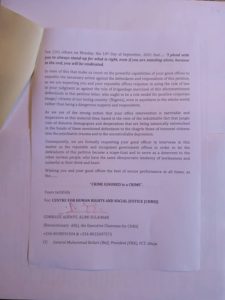 AJAGBE ADEYEMI TESLIM
SPONSORED BY: H&HA
human rights organization the Centre for Human Rights and Social Justice (CHRSJ) has dragged a faceless police officer with phone number:-(+234 8138432469), before Police authorities in the land.
CHRSJ, however, alleged the faceless Police officer of conniving with one Alhaja Omoroga(+234 8033191902) of NO.72, Oko-Oba Road,Agege area of Lagos State, to be threatened a Lagos Plumber,Mr. Wahab Ajala( +234 8035306099) over spoiled Toilet Sink fixed for over six years ago in Omoroga's house.
Detailing the incident, the human rights organization disclosed that truly, Mr. Wahab Ajala of N0.15,Igbehinadun Street,off Apex School,Alaso-Aminkanle, Kola-Agbado area of Lagos State, took the work of fixing the Toilet Sink at Alhaja Omoroga's house over six years ago and it was learnt that the Sink got destroyed recently and Omoroga called Mr. Ajala and explained what happened to the Toilet Sink and Ajala told Omoroga to buy another Sink and promised to come and fixed it for her.
But Mr. Ajala reminded Alhaja Omoroga of his N32,000 balance of workmanship of the work he did over six years ago and this is where Omoroga flying up and told Ajala to go and buy new Toilet Sink and come to fix it for her and failure to do so, would lead to his( Ajala) arrest by rough handling him by the faceless Police officer.
And since then,the faceless Police officer claimed to be attached to PWD-Yard located along Oshodi Express Way,Lagos, has been calling Ajala to show up in their office.
It further disclosed that the faceless Police officer claimed to be working with "IRT" and (F-SARS) office located at Harold Shodipe Street,GRA , Ikeja, Lagos State.
According to the Petition Letter dated July 19th,2021 and signed by the Executive Chairman of the Centre (CHRSJ), Comrade Adeniyi Alimi Sulaiman and copies were made available to newsmen on Sunday and as well forwarded to Inspector General of Police (IGP), Lagos State Commissioner of Police (CP) and host of others.
He strongly condemned the action of the faceless Police officer over illegal action by conniving with Alhaja Omoroga and turning PWD-Yard to Police Station.
Comrade Sulaiman recalled a Police Officer called "IKURAYMON" with phone number:-(+234 8024102711) attached to the same PWD-Yard, did to one Accountant by Profession, Mr. Junaid Seun Muhammed (+234 8066681435), recalling another Officer of the same PWD-Yard,Supol Abiola with phone number:-(+234 8139252323),also did to one Mr. Ridwan Showemimo and his wife (+234 7016242403) in July,2019, if not for intervention of the Centre for Human Rights and Social Justice (CHRSJ) through its Petition Letter dated Tuesday 2nd day of July,2019,the above mentioned innocent citizens would have been sent to great beyond by lawless Police Officers.
Speaking further on the issue, he declared that investigation has revealed that it has been the habitual character of Alhaja Omoroga always did to many people like;"Baba Tohib, Baba Islamiyat,her tenants, house agents" and many other people in Agege and its environs.
Sulaiman who doubles as Convener, Save Lagos Group (SLG), declared that aforementioned Officers were using their position as Police Officers to always defraud unsuspected members of the public between N50,000 to N400,000 for bribe called bail money.
He added that evidences have shown that as a result of proceeds from illegal arrest of innocent citizens, Ikuraymon has used the proceeds to build/ bought four (4) gigantic residential buildings at Aboru,Iyana-Ipaja area of Lagos State and also spent money lavishly on Fuji Musicians at home and abroad, the group Concluded.
Ethnos Unveils Aquila, an AI Powered Mobile Application Security Platform, at Zenith Bank Tech Fair 2023
AJAGBE ADEYEMI TESLIM
SPONSORED BY: H&H
Ethnos, a cybersecurity firm based in Lagos Nigeria, marked a significant milestone at the Tech Fair 2023 organized by Zenith Bank by introducing Aquila, a mobile application scanning and security solution. This strategic move solidifies Ethnos' position as an innovative cybersecurity firms in the country, showcasing their commitment to advancing cybersecurity through groundbreaking innovation.
The introduction of Aquila was took at the just concluded Tech Fair 2023, where Ethnos captivated technology enthusiasts, stakeholders and spectators with an impressive display of their world-class mobile application solution.
Peter Ejiofor, the Chief Executive Officer of Ethnos expressed his enthusiasm for the invitation to the fair by Zenith Bank Plc, highlighting the confidence and trust the bank has placed in Ethnos over the years.
Ejiofor stated, "Being part of this event is a testament to the level of confidence Zenith Bank and the organizers have in us. Our longstanding relationship with the bank has been instrumental in establishing this trust. We are here to showcase our expertise, built over decades in the cybersecurity domain, and highlight our commitment to providing top-notch solutions."
Addressing the media, Ejiofor explained, "that Aquila is a powerful software that scans .apk, ipa files for vulnerabilities, including comprehensive protection and monitoring of your mobile apps for potential threats. This development aligns with our mission to bring world-class cybersecurity solutions to their customers and empower local talent in the field."
Olamide Ajayi, head, development for Aquila, emphasized the significance of their product, stating, "Aquila is security platform that scans mobile apps for insceure data storage, insecure communications, weak authentication, insufficient cryptography, weak authorisation, client code quality, code tampering and lots more. The platform also prevents your app from reverse engineering and safeguarding it against cyber threats. It is a must-have solution for organisations that have mobile application ensuring the security of their products from breaches."
In addition to aquila, Ethnos also presented her cost efficient Managed SIEM solution designed for cyber threat monitoing, prevention and remediation. Miracle Chukwudebe, a Security Architect with Ethnos, highlighted their focus on providing affordable cybersecurity solutions for small businesses. "We understand the budget constraints faced by SMEs, and that's why we offer Managed Security solutions that are cost-effective."
Ejiofor concluded, "As an organization, we take pride in our world-class team, comprising Security Architects, Implementers, Engineers, Consultants, Developers, Product Managers, and Customer Experience Personnel. Working diligently to ensure the safety of their clients' cyber assets."
Ethnos also showcased some of their security solutions including Security Training, Managed Security Services, Compliance Certification (BAU), CISO as a Service. The event also served as a platform to announce their latest offerings, particularly in the realm of Managed SIEM Platform, designed to improve the protection of digital asset.
The Zenith Bank Tech Fair 2023, dedicated to fostering a deeper understanding and utilization of emerging technologies, features Zecathon, providing startups and tech enthusiasts with a platform to present innovative solutions.
The fair also includes a tech exhibition with leading IT firms, spanning cybersecurity solution providers to Fintechs. Exceptional ideas presented at the fair stand a chance to win grants and support from Zenith Bank.Ethnos is a leading indigenous cybersecurity firm committed to providing world-class cybersecurity solutions.
With decades of experience, Ethnos has established itself as a trusted partner for businesses, offering a comprehensive suite of services to safeguard against cyber threats.
Transcorp Plc Wins Four Awards at the International Business Magazine Awards 2023
AJAGBE ADEYEMI TESLIM
SPONSORED BY: H&H
Transnational Corporation Plc (Transcorp) has won four awards at the International Business Magazine Awards 2023, highlighting the company's outstanding performance and dedication to corporate governance, as well as environmental, social, and governance (ESG) standards.
The company emerged victorious in four key categories: Most Diversified Conglomerate in Nigeria 2023, Best Corporate Governance Company Nigeria 2023, Best ESG Conglomerate in Nigeria 2023, and Best CSR Initiatives Nigeria 2023.
Transcorp Plc has long been a trailblazer in the industry, and these awards serve as a testament to the company's unwavering commitment to excellence across various parts of its operations.
International Business Magazine conducts its annual awards ceremony annually to commemorate the top companies of Middle East, Africa, Europe, Asia and The Americas.
Transcorp Group is a publicly quoted Conglomerate with a shareholder base of approximately 300,000. The Group's diverse portfolio comprises strategic investments in the Power, Hospitality, and Energy sectors. Among its notable businesses are Transcorp Hilton Abuja, Transcorp Hotels Calabar, Transcorp Power, Transafam Power, and Transcorp Energy.
SANWO-OLU HAILS MORAYO AFOLABI-BROWN'S APPOINTMENT AS MD OF TVCe
AJAGBE ADEYEMI TESLIM
SPONSORED BY: H&H
Lagos State Governor, Mr. Babajide Sanwo-Olu, has congratulated popular television presenter, Dr. Morayo Afolabi-Brown, on her appointment as the Managing Director of TVCe, the Entertainment Channel of TVC Communications. 
He said the new role given to Afolabi-Brown, the host of the TVC's breakfast programme, 'Your View' is well deserved.
Governor Sanwo-Olu in a statement issued on Thursday by his Chief Press Secretary, Mr. Gboyega Akosile, said Afolabi-Brown's appointment as Managing Director of TVCe is inspirational to young media practitioners that they can get to the top position of their career with hardwork, commitment and discipline.
He said: "The appointment of Dr. Morayo Afolabi-Brown as the Managing Director of TVCe, the Entertainment Channel of TVC Communications, is deserving having distinguished herself at TVC Communications and the media industry for almost two decades.
"Morayo Afolabi-Brown is one of the most influential women presenters not only in Nigeria but Africa. She has been recognised as one of the top 25 most influential women in Journalism Africa (WIJA) 2020 where she ranked 18th on the list.
"I believe strongly that Morayo Afolabi-Brown's new appointment is an inspiration to young media practitioners, particularly members of staff of TVC Communications, that they can get to the top of their career in the company if they put in a little more than is expected from them by their employers.
"Morayo Afolabi-Brown's new role attests to her exceptional track record of achievements in TVC Communications as a former Deputy Director of Programmes TVC News, where she created content on three independent channels for broadcast. She has also made a lot of impact as a host in addressing basic issues in society through the TVC's breakfast show 'Your View,' programme.