Crippled Muslim Man In Tears After Receiving N2 Million Wheelchair At Primate Ayodele's Church (VIDEO)
Crippled Muslim Man In Tears After Receiving N2 Million Wheelchair At Primate Ayodele's Church (VIDEO)
AJAGBE ADEYEMI TESLIM
SPONSORED BY: H&H
Popular prophet, Primate Ayodele has continued to extend his magnanimity to several individuals without putting into consideration their religion, tribe, beliefs or any form of differences.
Yesterday, during a live service at his church; INRI Evangelical Spiritual Church, a crippled Muslim faithful got the shock of his life when he was called out to receive a modern wheelchair worth N2 Million for free as facilitated by a church member, Mrs Buchi Anene
It was indeed an emotion moment for the Muslim faithful who has been left with no option than to make use of the old wheelchair due to lack of funds and support from those he went to.
According to information, He has been to about 20 churches, mosques, Muslim clerics and pastors to solicit for help on his wheelchair but never got any till God's favour found him at INRI Evangelical Spiritual Church.
While receiving the gift, He started by reciting some verses in the holy Quran and continued with songs of praises to God. At some point, he became teary while appreciating God, Primate Ayodele and Mrs Buchi Anene who facilitated the precious gift.
His mother who was among the congregation couldn't hold her joy as she ran out of her seat to appreciate Primate Ayodele and Mrs Buchi Anene for the kind gestures towards her son.
Primate Ayodele's church has over the years become a place where the hopeless gets hope, the less privileged gets empowered, it has been more of a charity organization due to the many millions of naira that has been invested into empowerment of all kind.
WATCH VIDEO HERE
https://fb.watch/77xzgtrt0x/
Primate Ayodele's Prophecy On National Universities Commission Comes To Pass
Primate Ayodele's Prophecy On National Universities Commission Comes To Pass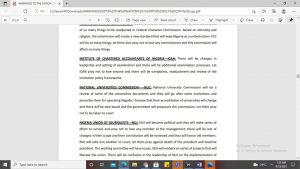 AJAGBE ADEYEMI TESLIM
SPONSORED BY: H&H
Some hours ago, the federal government named some universities and declared them as Illegal through the National Universities Commission.
This was followed by an immediate closer of the universities which are about 58 in number.
NUC on its official website stated that the affected universities were closed for violating the Education (National Minimum Standards, etc.) Act CAPE3 Law of the Federation of Nigeria 2004.
This development however confirms the prophecy of popular prophet, Primate Elijah Ayodele who revealed in his annual book of prophecy titled Warnings To The Nation (2021/2022) edition that he foresees that the NUC will review the activities of some universities and proscribe them for operating illegally
''NUC: National University Commission will do a review of some of the universities documents and they will go after some institutions and proscribe them for operating illegally. I foresee that their accreditation of universities will change and there will be new board and the government will prosecute the commission. Let them pray not to be taken to court''
The first part of the prophecy which talks about proscribing universities for operating illegally has been fulfilled. There are other parts of the prophecies that has to do with the government prosecuting the commission and court actions against the commission is yet to come to pass.
These are serious warnings released by the man of God some months ago. Apart from this, several prophecies in this book has been fulfilled, which shows that of a truth, Primate Elijah Ayodele's annual book of prophecy is divine.
OLOJO FESTIVAL 2021: OONI BEGINS 7 DAYS SECLUSION, SAYS POLITICIANS ARE THE SAME
OLOJO FESTIVAL 2021: OONI BEGINS 7 DAYS SECLUSION, SAYS POLITICIANS ARE THE SAME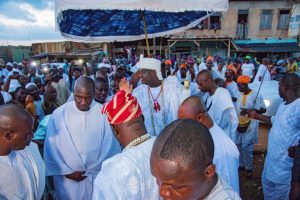 RAINAT ATOYEBI
SPONSORED BY:H&H
Arole Oduduwa Olofin Adimula, Ooni Adeyeye Enitan Ogunwusi, Ojaja II, the Ooni of Ife on Sunday kickstarted this year's Olojo Festival in Ile-Ife with the traditional 7 days seclusion where he's expected to commune with his ancestors and for the people of Ile-Ife, all descendants of Oduduwa worldwide and Nigeria as a country.
Ooni Ogunwusi while answering questions at his Ile-Oodua palace, Ile-Ife, before heading into seven days seclusion to commune with the gods ahead of Olojo Festival pledged to pray to his ancestors and God to touch the heart of Nigerian politicians and changed them towards loving the people, saying Nigerian politicians are the same irrespective of their parties, challenging them to start serving the people genuinely and stop taking the country for granted.
The Natural Head of the Oduduwa race worldwide who insisted there is no difference among politicians in the country, stated that they have all cross carpeted from one major political party to another to protect their interests.
"We believe in the forces of nature for nature to conspire in our favour but every other thing in our country they are all man made, the likes of security, our politicians will take credit for that, they are the ones that caused it till date. I will go again to seclusion for God to touch their hearts for them to stop playing all of us like ludo.
"They should be more sensitive about people because it is one political movement. They are just crisscrossing from one political party to the other in order to retain their positions. We have one political party in this country, same value, same character, same politician. But I am going to go into seclusion for God to touch their hearts for them to stop playing games with the lives of citizens of this country. It is about time for them to realize that they should serve us genuinely because we can not continue like this.
"This time around is a serious one, it is a request on behalf of the entire people, Oduduwa race and by extension our dear Country Nigeria. I am going for God to touch their heart and really pray to my ancestors. We are just deceiving ourselves that they are different, they are the same. All of them have crossed to the major parties but Nigeria is above them all.
"This time around it is a very sensitive one and a very serious one. First of all to thank God almighty and the spirit of our ancestors that have been guiding us thus far, God has really helped us with the pandemic issue because we won't be able to handle it, when we compare things we have been doing with other nations. We have every course to be thankful to God.
"They said we are spiritual and it is working for us in this country, we have course to thank God Almighty, that it is not out of hands. We should not rest our hoax, I am going to seclusion which is the 6th during my reign. I inherited the tradition from my ancestors of thousands of years ago", Ooni said.
To participate in this edition of the Olojo Festival in Ile-Ife, foreigners from America and Brazil have started arriving the country in their hundreds as a number of them were sighted at the Ooni's Palace to join in the procession accompanying the Ooni to the ILE IMOLE, venue of the 7 days seclusion location along Iremo road of the ancient town which is the cradle and traditional headquarters of the Oduduwa race worldwide.
Erica Pinheiro, a participant from Brazil who spoke to the newsmen said this is her second time to participate in the festival which she called 'festival of day and God'. She described it as a home coming for all of them who came from Brazil, saying whenever Africa or Nigeria is mentioned in Brazil, the city of Ile-Ife first come to mind.
This is my second in the country to witness this festival that celebrates creation of day and festival Olodumare. Ile-Ife is a household name in Brazil. Every Brazilian wants pilgrimage to Ile-Ife and we will be coming home from Brazil every year. " Erica Pinheiro said.
Primate Ayodele's Prophecy On Nigeria's Economy Collapse Already Coming To Pass
Primate Ayodele's Prophecy On Nigeria's Economy Collapse Already Coming To Pass
AJAGBE ADEYEMI TESLIM
SPONSORED BY: H&H
The Nigerian economic situation is getting worse as the day goes by. The dollar rate is on the high side and prices of essential commodities have skyrocketed in recent times.
In the history of Nigeria, it has never been this bad economically. The naira has lost value against almost every notable currency in the world, which is of course unhealthy for our purchasing power.
With the situation of thing economically, one would agree that except there is a divine intervention, the economy is on the verge of collapse and is already shutting down. The signs are written all over with the unceasing increase in dollar rate, prices of essential commodities and many others.
Before things got worse, one of the notable voices that called the attention of President Muhammadu Buhari was Primate Elijah Ayodele, the leader of INRI Evangelical Spiritual Church.
Five months ago, Primate Ayodele released a statement that the Nigerian economy will shut down in 32 weeks. From May, 32 weeks would be around October which is just one month to go. He didn't just say this, He made this statement to warn President Muhammadu Buhari and also to advice him on what to do in order to prevent the economy from shutting down because the last thing a president wants to experience is his economy shutting down.
Primate Ayodele gave some spiritual advice to the President and told him to come up with a strong economic team in order to prevent this. He also talked about bringing back subsidy instead of removing it completely but were these advices followed? NO.
He also mentioned that President Buhari will request for a brutal loan which will cause more havoc to the economy. We could see this happening yesterday when Buhari wrote to the national assembly for the approval to borrow another $4bn, €710m which will make the country's debt to be N2.2trillion.
These were Primate Ayodele's words
'If the government of Nigeria doesn't do the right thing about the economy, Nigeria's economy may shut down in the next 32 weeks.
"This will affect Central Bank, NNPC and revenues.
"Government must come out with a very strong economic team in order to curb another economic pandemic that will even affect banks, government, salaries of the workers and pensioners.
"Nigeria will be on a brutal loan, there will be so much loan, they must review subsidy, and bringing back subsidy will help Nigeria's economic to grow than removing the subsidy completely."
(https://theeagleonline.com.ng/primate-ayodele-to-buhari-economy-nigeria-will-collapse-disintegrate-under-you/)
We have just one month before 32 weeks elapse and of a truth, except the President listens to instructions, the economy may collapse as Primate Ayodele warned.