Guardiola Hopeful De Bruyne Fit For Crucial Liverpool Clash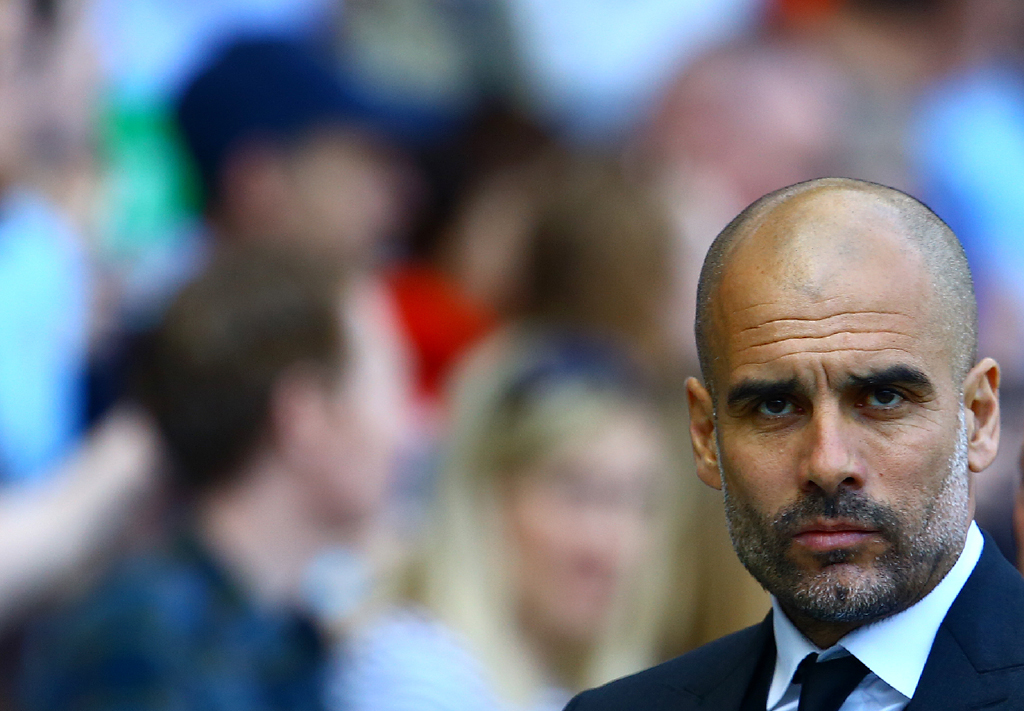 Kevin de Bruyne could return from injury as Manchester City bid to inflict Liverpool's first Premier League defeat of the season and put pressure on them in the title race, City manager Pep Guardiola said on Wednesday.
The return of De Bruyne would boost City's hopes of beating Liverpool and reducing their lead at the top to four points.
It would also be a filip to their title defence which suffered a serious blow with three defeats in their last five league matches.
The 27-year-old Belgian midfielder, City's player of the year, has endured an injury-affected campaign, restricting him to just six league appearances.
He was out of action from August until late October with a knee injury, then suffered a calf problem in early November that sidelined him for more than a month.
Having returned again in mid-December, he suffered a muscle problem during the defeat at Leicester on Boxing Day.
Guardiola, though, is hopeful De Bruyne can feature on Thursday as City look to drag themselves back into the title race.
"He trained today," said Guardiola at his eve of match press conference.
"Tomorrow (Thursday) we need another check in the morning but he is much better."
– 'The best team in Europe' –
In contrast to City's indifferent recent league record Jurgen Klopp's side have won nine league matches in a row, and have the best defensive record, conceding eight goals in 20 matches this season.
During that nine-match winning run, Liverpool have kept six clean sheets and conceded just three goals, and Guardiola acknowledges his own team have to improve their defensive record, as well as becoming more ruthless in attack.
"You have to see how many chances we concede," said Guardiola.
"We are the second-best team in Europe in terms of the chances we create, so we are not precise enough.
"In the past few games, we have conceded more goals than usual but the number of chances we have conceded is not too much."
Guardiola has tried to play down suggestions defeat on Thursday would effectively end City's chances of retaining the title they won with a competition record of 100 points last May.
"The reality is clear. We are seven points down, but it is the second game of the second half of the season, so there are a lot of points to play for," said Guardiola.
"I have the feeling it is a big opportunity for us to reduce the gap.
"Everybody is asking what will happen if we lose but we are going to try to win.
"It is our chance to fight for the Premier League, to go as far as possible," added the 47-year-old Spaniard.
Liverpool have dropped just six points all season, and Guardiola believes they are currently the most consistent team in Europe.
"It is Liverpool, the best team in all England in history.
"We can beat them. I know today nobody trusts us but it is what it is.
"They are in the moment the best team in Europe, in their consistency, the way they control the details in their game."
England's 1966 World Cup-winning goalkeeper Gordon Banks has died aged 81
ADETOLA, M.A
Regarded as one of the game's greatest in his position, Banks was named Fifa goalkeeper of the year six times and earned 73 caps for England.
He is perhaps best known for his wonder save from Pele during the 1970 World Cup against Brazil. Born in Sheffield, he won the League Cup with Stoke and Leicester, before retiring in 1973.
"It is with great sadness that we announce that Gordon passed away peacefully overnight," his family said."We are devastated to lose him but we have so many happy memories and could not have been more proud of him."
Sir Bobby Charlton, who was part of the team alongside Banks that won the World Cup in 1966, said: "Gordon was a fantastic goalkeeper, without doubt one of the best England has ever had.
"I was proud to call him a team-mate. Obviously we shared that great day in 1966 but it was more than that. "Even though I was on the pitch and have seen it many times since, I still don't know how he saved that header from Pele."
Banks is the fourth player of the England team that started the 1966 World Cup final to have died, after Bobby Moore, Ray Wilson and Alan Ball. Another of that XI, Sir Geoff Hurst, tweeted: "One of the very greatest. Thinking especially of Ursula, Julia, Wendy and Robert. Sad for football, Stoke City and England fans."
Stoke chairman Peter Coates said Banks, who made 250 appearances for the club, had been "poorly for a number of weeks". He told Radio 5 live: "He made his home in Stoke, and was very much part of the fabric of the club. You don't get too many like him, and he was immensely modest for all his talent.
"He was England's greatest goalkeeper when they had their finest hour." England and Manchester City forward Raheem Sterling was among the first to pay tribute, tweeting: "Of course there was that save, but it's so much more we are mourning today. RIP Gordon Banks. England legend, your legacy will live on."
Former England striker Gary Lineker said: "An absolute hero of mine, and countless others, England's World Cup winner was one of the greatest goalkeepers of all time, and such a lovely, lovely man." Ex-England goalkeeper Peter Shilton, who replaced Banks at Leicester, tweeted: "I'm devastated – today I've lost my hero."
"A world Cup winner, a legend.  RIP Gordon Banks," tweeted Leicester and England defender Harry Maguire, while Watford keeper Ben Foster said: "Had the pleasure of meeting you as an 18-year old-with my Dad, and him being completely star struck by you. Total gent. You will always be a member of the Goallys Union."
Ogunjobi's Death Irreparable Loss, – NRA President
President of the Nigeria Referees Association, Tade Azeez, has  described the death of Taiwo Ogunjobi, a former Nigeria Football Federation General Secretary, as an irreparable loss.
Azeez said  in Ilorin that news of Ogunjobi's demise was a sad and unfortunate piece of news item to wake up to.
He added  that Ogunjobi, a former central defender for both the defunct IICC Shooting Stars FC of Ibadan and the then Green Eagles, passed on in the early hours of Monday.
The NRA president said Ogunjobi's death, which occurred at the University College Hospital in Ibadan, was shocking to the football family.
He said  that no one would have thought the ex-international would not be around for many years to come.
"It is an unfortunate thing that we woke up to the news of his death, because he was a person we thought would be around for about 20 to 30 years more.
"So, hearing about his demise is a shock to us all in the Nigerian football family.
"He has been in the football circle for a long time because he started as early as possible and he died as a football person," Azeez said.
The NRA president described Ogunjobi, who went on to manage the Shooting Stars when it later became Shooting Stars Sports Club (3SC) as Sole Administrator, as a jovial and humorous person.
"He tried to make everyone around him happy,'' he said.
Ogunjobi who was at a time member of the NFF Executive Committee was until his death Chairman of the Osun State Football Association. He added.
Former NFF Secretary-General Ogunjobi Is Dead
Former Secretary-General of the Nigeria Football Federation (NFF) Taiwo Ogunjobi is dead.
Until his death, Ogunjobi was the Chairman of Osun State Football Association.
He also served as Special Assistant to immediate past Osun Governor Rauf Aregbesola.