IYALAJE OODUA: I'M AWARE OF MY DUTIES AS I AND I SHALL DELIVER OPTIMALLY, TOYIN KOLADE PLEDGES
IYALAJE OODUA: I'M AWARE OF MY DUTIES AS I AND I SHALL DELIVER OPTIMALLY, TOYIN KOLADE PLEDGES
AJAGBE ADEYEMI TESLIM
SPONSORED BY: H&H
The newly installed Iyalaje of Oduduwa Race worldwide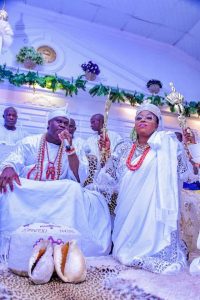 (Iyalaje Oodua) Princess (Dr.) Toyin Kolade, on Saturday stated that she is not unaware of the huge responsibilities and roles attached to her latest status, promising to perform optimally towards wealth recreation as well as human development.
The Ilesa born business tycoon cum philanthropist who has been the global promoter of the popular Annual Aje Festival for about half a decade, gave the assurance at the ancient Ile Oodua Palace of The Ooni of Ife in Ile-Ife before the Arole Oduduwa & Ooni of Ife, Ooni Adeyeye Enitan Ogunwusi Ojaja II, and a host of other top dignitaries including traditional rulers across Nigeria who took turns to pray for her traditionally.
"Through my close relationship with the Arole Oduduwa which I hold in a very high esteem, I have always been close to the traditional institution and I am glad to state that I have learnt a lot enough to last me a lifetime.
"Let me be specific now, my announcement in itself was done traditionally and that was the start of it all fe months ago.
"Upon my entry on Thursday evening, I was received at Ilero spot at Iremo road, Ile-Ife by the cultural women (Obinrin Ilero) and the Ooni's traditional aides (Emeses) where the opening rites were performed before we walked to the palace to pay traditional oobeisance to the Arole Oodua before taken to the sacred Yeyemolu well for blessings.
"Today, Saturday 17th July 2021, we opened the day with a procession of Isoros and Iyalajes of different markets to the AJE temple at Oja Ife (Oja Ejigbomekun), where I joined them in company of Emeses, seven horses and my distinguished guests and well-wishers.
"Right there, I was dressed traditionally as the Iyalaje Oodua and fortified for the tasks ahead, after which we returned to the palace and we were received at the palace's entrance (Enugeru) by Ife High-Chiefs who led me to the Temple of Wisdom (Ogun Laadin) within the palace courtyard for further blessings.
"Am happy to inform you that I got my installation leaves (Ewe Akoko) at the Temple of Wisdom, before being brought before my father; Arole Oduduwa for formal pronouncement as the Iyalaje Oodua. I am so humbled and I promise that I shall justify the basis for my appointment and installation." Iyalaje Oodua said.
In his remarks, Ooni Ogunwusi who doubles as Co-chairman, National Council of Traditional Rulers of Nigeria(NCTRN) revealed that the selection and installation was purely based on merit, especially because of the sensitivity of the title.
"We exercised a lot of caution because Aje is a big deal in Oodua land. It started here in Ile-Ife and then spread beyond, so we are reawakening it's spirit particularly now that the economy is in a bad shape.
"Princess Toyin Kolade is a successful business woman who is prominent for spreading wealth through giving even from her personal earnings, this is one among several countless enviable human qualities upon which she is being installed today as the Iyalaje Oodua." The Ooni noted.
The event which was well attended by top dignitaries including the Executive Governor of Kogi State, Alhaji Yahaya Bello who was represented by his Deputy, Edward Onoja, also had traditional rulers like Olubadan of Ibadan, Olowo of Owo, Alara of Ilara-Epe, Ajero of Ijero Kingdom, Oore of Otun Ekiti, Deji of Akure, Dein of Agbor in Delta state. Prominent women like the wife of the Osun State Governor, Alhaja Kafayat Oyetola, Chief Mrs Olufunso Amosun, Erelu Abiola Dosumu, among others in attendance.
The grand finale of the history-making event held in the 3,000 capacity Meeting Incentives Conference and Event (MICE) Centre branded 'Ojaja Arena' within the premises of the newly commissioned Ife Grand Resort and Industrial Park, where guests were entertained by the ace Fuji musician, Alhaji Wasiu Ayinde, popularly called K1 De Ultimate in the presence of other dignitaries like Aare OnaKakanfo of Yorubaland Chief Gani Adams, Chief Femi Fani-Kayode, Basorun Dele Momodu among others.
Invitation to August24news.com/Tv publisher, Ajagbe at 40
Obi Cubana Speaks on August24news.com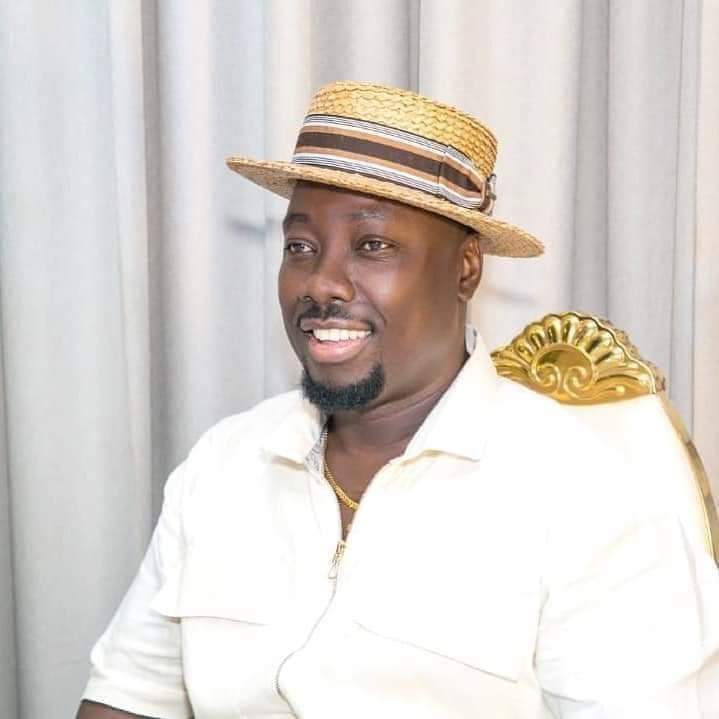 Obi Cubana Speaks on August24news.com
"I want to state this clearly, I am not the talking type or Social media interest free person"
Obi Cubana; finally speaks
"Many have questioned the type of boys and friends I have, to me, I hardly address anyone as my boy because we are all boys to God Almighty.
I don't have any boy who is into rituals, if you are my boy or my man because I like to address my boys as my men, it means you are working hard and you made your money in a clean way.
In 2013, I pushed 53 uneducated Oba boys into the market to learn trading. In 2017, I withdrew all of them from their Ogas and settled all of them with 3million Naira each and paid for their shops.
I linked 40 of them into importation and made them use my name and platform to import goods into the country. After two years, I checked on them how they were doing and find out some had issues and I supported them again to stand.
I am happy today that out of the 53 men, 38 are billionaires while the rest are in the level of a millionaire.
In 2018, I took 100 educated men out of streets and introduced them to the white men for business and today there are billionaires in dollars.
They also help me in their capacity when I require their help. All their friends both Nigeria and outside patronises me.
I am into hotel and club business and I have so many businesses I am brand ambassadors to.
I have alliance with spirit drinks and wines, I am brand to many businesses in the world.
It gives me joy to see my men do well, non of my hotel managers in Nigeria can small poverty, I encourage them to raise others from their local communities. I have never sacked a worker due to misconduct, I bring you in and speak to you the way you will understand.
I have this understanding that we should allow the stubborn people to exist and cool headed people to exist and we make use of them when their needs arises.
I don't believe in the supremacy of power rather I believe in the fare share of power and authority and allow everyone to feel belonged.
I have many uncountable people through my hotel business, I have encouraged many, I have made a lot of friends millionaires and billionaires because it gives me joy. Seeing them throw money around gives me happiness and they know, so anytime there are with me, they show such attitude of throwing money to please me.
Yes, I will gift 1 million to 300 Oba boys to start up business and link them up too to make it.
I have a lot of friends and associates and we are like brothers to each other. We love and encourage one another in good and bad as you have seen in my case that all of them came massively to support me.
Critics is normal and there are there to say what they want to say but when you are doing the right thing, you don't listen to what people say. If I have my way, I will also help those criticising me.
A lot of non Obas will still benefit from me because I am still in the business of making people great.
Cubana chief priest is my man and he is a jolly fellow. People mistake him for me, I am Obi Kubana and he is my Chief priest I hope you understand it now.
I am not into politics and I don't have interest in it till tomorrow. I respect those in politics because dey carry power. Lol hahaha.
My advice is they should identify talents and make them great, don't have any fear of who betrays you tomorrow, just make men and move, if they remember good if not be happy that they made it through you.
I didn't asked my boys/men for donations or help, I didn't also asked my friends for help or donations they did that on their own and I appreciated their efforts.
Gradually ala Igbo ga adinma"
ABDUL IMOYO: THE PR MAN BEHIND ACCESS BANK EFFECTIVE COMMUNICATION
ABDUL IMOYO: THE PR MAN BEHIND ACCESS BANK EFFECTIVE COMMUNICATION
August24news.com
Sponsored by: H&H
Abdul Imoyo is a seasoned Public Relations and communicator who brings industriousness and jovial aggressiveness deep to bear.
As the head, Media Relations at Access Bank Plc, Abdul has a Bachelor of Science in Public Administration from Lagos State University and a Masters of Administration from the University of Lagos (Unilag).
He has responsibility for the Access Bank brand, is an enigma in the banking industry especially when it comes to customer relations with all vigor, astuteness, and applicable understanding of the system, foremost he is disarmingly unassuming.
Abdul Imoyo took Waka About Africa through his role with Access bank in a very straightforward but also tasking however the way and manner he goes about it with all ease give the infectious sense of responsibility.
Abdul heads the Public Relations and Media Relations Desk, which is called the PR and Media Relations Unit.
It has to do with engaging the stakeholders especially the press, shareholders, customers, the public, government even the community because most of the time you find out that you need to pass information to the community where you operate in. His job entails managing information and ensuring that the right information is passed on to the public through the right channels.
Abdul revealed to Waka About Africa, that yeah, "the job is exciting and interesting in the sense that, given by my background, first and foremost, I'm a journalist, so, I think I enjoyed a lot of goodwill from my colleagues out there.
Mainly, maybe because of the relationship that we've enjoyed, before I crossed over to this side, I think so far, it's been interesting, because, as I said, I'm enjoying that goodwill, from my friends and colleagues in the media that makes my job easier. Also, the bank has been very supportive too, because they give me all I need to make my work easier. It's been easy from both sides, I'm enjoying it.
Therefore I wouldn't want to take it for granted for any reason whatsoever".
"I have passion for the job that I do, coming from my background as a journalist, and now still working with the same media stakeholders in a core critical and challenging role; and ability to function in an environment that allows me to express myself, empowering me with all that is required to deliver".
Speaking to Waka About Africa on his typical day, he said thus, "I work around the clock is 24/7, because these days Journalism I don't know if it ever sleeps, is more now like round-the-clock kind of, there is print, TV, radio, there is online news on the go and others. So my work is 24/7 because even as I'm here now, my bosses expect me to know what is going on.
Like, right now, I should be able to know if there is news about us, where the news is coming from, you have to be in the mind of like a million people to know what they are thinking, what they are going to write about us.
It's also been good for me, because of my background in journalism, he recalls.
"I wake up to come to the office, do news review all-round check many industry news, know the one that relates to us and where we notice people feel that there are some concerns about us, we try to address it and at the same time, we still push out the good news about us because it has to be good for us to attract investors, for us to attract customers because we get a lot of quires from some of the investors and stakeholders especially when they feel the news are not too good they want to know whether it's true or false how are we addressing it".
On what area of his job he finds most challenging and interesting as well, hear him "What I find more challenging is when I wake up in the morning I see news that is not too palatable, especially coming from maybe people that I think knows better, or people that I think have access to me that should have at least try to cross-check. I'm not saying don't write but let's balance it.
You can come to me and say I have this information, what do you have to say about it, or what's your own side of the story. I've seen people come to me with their own personal stories they want to paint it like it's from somewhere else or they got it from somewhere, when I try to look into it and what they want to write.
They will come up maybe with a different example of someone else and they are charging unsolicited deduction, I'll say, please send me the details and when you look through the details, you will find out it is this same person is all about him, and he was trying to paint it or make it look like is a general problem, maybe because I've done the job before so I expect that you should even know what is news.
People come to you with the something news kind of and you would even be wondering, the question will be are you supposed to be doing this job like this, at this point, but you can't blame them that is what the job they have to do and at the same time, another thing is, I know there's a deadline in journalism, but you're coming to me with something exclusive, even me I don't have the information on the go.
I need to get back to someone in the senior management to give me the details, and you're telling me you have one hour to write the story, I'm like, it's exclusive to you and when is exclusive I don't see the rush, but these days, you just see people who want to do the story like it's yesterday while is not breaking news.
When a story is exclusive to you then its exclusiveness gives you enough time to get the facts so that you can come out with a good story.
When someone is calling me at 3′ pm to tell me that he has to get the story out by 5 pm, I'll tell you that even the person that is going to give me the information may probably not be in the office or even around.
Maybe even the man who also may get it may need some information from somewhere else to be able to do it well, I advise you to just wait to get the facts so that it will be a balanced story.
Those are some of the challenges we are addressing and we try to manage as well as to get people to understand that we need each other, you need me, I need you but I wouldn't tell you not to write but if you don't go out with the right information, it hurts me, and at the same time it will hurt you because it gives you credibility if you do a good story.
I think people can see through it and say it's a good story you have done, but if you just do it anyway, it also has an impact on your own reputation and the brand that you're trying to put out there;" he insists. Also, the interesting part of it is the kind of support I get from my colleagues, especially in the media, when I send out a story and don't need to solicit for positioning next thing you see it on the cover of the newspaper, or even a picture is on the cover it makes it interesting for me, it makes me look good.
You know, especially when you don't have to solicit and say please I want the front page and find out that or the next thing you see it on the cover that makes it interesting for me, he enthused.
Waka About Africa queries on his journey so far and when he started PR/ Media Relations with Access bank, Abdul has this to say, there was an opening he revealed that he was sure they must have interviewed a lot of people at the end of the day to God be the glory I got the job. As I said by way of training, resources, and everything I think, the bank is trying and has done well for me, I think I'm enjoying good support, I'm enjoying the support of my immediate boss the group head, and the support of the management.
So, I can't say that I won't deliver, even in terms of training, in terms of resources and everything that is there, I think I have enough to be able to deliver.
On what it takes or require for one to occupy the position as bank's image-maker he quipped O! It Is not even about Access bank rather it is a general thing in the industry and outside banking PR has different branches or different aspects of it, there's branch manager, reputation management, crisis management, all that come to play in your job role, and job description.
There are so many angles to deal with it. Because the most important thing that you're trying to do is put your brand there in good lines, letting people know what you're doing and the benefits they stand to gain if they partner with you. Right now in Access bank, we have over a 45million customers, it's not a joke, there's a lot we need to do that we're still doing to ensure that we keep these customers we also working hard to attracts more, when you say 45 million but we are over 200 million people in Nigeria, this means out of every five people you come across one is at least the customer of Access bank, that's good for us. And we don't want to let it go.
We don't want to lose any of our customers but do all we can to keep them and want to even get more, we're not only in Nigeria, we're everywhere now. In Africa, we're expanding, we are an International Bank, in the UK, in Dubai, in China, even in Lebanon, so it's no more like it's only in Nigeria.
We have a lot going for us and we aspire to be the most respected African Bank.
We are also working hard to be Africa's gateway to the world so that every transaction across Africa, anything you want to do in Africa and across to be the channels that you can leverage onto to do everything you needed to do anywhere in the world you will find us there, we have the platform to give you access in the World whatever transaction you want to do, we give you access, we are Access bank so we give you access to the world.
We have the best products for every segment, the best services and we operate with speed and when we say with speed it means timely transactions, we don't keep you unnecessarily, we don't delay you. And then we'll give you the services and there is security.
Our security means that you're safe with us. Your money is safe so you can go to bed and be sure that you're in the best place because we have the people and the resources that can deliver faster and safe.
That's another thing this is the job and could my phone go off and somebody is trying to reach me? I've had that issue before somebody tries to reach me and the next thing he's gone ahead to write the story and said that he made efforts to reach me I hate that kind of thing, effort to reach me, what effort? This same person wrote the story and sent it to me by WhatsApp, so that means they're a channel to reach me, if I don't pick your call, why don't you send me an SMS.
Now it's even easier, WhatsApp can deliver immediately, even if I don't respond immediately, I know that I will definitely respond later. So there's pressure but the pressure is part of the work, is there any easy work.
I want to find out if there is any job without pressure, that's why I'm here and that is the job, calls will come as I said, it's even better when you are getting the calls because you don't want to wake up tomorrow and discover that somebody has put up something that I should have even make an input. So it's part of the job so let the calls becoming, it is good for me.
At least, somebody trying to reach out to me, that is why I'm here and I'm supposed to provide necessary and required information the calls are not just to say how are you alone sometimes yeah, maybe how are you, what's happening.
I also call them just though we have not spoken in a while, so it's all part of the job. So let the calls becoming we'll find a way to deal with it at least I have been on it for years now.
Abdul's experience as a journalist helps too, he recounts 'as a journalist those days you call people to say, I have this or I want to inquire and sometimes they don't pick a call, sometimes they don't come back to you with the information, not until you have done the story, then they start calling or calling your bosses to say, why did you do that story besides it's not a good story in some cases, they will feel that maybe somebody is sponsoring you, and there is an unseen hand behind the stories you are doing.
That tells me that I need to correct that here because even here, I still work as a journalist because my job also entails looking inward to know what we're not doing well? What is it that we need to improve on? I try as much as possible, as a brand ambassador, there's a way one has to comport himself/herself, is the same way for every other person in the bank comportment and others is the ethics of the profession it's more like, I have been there before and I'm here now, I have experience on both sides of the divide, so it's easy for me to say the guy you have to be focused, you have to be responsive so that at the end of the day, you don't just create problems. You know in those days some of my colleagues when they do this, they will say I hit them today, they can feel me. I don't want anybody to hit me, you know the funniest thing, and sometimes they will think it's because of that person, the brand person he called and did not pick he was going to do that story, it's not about the image-maker that you're hurting, you're hurting that brand, it's the bank you are going to write. So he shouldn't give you that room to do that to the brand, you thought that you are hurting the man, our contract person you know, in the bank or the institution, but meanwhile, you're not writing about that person, you're writing about the institution, you're hurting that brand. Whiles, you think you are hurting the person or the spokesperson, everyone matters to me," Abdul said.
Abdul so far tries his best to maintain a great relationship with the media he can't be perfect like he keeps saying, he thinks he enjoys some measure of goodwill out there. He cannot be perfect, he can't be totally perfect but so far, he thinks if, on a scale of one to ten, He thinks he can score himself eight or even nine over ten you can't have it all he said. It's resourceful to the bank, in a sense that As he said, the way he handles whatever information, whatever story that is going out, won't be about Abdul Imoyo, it's about access bank, so if I do well, it is resourceful to the bank.
"Let me even tell you that I've won two awards as the most resourceful corporate affairs manager in the industry.
So that means it's resourceful to the bank. The job we do with my colleagues attracts goodwill to the brand. And like I said, we've won awards based on that.
To be honest with you, the greatest challenge so far I won't lie, came from the unexpected, in the quarter.
The greatest and I have not been able to get over it, on a very serious note and it also has to do with cross-checking information a reporter called me and I was in a meeting I said will call you back or text me and then he called back to say he has this story. And he said, Okay, you know what, he will come back to you, but you can hold on for me, but before he could get back to him he went ahead with the story and claimed he called me severally and sent me several text messages, this guy said, he called me severally, he sent me several text messages. This guy never sent me any text message, he never came back to me on that story.
Most of the time somebody is asking you something you feel maybe he's no more interested in the story, especially if you have the right story, I'm not saying you don't do your story but let's balance it. But you know that you did not call me more than that time and you did not follow up. And there was no text as the guy claimed in the story the guy quoted it there that he sent me several text messages, several phone calls. So that's why he had to go ahead and did the story, so even if the guy was doing that story he still expects the editor to come back to me to say that. And when the whole issue now came up and I said this man did not come to me and all that, it was a very disturbing period for me, at the end of the day the guy says we are sorry. But at least let's be real here, let's be sincere with ourselves if you actually think that you've done something wrong, why don't you just do it through the appropriate channel. Yeah, what if I was going to lose my job, that was a major point for me, a real major point for me something that I always remember. We still have to reach out to the organization, to the newspaper to state the facts, presented the facts to them I had to let it go.
With over 400 branches in Nigeria, after the Access bank merger with Diamond bank, we had to close some branches. Then in Africa, we are in Sierra Leone, Gambia, Ghana, Mozambique DR Congo, and Zambia, South Africa, Kenya. We have an office in the UK it's a whole bank on its own. We have Office in China, we have one in Dubai and Lebanon, we are good. Expelling to Waka About Africa on Access bank being recognized by the Asian Banker and the Middle East as the most digitalized bank in Africa. Mr. Abdul said that for Asian Banker and the Middle East to give Access bank award in 2020 as the best-digitalized bank in Africa meant a lot to the Bank and it cherishes it much. He maintained that Access bank is ahead in terms of digital technology, our technology is superb in terms of innovation were are ahead, technology these days is the key to what we are doing, in terms of innovation, we have a defined Africa FinTech Foundry, our platform is technology-driven, and this helps us to move faster, be innovative, and at the end of the day deliver on technology and the help for Fintech startups and from that, we develop ideas process it and put it to use. He emphatically added that Access Bank's digital system is beyond the act of online Fraud Stars "Yeah, I must say that we have a foolproof system, weapon a foolproof system, but you never can tell because when you talk of technology, everyday people keep trying to invent their own system and stuff. Somebody sent me a video this morning, about one guy a cyber-fraudster and the guy claims to have the technique to get into people's accounts by having their SIM card, all he needs is their SIM card, once he gets your SIM card, and he can get into your accounts especially if the SIM card is the one that is registered to your account where you get alerts and information on your account. Once the SIM cards are linked to your account, he claims that that account is not safe, he claims that he has all the techniques and all the software and everything to get into that account and transfer money into a known account he creates. He can transfer from Bank A to bank B so how he gets the money out at the end of the day is known to him. All that it may, I can assure you that we are quite safe and secure so I guess that's also why we won the award as the most "digitalized bank in Africa", he concludes.
This write up was sent in by veteran writer, sesan Awobiye