IYALAJE OODUA: I'M AWARE OF MY DUTIES AS I AND I SHALL DELIVER OPTIMALLY, TOYIN KOLADE PLEDGES
IYALAJE OODUA: I'M AWARE OF MY DUTIES AS I AND I SHALL DELIVER OPTIMALLY, TOYIN KOLADE PLEDGES
AJAGBE ADEYEMI TESLIM
SPONSORED BY: H&H
The newly installed Iyalaje of Oduduwa Race worldwide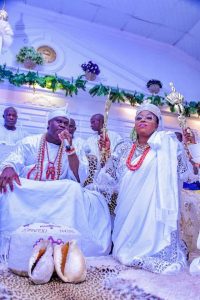 (Iyalaje Oodua) Princess (Dr.) Toyin Kolade, on Saturday stated that she is not unaware of the huge responsibilities and roles attached to her latest status, promising to perform optimally towards wealth recreation as well as human development.
The Ilesa born business tycoon cum philanthropist who has been the global promoter of the popular Annual Aje Festival for about half a decade, gave the assurance at the ancient Ile Oodua Palace of The Ooni of Ife in Ile-Ife before the Arole Oduduwa & Ooni of Ife, Ooni Adeyeye Enitan Ogunwusi Ojaja II, and a host of other top dignitaries including traditional rulers across Nigeria who took turns to pray for her traditionally.
"Through my close relationship with the Arole Oduduwa which I hold in a very high esteem, I have always been close to the traditional institution and I am glad to state that I have learnt a lot enough to last me a lifetime.
"Let me be specific now, my announcement in itself was done traditionally and that was the start of it all fe months ago.
"Upon my entry on Thursday evening, I was received at Ilero spot at Iremo road, Ile-Ife by the cultural women (Obinrin Ilero) and the Ooni's traditional aides (Emeses) where the opening rites were performed before we walked to the palace to pay traditional oobeisance to the Arole Oodua before taken to the sacred Yeyemolu well for blessings.
"Today, Saturday 17th July 2021, we opened the day with a procession of Isoros and Iyalajes of different markets to the AJE temple at Oja Ife (Oja Ejigbomekun), where I joined them in company of Emeses, seven horses and my distinguished guests and well-wishers.
"Right there, I was dressed traditionally as the Iyalaje Oodua and fortified for the tasks ahead, after which we returned to the palace and we were received at the palace's entrance (Enugeru) by Ife High-Chiefs who led me to the Temple of Wisdom (Ogun Laadin) within the palace courtyard for further blessings.
"Am happy to inform you that I got my installation leaves (Ewe Akoko) at the Temple of Wisdom, before being brought before my father; Arole Oduduwa for formal pronouncement as the Iyalaje Oodua. I am so humbled and I promise that I shall justify the basis for my appointment and installation." Iyalaje Oodua said.
In his remarks, Ooni Ogunwusi who doubles as Co-chairman, National Council of Traditional Rulers of Nigeria(NCTRN) revealed that the selection and installation was purely based on merit, especially because of the sensitivity of the title.
"We exercised a lot of caution because Aje is a big deal in Oodua land. It started here in Ile-Ife and then spread beyond, so we are reawakening it's spirit particularly now that the economy is in a bad shape.
"Princess Toyin Kolade is a successful business woman who is prominent for spreading wealth through giving even from her personal earnings, this is one among several countless enviable human qualities upon which she is being installed today as the Iyalaje Oodua." The Ooni noted.
The event which was well attended by top dignitaries including the Executive Governor of Kogi State, Alhaji Yahaya Bello who was represented by his Deputy, Edward Onoja, also had traditional rulers like Olubadan of Ibadan, Olowo of Owo, Alara of Ilara-Epe, Ajero of Ijero Kingdom, Oore of Otun Ekiti, Deji of Akure, Dein of Agbor in Delta state. Prominent women like the wife of the Osun State Governor, Alhaja Kafayat Oyetola, Chief Mrs Olufunso Amosun, Erelu Abiola Dosumu, among others in attendance.
The grand finale of the history-making event held in the 3,000 capacity Meeting Incentives Conference and Event (MICE) Centre branded 'Ojaja Arena' within the premises of the newly commissioned Ife Grand Resort and Industrial Park, where guests were entertained by the ace Fuji musician, Alhaji Wasiu Ayinde, popularly called K1 De Ultimate in the presence of other dignitaries like Aare OnaKakanfo of Yorubaland Chief Gani Adams, Chief Femi Fani-Kayode, Basorun Dele Momodu among others.
OMOTOWA RESUMES AS NUTM FOUNDING PRESIDENT

AJAGBE ADEYEMI TESLIM
Sponsored by: H&H
The proposed Nigerian University of Technology & Management (NUTM) is pleased to announce the appointment of Babs Jolayemi Omotowa (Dr) as its Founding President, effective April 25, 2022.
Babs is a renowned global leader with more than 25 years of experience in the United Kingdom, the Netherlands, Norway, and Nigeria, where he has held several senior executive positions.
He was born into a family of educators and is a former Global President of the UK Institute of Procurement and Supply in London.
He is a seasoned professional in the upstream and midstream oil and gas industry.
He brings an industry background to the office of the NUTM President that is patterned after many highly ranked universities around the world that are broadening their horizon by appointing accomplished business leaders as their presidents.
Prior to joining NUTM, Babs was CEO/MD of Nigeria LNG Limited, where he led NLNG to become the highest corporate tax-paying organization in Sub-Saharan Africa and earned record revenues ($40Bn during tenure).
The institution's mission of delivering higher education excellence and nurturing of innovative and entrepreneurial leaders to create impact in Africa, will be enabled by his transformative leadership and core values of integrity, excellence, courage, and social responsibility.
He was instrumental in the provision of $12Mn engineering laboratory support for six universities in Nigeria and N60Bn support to the FGN towards the construction of the Bonny-Bodo Road.
He also led the Shell upstream energy transition strategy, and delivered a 25% reduction in greenhouse gas (GHG) emissions towards the company's climate change ambitions.
As President of NUTM, Babs will be responsible for strategy execution and establishing NUTM as the leading higher learning institution in Africa that is focused on technology and management.
Making the announcement, the Chairman, Governing Board, NUTM, Dr. Okechukwu Enelemah, said: "After two successful cohorts of our pilot initiative, the NUTM Scholars Program (NSP), we are delighted to consolidate our commitment to delivering our mission with this appointment."
Babs' appointment represents a significant milestone in NUTM's journey.
To learn more about NUTM, please visit www.nutmng.org.
CBA FOUNDATION ADVOCATES AGAINST MAN'S INHUMANITY TO MAN IN IN-LAWS' DEALINGS WITH WIDOWS
AUTHOR: Ony Kachi
After Mrs kumbaya (name changed to protect her identity) lost her husband at work in 2005, she was accused of killing him. The accusation did not come from her husband's brothers but his sister, who had earlier lost her own husband. It took the combined hard work of the brothers to get their sister off the back of her fellow widow. They told their sister pointedly that she too could face the same accusation she was levelling against their sister-in-law, since her husband was deceased too.
This real incident underlines one of the greatest puzzles of the twenty-first century: How people who themselves or their mother or children or relatives are victims or could be victims of the dehumanising treatment of widows condone, live with, encourage and perpetuate the horrendous denigration inflicted on widows by their in-laws. The continued existence of this kind of situation of dog eat dog, or rather man's inhumanity to man, makes one wonder if Aristotle also considered (Nigerian) in-laws when he asserted that man is a rational animal. There is absolutely nothing rational about the dehumanisation widows are subjected to by their in-laws in this clime.
A man, who through marriage has become one with the woman he marries, dies, leaving behind his wife and five children (three boys and two girls – this fact is only being added to show that the gender of the children may not even be a factor in how the widow is treated). Almost immediately his siblings and other blood relatives swoop on whatever assets of his they can lay their hands on. If a family meeting is convened, it is not to discuss the welfare of their late brother's wife and children, who all bear the family name as part of their extended family. No, that is an agenda item for meetings convened by angels, not in-laws of widows. What in-laws of widows convene family meetings for is to make sure they have not missed out any of the assets their late brother could have had. That is how kind in-laws are to a widow.
If Mrs Kumbaya thought her case was going to be different because her brothers-in-law defended and protected her from their sister, then she apparently may have ascribed angelic virtues to her husband's brothers. For, as it turned out, that act of defence and protection from their sister was the only kindness the brothers of Mrs Kumbaya's late husband extended to her. They never helped or asked after her and her children's welfare after that. Not even when things became so difficult that she could no longer pay her house rent and ended up on the street.
Maybe Mrs Kumbaya should even count herself lucky. Stories abound of widows who had been abused, molested, raped or "shared" by in-laws as part of the property left behind by their late brother. There are stories of widows, falsely accused of killing their husbands, being locked up by in-laws in police cells and the keys thrown into the sea, as it were. What about widows forced to drink the water used to wash the corpse of their husband as proof that they had no hand in their husband's death. Or the ones forced to spend days and nights in the same room with the corpse of their husband.
Nigeria is not exactly a safe haven for women. What with the prevalence of harmful cultural orientations and practices against the female gender, such as preference of the male child to the female child, female circumcision, FGM (female genital mutilation), forced marriage and denial of inheritance, succession and other rights the male gender takes for granted. Generally, Nigeria is not a friendly environment for women, least of all widows considered to be a highly vulnerable group. In fact, Nigeria is said to be one of the least safe places for women in the world with a survey by the Thomson Reuters Foundation conducted in 2018 ranking Nigeria as the ninth most dangerous country in the world for women.
The dehumanising treatment of widows is part of what the Violence Against Persons (Prohibition) Act, passed in 2015, was intended to stop. The Act, more commonly referred to as the VAPP Act or law,
categorises emotional, verbal and psychological abuse as offences and is considered by many legal experts and advocacy groups to be a comprehensive tool for addressing all forms of violence and abuse against all persons. The law seeks to do so by providing maximum protection from violence of various forms against all persons irrespective of tribe, socio-economic class, religion and gender and offering effective remedies (financial compensation) for victims of violence and appropriate punishment (globally acceptable deterrents) for offenders.
It is not known how much of the general population, including in-laws who routinely dehumanise widows, is aware of the VAPP law. While ignorance of the law offers no excuse in a court of law, it is imperative that more enlightenment be created on the existence of the VAPP Act and all its provisions against many of the inimical practices that in-laws perpetrate against widows in the name of culture. Maybe, just maybe, some in-laws, who are themselves uncomfortable with those practices but take part because of family and community pressure, could be emboldened by knowledge of the Act to become advocates and campaigners against such practices.
Back to Mrs Kumbaya, for those concerned about her and what must have happened to her after she ended up on the street. They can heave a sigh of relief that the good Lord sent his angel in the form of the Chinwe Bode-Akinwande Foundation (CBA Foundation) and they took her off the street. Mrs Kumbaya now lives in an apartment rented for her by the Foundation, which also supplied her a mattress, other household items and food stuff.
The CBA Foundation, founded in 2015, the same year the VAPP Act was enacted, is a strong advocate for the enforcement of the Act. Along other civil society groups, it is pushing for the domestication of the Act in states of the federation that are yet to enact a similar act. Rigorous enforcement of the VAPP law across the federation will undoubtedly accelerate the mission of the Foundation, which is to promote "the protection of [underprivileged] widows and their vulnerable children in Nigeria, to promote immediate and lasting hope, confidence and courage in their lives." The Foundation pursues its mission under its 5-point agenda of women empowerment/capacity building, health intervention, nutrition, quality basic education and a self-employment scheme.
This piece is not intended to demonise in-laws. The writer is himself an in-law by multiples. It is to call for a change of heart and attitude in society, particularly among in-laws, towards widows, knowing that we, our mothers, daughters, neighbours, friends are or could become widows. In-laws should join public-spirited people across the country in supporting the CBA Foundation in its advocacy for enforcement of the VAPP law and in providing succour for underprivileged widows and their vulnerable children.
There are many Mrs Kumbayas out there but the resources and reach of angels such as CBA Foundation are limited. Men and women of goodwill, including in-laws who have now seen the light, can extend the Foundation's resources and reach by supporting it in its mission. Contact the Foundation today by sending an email to them at: cbafoundationng@gmail.com.
Excitement As Ibru Is Mother Of The Day At Maris Public Lecture
DAN DENT (ASABA)
Sponsored by: H&H
VISITOR cum Co-founder of Michael and Cecilia Ibru University in Delta State, Dr (Mrs) Cecilia Ibru, OFR, MFR, will on Wednesday, April 13, 2022 grace this year's edition of Maris Annual Public Service Lecture as Mother of the Day.
Secretary, Maris Trust Council, Comrade Fidelis Egugbo, made the disclosure on Wednesday in a statement he issued in Asaba, the state capital.
He noted that the development has triggered much excitement especially among enthusiastic followers of the annual public lecture.
Egugbo said, "It is a thing of joy to announce to the general public that a high profile personality with a true mother figure, Dr (Mrs) Cecilia Ibru, has accepted to be the Mother of the Day at this year's edition of Maris Annual Public Service Lecture.
"Dr. Ibru is a trail-blazer in several human endeavours, and her acceptance to be the Mother of the Day at the lecture means a lot to us as the Special Guest is no less a personality as Governor of Delta State, Senator Dr. Ifeanyi Okowa, a seasoned politician who knows what it means to render selfless service to the people.
"With the topic, 'Selfless Service: A Phenomenal Virtue,' to be delivered by a grassroots political player, Rt. Hon. Festus Ovie Agas, and with former Nigerian Ambassador to Sierra Leone, Ambassador Godson Echegile, OFR, as Chairman of occasion, this year's lecture is certainly parading an array of outstanding personalities from Delta State.
"Recall that during last year's edition with the topic, 'Effective Tax Administration For The Delivery Of Democratic Dividends" and with Chief (Sir) Monday Onyeme as guest speaker, discussants came from different parts of the country. However, for this year's edition, we are sticking strictly to Deltans; and, an internationally acclaimed businessman and philanthropist, Hon. Eta Enahoro, is one of the discussants at the lecture which will again feature a renowned journalist, University don and former President of University of Ibadan Alumni Association Worldwide, Kemi Emina Ph.D as Moderator.
"We are grateful to Dr. Ibru for accepting to be the Mother of the Day. And, for the benefits of those who have not come across her, she started her working career in 1978 at the Ibru Organization, an Officer of the Federal Republic of Nigeria (OFR) and also a Member of the Federal Republic of Nigeria (MFR).
"Dr. Ibru is former Chief Executive Officer and Managing Director of Oceanic Bank International; formerly Trustee of United Nations Development Fund for Women; former member, Governing Board of Delta State University; former Chairman, Public-Private Immunisation Foundation for the Nigerian National Immunisation Programme; Fellow Chartered Institute of Bankers of Nigeria (CIBN); Fellow Nigerian Institute of Management Nigeria (NIM); Fellow Institute of Personnel Management of Nigeria (IPM); Fellow Sociological Society of Nigeria and currently, Visitor cum Co-founder, Michael and Cecilia Ibru University.
"As the date draws nearer, we shall be unveiling more names of people who will play different roles at the lecture.
"We thank the public for their support and belief that Maris Annual Public Service Lecture will provide a forum to address the challenges of the society and set agenda for the people in that regard, and that we can collectively make the world a better place."