NAF Transports Election Materials Across Nigeria In Readiness For Saturday
The Nigeria Air Force (NAF) has commenced the airlifting of election materials to all part of the country in preparation for Saturday's presidential election as Nigeria NAF movies election materials across Nigeria in readiness for February 16 presidential election A statement signed by the Director of Public Relations and Information, Nigeria Air Force (NAF), Air Commodore Ibikunle Daramola, The materials were duly delivered by the C-130H aircraft crew to teams of INEC and Central Bank of Nigeria (CBN) officials together with security personnel waiting at the various airports.
Read the full statement: The Nigerian Air Force (NAF), yesterday, 11 February 2019, commenced the airlift of electoral materials for the Independent National Electoral Commission (INEC) across the country for the conduct of the 2019 General Elections. The airlift exercise includes day and night missions, during which both sensitive and non-sensitive electoral materials were conveyed in batches, with NAF C-130 Hercules aircraft from the Nnamdi Azikwe International Airport, Abuja to various airports across the country. The materials were duly delivered by the C-130H aircraft crew to teams of INEC and Central Bank of Nigeria (CBN) officials together with security personnel waiting at the various airports. It may be recalled that the Chief of the Air Staff (CAS), Air Marshal Sadique Abubakar, during his meeting with Air Officers Commanding (AOCs) and NAF Field Commanders on 1 February 2019, had expressed the readiness of the NAF to avail INEC its transport aircraft to enable expeditious movement of electoral materials, as done in the past. It is pertinent to state that the transport aircraft are deployed solely to provide airlift support to meet INEC's logistics requirements, in fulfillment of NAF's constitutional role of providing Military Aid to Civil Authority.
CORPORATIONS BOOST SUPPORT TO HOLD THE CONFERENCE OF NIGERIA TRADE ASSOCIATION
CORPORATIONS BOOST SUPPORT TO HOLD THE CONFERENCE OF NIGERIA TRADE ASSOCIATION
AJAGBE ADEYEMI TESLIM
SPONSORED BY: H&H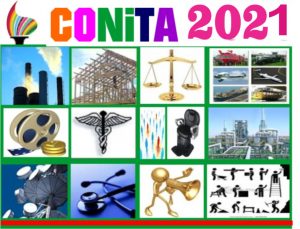 The annual Conference of Nigeria Trade Associations (CONiTA 2021) that's a multi-interface which provides a platform for divers trade associations and chambers of commerce, business regulators, policy makers and sustainability advocates across sectors and industries to share practical models and ideas that can harness the inherent status of trade associations for good governance, inclusive growth and shared prosperity in a society is set to hold.
August24news.com gathered that the date of the Conference is 19th May, 2021 at the LCCI Conference and Exhibition Centre, Lagos, Nigeria.
Mr. Nelson Obine, Convener and CEO of People Planet & Profit Media in a press statement commended corporate organization who has boost-up the conference through various support of kindness; including Guinness Nigeria, Nigeria Breweries, Wholemart Ventures and media organizations.
Nelson emphasized that the conference is only open to those that had earlier registered online through the given portal and shall uphold a hybrid mode participation being: virtual and physical with cognizance to COVID 19 safety precautions and the recent guideline of not more than 50 persons in a meeting/conferences.
Online registration for participation had recorded unprecedented numbers he said further in the statement, and assured participants that they should be able to identify the place of trade associations for harnessing good governance, inclusive growth and shared prosperity in course of the discussions.
Expected speakers include Dr. Kayode Farinto, National Vice President, Association of Nigeria Licensed Customs Agents (ANLCA); Mr. Babatunde Irukera, CEO of the Federal Competition and Consumer Protection Commission (FCCPC), Mr. Afolabi Adebayo Solebo, General Manager, Lagos State Consumer Protection Agency (LASCOPA); Mrs. Taiwo Abiose, Head of Entrepreneurship Department, Lagos Ministry of Wealth Creation & Employment; Mr. Tony Peters, Management Consultant, Mr. Alexander Nwuba, President of the Aircraft Owner and Pilot Associations (IAOPA) of Nigeria and several entrepreneurs whom are members / leaders of diverse trade associations.
The Conference has held two editions since it started in year 2018 with theme "Harnessing the Power of Trade Associations for Good Governance, Inclusive Growth and Shared Prosperity".
The theme for 2019 was "Convergence of Informal Sector and Trade Associations for Sustainable Development", both of them witnessed support and participation from diverse sectors and industry and becoming a voice in the drive for sustainable development.
Coastline Terminals: Dangote Group Does Not Own, Not affiliated With ICTSI
Coastline Terminals: Dangote Group Does Not Own, Not affiliated With ICTSI
AJAGBE ADEYEMI TESLIM
SPONSORED BY: H&H
Our attention has been drawn to an online publication by Sahara Reporters titled 'EXCLUSIVE: How Suspended NPA Boss, Hadiza Usman Awarded Coastline Terminals To Dangote's Proxy Company In Shady Deal', dated Sunday, May 9, 2021.
We want to state without equivocation that Dangote Group does not own and has no affiliation whatsoever with ICTSI as was suggested in the publication.
The Dangote Group of Companies refutes in entirety the claims made in the story and condemn the deliberate attempt by Sahara Reporters to implicate our organisation in a matter we know nothing about.
The group or any of our business units has no dealings on the coastline terminals in Onne Ports Complex nor are we in anyway in any agreement or partnership with the Nigeria Ports Authority (NPA) or ICSTSI for control of operation of any of its berths in the complex.
Our stand on this matter is justified by a letter dated Sunday, May 9, 2021 sent from Manila, Philippines, by ICTSI, Senior Vice-President, Philippines, Hans-Ole Madsen, to the Editor, Sahara Reporters, which states: "We would like to clarify that International Container Terminal Services Inc. (ICTSI) is a Philippine publicly listed independent company engaged in the operation of 33 ports on 6 continents. ICTSI ranks as Top-10 port operator in the world. ICSTSI is not owned or in any way affiliated with the Dangote group of companies."
It smacks of irresponsible journalism for Sahara Reporters to publish such an ill-researched, libelous and foul-intentioned story, aimed at tarnishing the good image of a responsible organisation.
We are consulting with our Legal Department on the steps to take on the issue and our decision will be communicated in due course.
The Dangote Group of Companies supports responsible journalism that respects the sacredness of facts and uphold the noble ethics of journalism.
Okowa Tasks ICAN, Other Professional Bodies on National Planning
Okowa Tasks ICAN, Other Professional Bodies on National Planning
DAN DENT (ASABA)
SPONSORED BY: H&H
Delta Governor, Sen. (Dr) Ifeanyi Okowa has charged the Institute of Chartered Accountants of Nigeria (ICAN) and other professional bodies to explore new corridors of national planning for the further development of Nigeria's economy.
Okowa gave the charge on Friday when he received on courtesy visit the 56th President of the Institute of Chartered Accountants of Nigeria (ICAN) Dame Onome Adewuyi and her delegation at Government House, Asaba.
He lauded the role accountants play in the development of the nation's economy, but challenged them and other professionals to enunciate plans that could uplift the nation from its current economic challenges.
The governor said that Nigeria must begin to plan concerning its increasing population, explaining that without proper planning, rising population would continue to retard the country's economic development and national growth.
He remarked that many governments in Nigeria had virtually become fees and salary-paying states, leaving them with no money left for capital development, "and it's capital development that truly runs the economy of states and the nation''.
According to the governor, the budgets of the states and the Federal Government are characterised by huge recurrent expenditures in terms of payment of salaries, overhead, repayment and servicing of debts, leaving virtually very little for the development of the nation.
"There has to be a mix between recurrent expenditure and capital expenditure. If we spend all our monies on recurrent expenditure without having a reasonable amount for capital expenditure, we will not be doing any good to the state and to our nation.
"The impact is not only on the states; at the level of Federal Government, it's quite a problem because today, we are almost living virtually on borrowing to be able to execute capital projects.
"It's a problem all of us have to look into and it's something you can look into and offer your advice to both the Federal Government and the states.
"The challenge is there but there must be a process to address it on a gradual basis, because if we do not do so, we will be getting to a situation where we definitely embarrass ourselves as a nation and we hope that we don't get to that point in the history of this nation," Okowa said.
He added that as much as possible "Nigerians need to think about what we can do because we are busy everyday planning our expenditure without planning the population of the nation.
"A nation that continues to plan without planning its population is a nation that is not truly planning at all. It's a big problem because we are in a nation today where our economy is dwindling.
"We are not expanding the economy the way we thought we should be able to do, and then the economy is growing at a very low rate and the population of the nation is growing at a very high rate.
"There is no level of planning, no matter how intelligent that person is, that you can truly plan in such a space. I believe that it's something that all of us who have the knowledge of planning must speak out to let this nation know that wherever we are at the moment there is need to begin to look very closely inward.''
Earlier, Dame Adewuyi had commended the governor for the new paradigm he introduced to the leadership and governance of the state.
She stated that capacity-building was the primary mandate of the ICAN and lauded the governor for his administration's massive investment and educational transformation, including the recent upgrade of three existing higher institutions to universities.
"At ICAN, our mandate is to consistently act in public interest and we collaborate with stakeholders across all sectors of the economy, whether public or private, in the promotion of accountability, transparency and good governance.
"We believe that the national resources if adequately managed and accounted for, are sufficient to guarantee decent lives and livelihood for the over 200 million Nigerians," Adewuyi stated.
She disclosed that ICAN had concluded arrangements to establish a university in order to support stakeholders in the educational value-chain at bridging the gap in tertiary education in the country.
"We plan that the specialised university will commence with postgraduate courses in social and management science and will open to the public for admission by the next academic session in September, 2021," she added.