ÒGBÓRÍ ELÉMÒSÓ: A HISTORY OF A YORUBA TOWN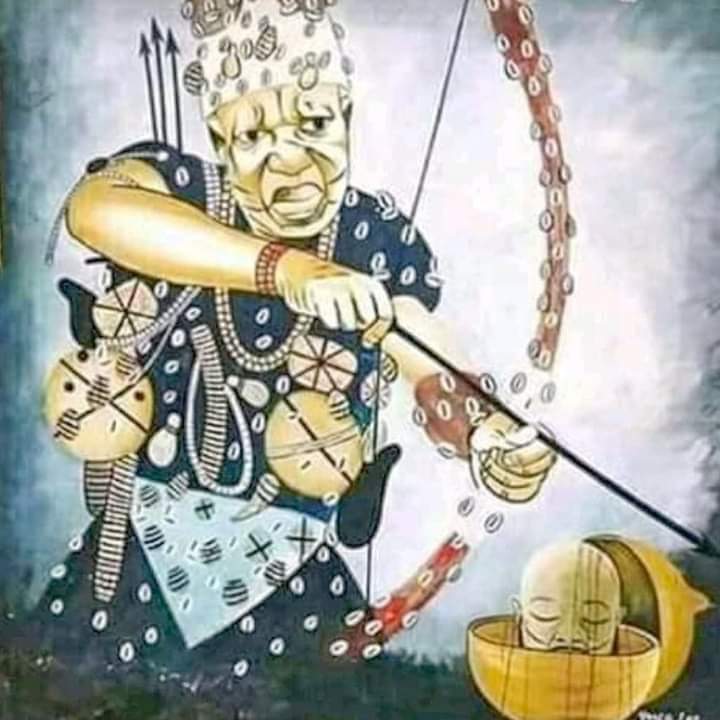 ÒGBÓRÍ ELÉMÒSÓ: A HISTORY OF A YORUBA TOWN
August24news.com
Sponsored by: H&H
Ògúnlolá was the name of the brave hunter and an expert archer, he was said to be of Ibariba descent. In the mid-17th century he migrated with his wife, Èsùu to the present site known today as Ọ̀gbómòsó, he first settled under a tree called Ajagbon (still standing near the king's palace).
Later on Ògúnlolá discovered that there were people who have settled in that area before him, he then went to introduce himself and fortunately they were also hunters just like him, they were; Aale, Onisile, Orisatolu and Akande. Though, Ògúnlolá established his dominance over his fellow hunters, the brave men agreed to form a society called Alongo in other to protect the settlement from wild animals and slave raiders. It was on this initiative that Ògúnlolá killed an Ijesa itinerant trader, thinking he was a slave raider. Ògúnlolá was jailed because of this capital offence.
While he was awaiting his trial, a troubling report of a dreadful attack on Oyo-Ile spread through the palace and among the prisoners, it was said that a certain warrior called "ELÉMÒSÓ" is wrecking havoc and causing great tension. Being a fearless warrior himself, Ògúnlolá offered his services to the Alaafin, he promised that he would bring elémòsó's head if granted freedom. Upon his release Ògúnlolá crept into the opposition camp and shot elémòsó with an arrow before beheading him. He brought the head to the Alaafin and the whole kingdom rejoiced.
The Alaafin persuaded him to stay in Oyo-Ile but he insisted, he said to the Alaafin "e jé kín lo má ṣe òhún", "let mẹ go and stay far away". This was how the title "Soun Ọgbomoso" was coined. Ògúnlolá returned to his settlement a nobleman, having been decorated and greatly rewarded by the Alaafin for his bravery.
Later, travelers started referring to the settlement as "ìdóo eni tí ó gbórí elémòsó" meaning the settlement of him who beheaded Elemoso, and this was how the present day Ogbomoso derived its name.
The story was adapted into a movie by Chief Lérè Paimo who played the role of Ògúnlolá.
SANWO-OLU CONGRATULATES AKRAN OF BADAGRY ON 45TH CORONATION ANNIVERSARY
…Says Oba Menu-Toyi I Has Displayed Exemplary Leadership
The Governor of Lagos State, Mr. Babajide Sanwo-Olu, has congratulated the Akran of Badagry Kingdom, His Royal Majesty, De Wheno Aholu Menu-Toyi I, on his 45th coronation anniversary.
Governor Sanwo-Olu in a statement issued by his Chief Press Secretary, Mr. Gboyega Akosile, on Friday to celebrate 45 years of Oba Menu-Toyi I on the throne of his forefathers, said the 85 years old monarch has used his wealth of experience and knowledge to contribute to the progress and development of Badagry and Lagos State as a whole.
Governor Sanwo-Olu said the people of Badagry are lucky to have a renowned journalist, whose exploits in the pen profession spread across several platforms in the 1960s and 1970s before ascending the throne of his forefathers in 1977 as the 15th paramount ruler of Badagry Kingdom.
"On behalf of my family and the good people of Lagos State, I heartily congratulate the Akran of Badagry Kingdom, De Wheno Aholu Menu-Toyi I, on the occasion of his 45th coronation anniversary.
"Oba Aholu is an epitome of dedication and selflessness in private, public and community service. He has used his position as a seasoned journalist to uplift the standards of life of the people he worked assiduously to inform as well as contributing to the growth and development of the ancient town of Badagry and Lagos State.
"As a journalist, he discharged his duties with the utmost professionalism, competence and dedication. After a remarkable career in the media profession, which spread across several platforms such as the West African Pilot, Daily Sketch and New Nigeria where he rose to the position of Acting News Editor, South, he left the pen profession with impeccable records to become the 15th Akran of Badagry on April 23, 1977."
Governor Sanwo-Olu also noted that "Since ascending the throne of his forefathers, Oba Menu-Toyi I has displayed exemplary leadership and passion for Badagry and his commitment to the growth and development of the ancient town is commendable. Indeed, the people of Lagos State are lucky to have him as a traditional ruler because he has used his office to attract development and laudable projects to Badagry.
"I congratulate Oba De Wheno Aholu Menu-Toyi I on his 45th coronation anniversary and I pray that the Almighty God will continue to bestow on him the wisdom, knowledge and understanding like that of King Solomon in the Bible for a continuous reign of peace, prosperity and love in Badagry."
How Primate Ayodele Foretold Alaafin Of Oyo, Oba Lamidi's Death In 2022 Prophecies
AJAGBE ADEYEMI TESLIM
Sponsored by: H&H
You may say his prophecies are guesswork or permutation but with the fulfilments of the prophecies as proof, Primate Ayodele has been able to give his critics enough reasons they should respect his ministry.
If it were by guesswork or permutations, Primate Ayodele will not still be afloat till this moment, he would have guessed wrongly but for decades, his prophecies have continued to come to pass accurately.
Primate Ayodele is very well known for his new year prophecies and for years, he has maintained the standard of being the first prophet to release his new year prophecies and the only one who prophecies about every sector of the society including education, politics, business, government establishments, traditional institution, to mention a few.
As usual, he released his 2022 prophecies on Wednesday, 22nd Of December, 2022, they were contained in a 90-page document signed by his media aide, Osho Oluwatosin. Just as stated above, several sectors of the society were mentioned and it is on record that some of the prophecies started coming to pass on the day of the release.
The most surprising thing about the prophecies is the traditional institution (PG 59) where the man of God spoke about traditional rulers and what will befall them in the new year. He revealed that some will have issues with their health in the year which of course may lead to their death if God wishes.
These were his words
''The spirit of God says the Olubadan, Ataoja of Osogbo, Deji of Akure, Awujale of Ijebuland, Oba Osinle Okeona Egba, Soun of Ogbomoso, Oba Ode Remo, Oba Akarigbo Oba Akinolu of Lagos, Oba Akran of Badagry, Owa Obokun of Ijeshaland and the Alaafin of Oyo should pray for good health and God's protection''.
We were just a few months in to the new year when Olubadan of Ibadan kicked the bucket to join his ancestors. Before that, Soun Of Ogbomoso died and this was also part of Primate Ayodele's prophecy which was compiled three months before the release in December 2021.
Unfortunately, the people of Oyo state woke up to sad news this morning that the Alaafin Of Oyo, Oba Lamidi has joined his ancestors after battling a health crisis. It's sad but it's not a surprise because the man of God had revealed it beforehand.
Many would say Alaafin Of Oyo is well aged and should naturally experience health issues in a way to downplay the prophet's accuracy but how come it was this precise? Primate Ayodele didn't mention all the traditional rulers in the country but selected few. Among them, three have died already as the man of God mentioned it, proving that indeed, God spoke to him about these traditional rulers.
As much as some may not agree, Primate Ayodele is a man of God who truly knows his onions in the prophetic ministry and should be honoured for such a gift. Apart from the traditional institutions, his prophecies have been fulfilled in sports, education, politics, individual business, among a host of many others. Of a truth, Primate Elijah Ayodele is a true prophet called into the prophetic ministry by God.
May the soul of the Alaafin Of Oyo rest in peace.
Akeredolu's Wife Receives Ada Di Oha Mma Chieftaincy Title
AZEEZ GANIU (AKURE)
Sponsored by: H&H
The First Lady of Ondo State, Chief Betty Anyanwu-Akeredolu, today added another feather to her Chieftaincy cap, as she was conferred with a traditional title of Ada di oha Mma by Eze Chinyere I of Ogbor na Umuachalu Autonomous Community in Aboh-Mbaise Local Government Area of Imo State.

Adorning the Ondo First Lady with instruments of Staff, the Eze Chinyere I, HRH Engr. G.C. Adiukwu, said the traditional title of Ada di oha Mma(Daughter Valued by All), was in recognition of her passion for the development of her maiden environment and the love she demonstrated towards fellow human beings who had crossed her path in their lifetime.

The Monarch, who conferred Chieftaincy Titles on a few number of personalities as part of activities to celebrate his 80th birthday anniversary, described Mrs. Akeredolu as a rare woman with great future.

Responding to the honour, the newly crowned Ada di oha Mma who doubles as Ada Owere I, expressed excitement for the recognition and a show of love demonstrated by the people of the community towards her.

She said: "I'm so happy for this honour done to me, you can't get it better than this love they have for me, and I love them back".

Mrs. Akeredolu, who earlier attended the 80th birthday Thanksgiving service of the Monarch, held at St. Simon's Anglican Church Ogbor, Aboh-Mbaise, commended her husband and Governor of Ondo State, Arakurin Oluwarotimi Akeredolu, SAN, for his unalloyed support and love for her, saying "I married well".

Dignitaries in attendance included the Federal Lawmaker representing Akoko Southwest/South East, Hon. Ade Adeogun, the Director-General, Performance and Project Implementation Monitoring Unit, Engr. Babajide Akeredolu, the Chairman of Ondo State Universal Basic Education, Rt. Hon. Victor Olabimtan, and the Wife of Olubaka of Oka-land, Olori Jumoke Adebori Adeleye.

Others are: Commissioner for Physical Planning Hon. Fatai Olotu, the Special Adviser to the Governor on Regional Integration and Diaspora Affairs, zChief Victor Ategbole, Hon. Albert Akintoye, Mr. Saka Yusuf-Ogunleye, some members of the Foundation for Wives of Ondo State Officials and Female Political Appointees(FOWOSO), among others.

Reacting to the honour, Hon. Adeogun described it as testimony of her service to people, especially in Ondo State and her maiden society.
On her part, Olori Jumoke Adebori Adeleye congratulated the Ondo First Lady, stating that the recognition portrayed her as a good daughter of Imo state; while Rt. Hon. Victor Olabimtan affirmed that she is a wife worthy of emulation who had been providing tremendous support in Ondo state since her husband assumed office as a Governor and described the recognition as meritorious.

He added that, the effort of Her Excellency in championing the cause of womanhood had made it possible for Ondo State Government to be Beijing Compliant, considering the number of women in the cabinet of the current administration.

Mrs Akeredolu, amongst other deserving Nigerians, was adorned with the prestigious title as part of programme marking the 80th birth anniversary of HRM, Eze G.C. Adiukwu, Eze Chinyere 1 of Ogbor na Umuachalu Autonomous Community, Aboh-Mbaise Local Government Area, Imo State at weekend.