Unity Bank Targets Women; Launches Yanga Account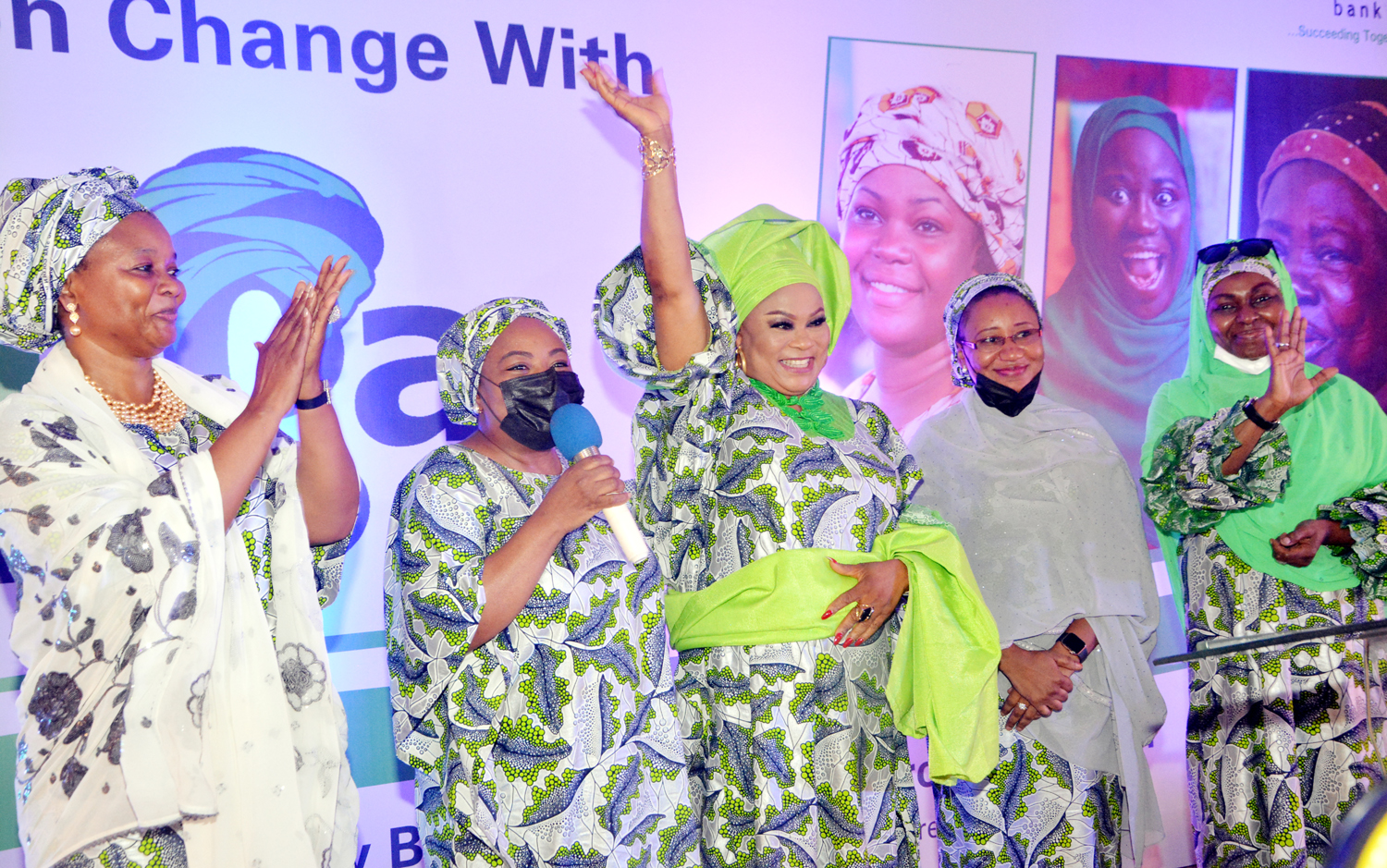 Unity Bank Targets Women; Launches Yanga Account
AJAGBE ADEYEMI TESLIM
SPONSORED BY: H&H
In its bid to demonstrate increased commitment towards promoting financial inclusion and women empowerment, Nigeria's retail lender, Unity Bank Plc has launched Yanga Account, a new retail product designed to deepen beneficial impact on Micro Small and Medium Enterprises, MSMEs operated by women in the mass market retail space.
As a product targeted to boost the Nigerian women entrepreneurs, the initiative was intended to create Yanga Experience, from promoting the business, capacity building to health insurance scheme for Yanga Account holders.
A statement by the Bank said that the benefits for signing up to Yanga Account are summed up as 'The Yanga Experience'.
This means that as we target every woman in the mass-market retail space, the Yanga account holders will enjoy many benefits including stress-free savings and investment, access to the services of dedicated Sales Agents, Agency Banking services close to the location of their businesses, special business seminar and training on how to grow business, access to microloans, customized debit cards and other bundled e-banking products.
Speaking at the launch of the product in Abuja on Tuesday, the Managing Director/Chief Executive Officer of Unity Bank Plc, Mrs. Tomi Somefun stated the "Yanga Account is being launched as a bold attempt to directly cater to women and their respective businesses."
The Unity Bank Boss, therefore, asserted that the Account "is open to all market women in farming, fashion design, tailoring, frozen food, pastry and baking, cosmetics, jewellery designs and making, skincare, eateries and restaurants, etc. whether living in the communities or cities."
"Yanga Account is conceived and designed for the financial literacy and empowerment of Nigerian women. It is about making sure that our women who make up 55% of the financially excluded Nigerians have access to basic and life-changing financial services."
Recent research by Enhancing Financial Innovation & Access (EFInA) has shown that "Women need economic opportunities if countries are to realize the full potential of their human capital. Financial inclusion can benefit individuals, families, and businesses, supporting key outcomes such as GDP growth".
Speaking further, Somefun said: "The Yanga account will also be incorporating an affordable Health insurance scheme not only as a part of the product bouquet underpinning the Bank's belief in health and wellness which translate to wealth creation but also to drive insurance penetration which is presently at 2% in Nigeria. We, therefore, believe that this will provide essential ingredients to growing a business as well as adding greater value for Yanga account holders.
"At Unity Bank, through products like Yanga Account, we continue to align with the vision of the Central Bank of Nigerian and the financial services ecosystem to provide needed support for Nigerian women by enhancing access to wealth-creating opportunities in the financial services sector".
Also, speaking, Group Head, Retail, SME Banking and E-Business, Unity Bank Plc, Mr. Funwa Akinmade said: "the official launch of the Yanga Account is an extremely important step for us as a Bank because it is one step that brings our services closer to Nigerian women as Unity Bank makes the efforts to further expand its retail footprints in the market.
"At Unity Bank Plc, we have devoted the past few years to constantly innovating with banking solutions to enable us to drive more financial inclusiveness in different market segments, but the Yanga Account is introduced as a bold attempt to directly cater to women and their respective businesses.
"Unity Yanga is a well-packaged banking product that combines several services that most small businesses owned by women will need to become profitable.
We are optimistic that Nigerian women will embrace the Yanga Account and leverage its full benefits to grow their businesses."
NdaniTV Releases 5th Season of Real Talk Show
AJAGBE ADEYEMI TESLIM
SPONSORED BY: H&H
NdaniTV has released new photos and a teaser video from the 5th season of its Talk show, Real Talk.
The production company has also unveiled the multi-talented, Bisola Aiyeola, as the host for this season and if the teaser video is anything to go by, we are in for an exciting season!
Real Talk was first launched on the NdaniTV YouTube channel in 2016 and had a number of popular hosts including Nicole Asinugo and Cornelia O'Dwyer.
The talk show brings celebrities together to speak on societal issues and a lot more. The new season is set to launch on YouTube on the 20th of January 2022.
NdaniTV is Africa's premiere platform for original web series and is home to some of the most popular series including Gidi Up, Rumour Has It, Skinny Girl in Transit, Officer Titus and more.
With over 441,000 subscribers on YouTube and over 109 million minutes in watch time, the channel is one of the fastest growing platforms for original content out of Nigeria and made for Africans.
NdaniTV content remains free to view on YouTube and is powered by GTCO PLC.
Dangote Refinery to Reduce Africa's Petroleum Importation by 36%, says APPO

AJAGBE ADEYEMI TESLIM
SPONSORED BY: H&H
African Petroleum Producers Organisation (APPO) has said that the establishment of Dangote Oil Refinery will bring about a 36 per cent reduction in the importation of petroleum productions into the continent.
Besides, the organisation expressed a belief that the success of Dangote Refinery project could incentivise the rise of similar projects across Africa despite the current focus on energy transition.
The Secretary-General, African Petroleum Producers Organisation, Dr. Omar Farouk Ibrahim, said in an interview that Dangote Refinery shall be supplying over 12% of Africa's products demand when it becomes operational.
Ibrahim stated, "To appreciate the impact that the Dangote refinery is going to have on African economies and especially on the supply of petroleum products, and to some extent the conservation of scarce foreign exchange, a look at some statistics on the continent's petroleum products demand and supply is in order.
"Currently, Africa's daily petroleum demand is 4.3 million barrels per day (mbd). Of this volume, 57% is produced locally (on the continent) while 43% is imported. When Dangote is fully onstream, the percentage of Africa's products import shall drop to 36%. This is even as the total volume of products demand rises to 5.4 mbd. You can therefore see the huge impact that Dangote refinery shall be making to overall products supply in Africa. Dangote shall be supplying over 12% of Africa's products demand.
"That is huge savings for a continent that has scarce foreign exchange and little to export. We shall save from buying abroad and from shipping and insurance costs. Furthermore, the success of Dangote could incentivise the rise of similar projects, the noise about energy transition notwithstanding," oil analyst noted.
Ibrahim also hailed Dangote's decision to go ahead with the construction of crude oil refinery despite a campaign against fossil fuels, adding that the demand for fossil fuel is going to continue for several decades to come.
"We believe that Dangote made a very wise decision to proceed with the project, despite the campaign against fossil fuels. There will be demand for petroleum products for many decades to come. Indeed, we see petroleum products prices rising steadily in the next few years for at least two decades.
"This is because new refineries are not coming up in Europe and North America, where Africa imports 34% of its supplies, because their governments have embraced energy transition, some willingly, others due to pressure. So, some of the sources of Africa's imports are going to dry up. At the same time, Africa will not be in a position to fast track the development of non-fossil fuels.
"In fact, even the developed countries will not be able to move as fast as is projected. We see Africa and many regions of the world continuing to rely on fossil fuel energy at a time when deliberate decisions are being made to stop funding fossil fuel projects. The world risks abandoning fossil for renewable, but in the end not getting the renewables, and at the same time losing the fossils due to deliberate neglect", he explained.
Ibrahim urged African refiners to invest more on technology and develop the right expertise to manage their refineries, which are going to serve the continent as western refiners halt the establishment of more refineries.
He stated, "African refiners have no cause to worry about their investments. All they need to do is to ensure that they have developed the right expertise to manage their refineries, get honest managers and staff to run their business and come together to join APPO's initiative to establish foundries and other equipment manufacturing plants to service their refineries. Once they have these, the market is there for their products.
"For the next three decades or more, Africa shall continue to use fossil fuel-driven vehicles and with its population projected to double within that period, there will be a huge market for petroleum products. Africa cannot rapidly transit into electric vehicles, as the bulk of the vehicles on our roads today and in the next 20-30 years are going to be non-electric. There is the market, and we should not be discouraged from thinking positively", the APPO scribe noted.
He disclosed that APPO is working with its Member Countries to construct cross border energy infrastructure like pipelines for crude and products as well as for oil and gas terminals, depots etc.
"Once we have this infrastructure on the ground, the markets for African Continental Free Trade Agreement, which came into force in 2021, is there to support this initiative", he added.
FIRSTBANK REWARDS CUSTOMERS IN TRANSACT AND WIN PROMO
August24news.com
SPONSORED BY:H&H
Getting rewarded for spending money is a dream that is probably going to remain exciting for many people, but not for the Firstmonie Wallet users. In a two month Transact and Win campaign that started on November 22, 2021, First Bank of Nigeria Limited is rewarding several customers for carrying out transactions on its Firstmonie Wallet application. 
The e-wallet is useful for conveniently paying utility bills, purchasing airtime and data, transferring and receiving money, and many other digital transactions. Just for using the mobile-friendly wallet app, Customers got rewarded with mouth-watering prizes both in cash and kind. The number of transactions done on the app determines the price a user could win.
100 customers who had done 1-15 transactions through Firstmonie Wallet within the month won N10,000 cash price; 53 25kg bags of rice and 50 units of standing fans were also won by customers who carried out 16 – 30 transactions with the Firstmonie Wallet; 2 units of power generating sets, 1 unit of Air Conditioning systems and 1 unit LED Televisions went to customers who carried 31 – 50 transactions; while 2 units of iPhone 12 were won by customers who had carried out over 50 transactions on the app within the month.
Victor Nnanna Onyedikachi, a student of the University of Abuja was one of the winners of the iPhone 12, and while receiving his gift, he admitted that he did not expect to win the prize. "I used the Firstmonie Wallet App, and just like that, I was told that I had qualified. I did not believe it until I saw it myself. I am truly grateful to FirstBank" he said.
Other winners also expressed their pleasure at being rewarded for using a completely user-friendly app. "There is no issue of service error when using it for any transaction. The service is seamless and the app is easy to use" one of them said.
The Group Executive, e-Business & Retail products, Mr Chuma Ezirim had noted that the promo was targeted at appreciating customers for their patronage; and in line with the Bank's December-is-a-Vybe campaign. "This promo is hinged on the need to appreciate our customers for their patronage, especially as we have had an increased engagement and usages of the various services offered by our mobile-friendly wallet product," Ezirim said when the promo was being launched.
Interestingly, the promo also includes new customers and users of the app. By simply downloading the mobile app from the play store, or using the *894# USSD string to sign up, anyone can qualify for the promo. The promo runs till January 22, 2022, so what are you waiting for as you could be the next winner of any of these fantastic prizes.
As the premier Bank in West Africa and the leading financial inclusion services provider in Nigeria for over 127 years, First Bank of Nigeria Limited has remained at the forefront of promoting digital payment in the country, and the Firstmonie Wallet is one of the channels for digital transactions.
Little wonder FirstBank was named "Most Valuable Bank Brand in Nigeria" six times in a row (2011 – 2016) by the globally renowned "The Banker Magazine" and "Best Retail Bank in Nigeria" for seven consecutive years (2011 – 2017) by the Asian Banker International. FirstBank also bagged the Excellence in Retail Financial Services Awards and "Best Bank in Nigeria" by Global Finance for 15 years.
Culled from Nairametrics