$1 Trillion Is Leaving Britain Because Of Brexit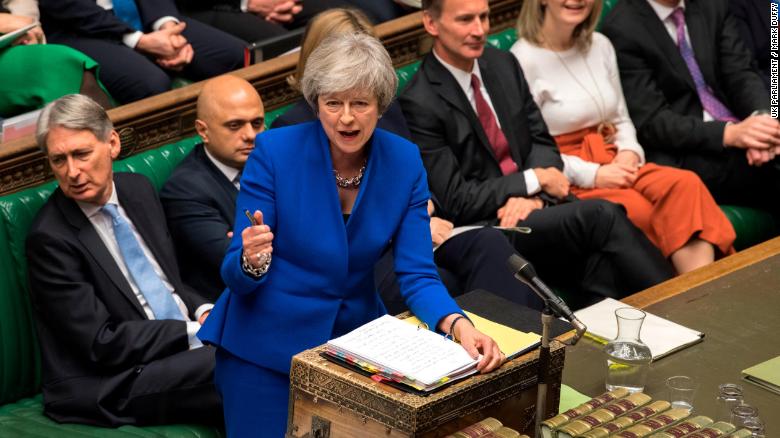 Banks and other financial companies have shifted at least £800 billion ($1 trillion) worth of assets out of the country and into the European Union because of Brexit, EY said in a report published Monday.
Many banks have set up new offices elsewhere in the European Union to safeguard their regional operations after Brexit, which means they also have to move substantial assets there to satisfy EU regulators. Other firms are moving assets to protect clients against market volatility and sudden changes in regulation.
The consultancy said the figure represented roughly 10% of the total assets of the UK banking sector, and was a "conservative estimate" because some banks have not yet revealed their contingency plans.
"Our numbers only reflect the moves that have been announced publicly," said Omar Ali, head of financial services at EY. "We know that behind the scenes firms are continuing to plan for a 'no deal' scenario."
EY has tracked 222 of the biggest UK financial services companies since the Brexit referendum in June 2016.
Britain is scheduled to leave the European Union in just 81 days, but Prime Minister Theresa May still needs to win support in the UK parliament for the divorce deal she struck with the rest of the European Union.
Parliament is due to vote on the deal next week. If May ultimately fails to push the agreement through, the chances of the country crashing out of the European Union without a deal will soar.
The Bank of England said the fallout from that scenario would be worse than the 2008 financial crisis.
For financial institutions, a no-deal Brexit would be a nightmare. The country's agreements with EU regulators would cease to exist and banks would find themselves in a legal vacuum, meaning they would be unable to continue doing some of their business across the bloc.
While the European Union has said it will implement some steps to avoid a complete meltdown, it said its contingency plan is only a short-term solution aimed at protecting its own interests.
"Financial services firms have no choice but to continue preparing on the basis of a 'no deal' scenario," Ali said.
EY said that the companies it tracks have already created around 2,000 new jobs elsewhere in the European Union in response to Brexit.
Deutsche Bank (DB), Goldman Sachs (GS) and Citi (C) have already moved parts of their business out of the United Kingdom. Dublin, Luxembourg, Frankfurt and Paris were the most popular destinations.
EY said financial companies were likely to move more assets and create more jobs in other European cities over the coming weeks. "The closer we get to March 29 without a deal, the more assets will be transferred and headcount hired locally or relocated," Ali added.
London has been Europe's undisputed financial capital for decades, and is home to the international headquarters of dozens of global banks.
The financial services industry employs 2.2 million people across the country, and contributes 12.5% of GDP. It generates £72 billion ($100 billion) in tax revenue each year, according to the City of London Corporation.
The UK economy has already suffered from Brexit. Inflation spiked and consumer confidence dropped, hurting the country's retail sector. Business investment has fallen dramatically, as companies put plans on hold because of the uncertainty. Major manufacturers, including Airbus, have warned they may have to quit the United Kingdom if there's a no-deal Brexit.
German engineering group Schaeffler is closing two plants in the United Kingdom because of the uncertainty.
The latest evidence of the pain came on Monday, when the UK Society of Motor Manufacturers and Traders said new car registrations in the country fell 6.8% in 2018. It was the second consecutive year of declines.
England's 1966 World Cup-winning goalkeeper Gordon Banks has died aged 81
ADETOLA, M.A
Regarded as one of the game's greatest in his position, Banks was named Fifa goalkeeper of the year six times and earned 73 caps for England.
He is perhaps best known for his wonder save from Pele during the 1970 World Cup against Brazil. Born in Sheffield, he won the League Cup with Stoke and Leicester, before retiring in 1973.
"It is with great sadness that we announce that Gordon passed away peacefully overnight," his family said."We are devastated to lose him but we have so many happy memories and could not have been more proud of him."
Sir Bobby Charlton, who was part of the team alongside Banks that won the World Cup in 1966, said: "Gordon was a fantastic goalkeeper, without doubt one of the best England has ever had.
"I was proud to call him a team-mate. Obviously we shared that great day in 1966 but it was more than that. "Even though I was on the pitch and have seen it many times since, I still don't know how he saved that header from Pele."
Banks is the fourth player of the England team that started the 1966 World Cup final to have died, after Bobby Moore, Ray Wilson and Alan Ball. Another of that XI, Sir Geoff Hurst, tweeted: "One of the very greatest. Thinking especially of Ursula, Julia, Wendy and Robert. Sad for football, Stoke City and England fans."
Stoke chairman Peter Coates said Banks, who made 250 appearances for the club, had been "poorly for a number of weeks". He told Radio 5 live: "He made his home in Stoke, and was very much part of the fabric of the club. You don't get too many like him, and he was immensely modest for all his talent.
"He was England's greatest goalkeeper when they had their finest hour." England and Manchester City forward Raheem Sterling was among the first to pay tribute, tweeting: "Of course there was that save, but it's so much more we are mourning today. RIP Gordon Banks. England legend, your legacy will live on."
Former England striker Gary Lineker said: "An absolute hero of mine, and countless others, England's World Cup winner was one of the greatest goalkeepers of all time, and such a lovely, lovely man." Ex-England goalkeeper Peter Shilton, who replaced Banks at Leicester, tweeted: "I'm devastated – today I've lost my hero."
"A world Cup winner, a legend.  RIP Gordon Banks," tweeted Leicester and England defender Harry Maguire, while Watford keeper Ben Foster said: "Had the pleasure of meeting you as an 18-year old-with my Dad, and him being completely star struck by you. Total gent. You will always be a member of the Goallys Union."
African Union calls for peace conference on Libya in July
ADETOLA, M.A
The African Union (AU) has proposed a global conference in July to try to resolve the conflict in Libya with the aim of holding elections in October. The goal of the summit would be to set the framework for nationwide polls to take place in October
A statement on Tuesday said the 55-member body would like to hold "an international conference on reconciliation in Libya under the auspices of the AU and UN" during the first half of July. The declaration also requested the AU commission, alongside the United Nations and the Libyan government, take "all the necessary measures for the organisation of presidential and legislative elections in October 2019".
The North African country has been torn apart by power struggles and undermined by chronic insecurity since the NATO-backed ousting of Muammar Gaddafi in 2011.
The country has at least two rival administrations. One, recognized by the UN, is based in the capital Tripoli. While the other has made its headquarters the eastern city of Tobruk.
In addition, there are dozens of armed groups vying for power and state wealth. Suicide bombers have targeted a number of Libya's vital institutions as armed groups take advantage of the chaotic political situation.
In a separate development, forces loyal to General Khalifa Haftar of the self-declared Libya National Army (LNA) assumed full control of El Sharara, Libya's biggest oil field.
The LNA reached a remote pumping station in El Sharara last Wednesday but hadn't moved on the main field, which a force of state guards and tribesmen had seized and shut down in December.
"Peacefully, with no resistance, LNA has full control over Sharara oilfield with all its facilities," the LNA spokesman said on Twitter, adding the facility was being secured.
Nigeria Re-Elected Into AU Peace, Security Council
Nigeria has been re-elected into the African Union Peace and Security Council (AU-PSC) for a new three-year term, 2019-2021.
Alongside Nigeria, four other countries – Burundi, Algeria, Kenya and Lesotho were also elected, reflecting the five regions of the continent.
Seven countries keenly contested for the available five vacancies.
A statement by the spokesperson, Ministry of Foreign Affairs, George Edokpa, said Nigeria was re-elected on Friday during the on-going 34th Ordinary Session of the Executive Council of the African Union in Addis Ababa, Ethiopia.
"Nigeria has sustained the membership of the AU-PSC since its inception in 2004 following the decision of the ECOWAS Authority of Heads of State and Government, to dedicate a seat of 3 year term to Nigeria at every PSC election in recognition of Nigeria's contribution to the maintenance of peace and security in Africa and beyond," the statement quoted Nigerian Ambassador to Ethiopia and Permanent Representative to the African Union, Bankole Adeoye, as saying.
The Peace and Security Council of the AU is a standing decision-making organ of the African Union charged with responsibilities of: conducting early warning and preventive diplomacy; facilitate peace-making; establish peace-support operations; and, in certain circumstances, recommend intervention in Member States to promote peace, security and stability.
The statement said, "The PSC role through Nigeria's guidance in the Lake Chad Basin region has been remarkable, particularly in the endorsement of the Multinational Joint Task Force (MNJTF).
"Nigeria has also supported the AU PSC engagements the security situation in ECOWAS region, Sahel and beyond."
It added that, "Nigeria's objective in the African Union Peace and Security Council will be guided by its renewed commitment towards proving the needed support in the on-going implementation of the African Peace and Security Architecture (APSA) and the African Governance Architecture (AGA) in-line with the AU Agenda 2063 and the SDGs 2030 goals.
"More so, as Africa continues to respond to old and emerging conflicts in the continent, Nigeria would continue to collaborate with other member states to improve on the gains made in proffering African solutions to African problems, as regards the overall objective African ownership and leadership to durable peace in the continent."