Four British schoolgirls, teacher allegedly assaulted at gunpoint in Ghana.
Four British schoolgirls and their teacher were reportedly sexually assaulted at gunpoint  during a trip to Ghana.
The teenagers were attacked in their accommodation by a man armed with a rifle while volunteering in the West African nation, reports UK Telegraph.
It was reported that a Ghanaian security guard was shot and seriously injured after intervening in an attempt to stop the assault.
The schoolgirls and their teacher, who cannot be named for legal reasons, were said to be recovering in a British hospital after arriving in the UK.
The Foreign Office confirmed it was providing support to British nationals and was in contact with Ghanaian authorities following an "incident" in the Greater Accra area.
The school, which also cannot be named, is said to support a volunteering charity that supports disadvantaged Ghanaian children.
NDLEA Arrests Trafficker With N2.3b Cocaine at Abuja Airport
NDLEA Arrests Trafficker With N2.3b Cocaine at Abuja Airport
AJAGBE ADEYEMI TESLIM
SPONSORED BY: H&H
A Nigerian, Okey Eze, who claims to be a tiler by profession has been arrested by operatives of the National Drug Law Enforcement Agency, NDLEA, at the Nnamdi Azikiwe International Airport, Abuja with 350 wraps of cocaine worth over N2.3billion in street value.
The 38-year-old Eze, from Orji River, in Oji-River Local Government area of Enugu State was arrested on Wednesday 22nd September, 2021 during an inward clearance of passengers on Ethiopian airline flight number 911 enroute Bamako-Addis Ababa- Abuja.
The illicit drug weighing 7.70kilograms was concealed in eight packs tucked in different parts of his luggage. In his confession, Eze, a resident of Bamako, Mali, said he traveled to Mali through Seme border in Badagry, Lagos state since 2019.
He further claimed that he came into Nigeria with the drug because he needed to raise money to take care of his late elder brothers' four children.
The suspect also claimed he asked his friend who is resident in Brazil to assist him with some money but declined and instead told him to pick up a bag with the drugs from a friend of his in Addis Ababa, Ethiopia for a fee of N500, 000 on successful delivery to someone whose contact would be sent to him on arrival in Nigeria.
He also said the bag containing the drugs was given to him on Wednesday morning at Addis Ababa airport.
Chairman/ Chief Executive of the NDLEA, Brig. Gen. Mohamed Buba Marwa (Retd) has commended the Commander, officers and men of the NAIA command for their vigilance. He said the new NDLEA under his leadership would continue to deal decisive blows on the various cartels trying to turn Nigeria into a hub of illicit drugs.
Drug War: Assets Confiscation ll Weaken Cartels – Marwa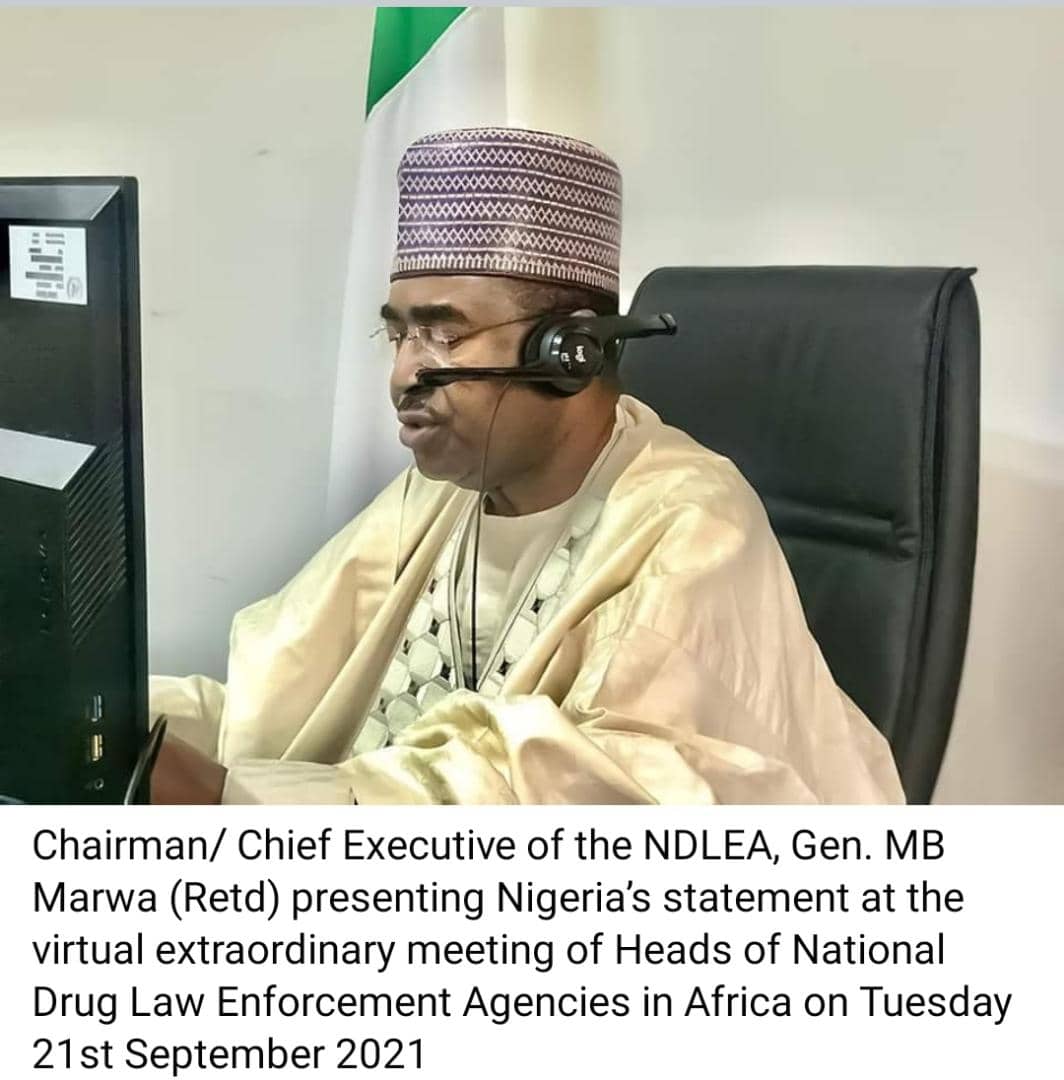 Drug War: Assets Confiscation ll Weaken Cartels – Marwa
AJAGBE ADEYEMI TESLIM
SPONSORED BY: H&H
Chairman/ Chief Executive of the National Drug Law Enforcement Agency, NDLEA, Brig. Gen. Mohamed Buba Marwa (Retd) has charged other other Heads of National Drug Law Enforcement Agencies in Africa to consider targetting the assets of drug cartels as a veritable tool that will weaken criminal narco networks.
He gave the charge while delivering Nigerias statement at the virtual extraordinary session for Heads of National Drug Law Enforcement Agencies to share experiences and best practices in efforts to address and counter the world drug problem, on Tuesday 21st September 2021.
According to him, the disruption of the traditional criminal trafficking routes means that law enforcement personnel must be familiar with new technologies, techniques and strategies employed by organized criminal groups and traffickers.
In order to proactively deal with these new challenges, there is, therefore, an urgent need to strengthen international cooperation in identifying and managing evolving challenges in drug trafficking. We must continue to weaken criminal drug networks through effective asset tracing and confiscation.
We should, therefore, deepen international cooperation to address the increasing links between transnational organized crime, corruption, illicit financial flows, trafficking in drugs and related crimes. Let us not spare any effort in eliminating barriers to effective collaboration as we demonstrate commitment to our shared responsibilities.
While stating that Nigeria has remained dynamic in her counter narcotic operations in line with the global challenges posed by the COVID-19 pandemic and the desire by drug trafficking cartels to explore new markets and routes in furtherance of their criminal activities, Gen. Marwa told the global audience that "We are taking steps to tackle the online distribution of narcotic drugs, which has become prevalent among organised drug trafficking criminal groups, particularly since the global shut down last year. In the last eight months, Nigeria has made over 8,634 arrests with 1,630 convictions. Over two million kilograms of drugs seized with over N100billion in cash and seized drugs."
He listed other proactive steps taken by Nigeria to address and counter the various aspects of the drug problem. "We have developed the 4th edition of our National Drug Control Master Plan (NDCMP) 2021-2025, with four strategic pillars namely: Supply reduction, Demand reduction, Access to Controlled Medicines for medical purposes, Governance and Coordination.
"As part of our control programs, the country recently launched the War Against Drug Abuse (WADA) to further amplify the national drive on both drug supply and drug demand reduction. As a result, we are collaborating with all levels of government, civil-society groups, Non-governmental Organizations, schools and relevant institutions, he added.
He emphasised the importance of strengthening international cooperation in addressing drug trafficking and other forms of transnational organized crimes, especially on the African continent."
Nigeria is committed to strong regional alliances which in the short term could be fostered through Memoranda of Understanding between our different agencies in the African Continent and beyond. A good example was the recent Memorandum of Understanding signed between the National Drug Law Enforcement Agency (NDLEA) and Drug Law Enforcement Agency of the Gambia (DLEA), he assured his counterparts.
Obasa Condoles CP Odumosu Over Mother's Death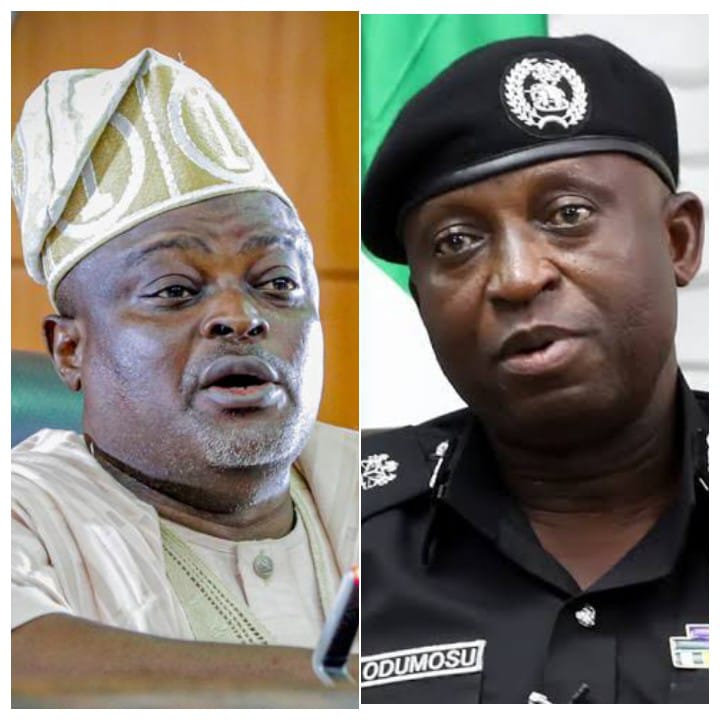 Obasa Condoles CP Odumosu Over Mother's Death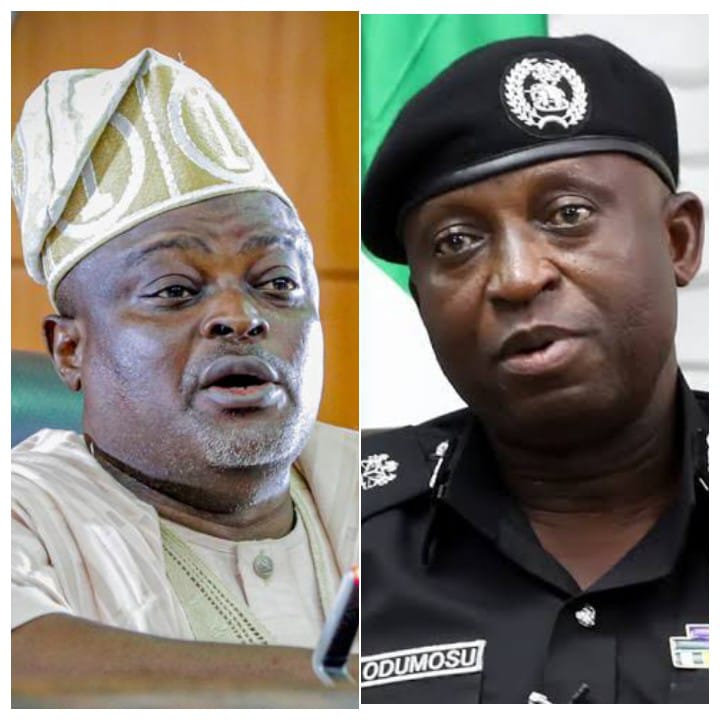 AJAGBE ADEYEMI TESLIM
SPONSORED BY: H&H
The Speaker of the Lagos State House of Assembly, Rt. Hon. (Dr) Mudashiru Obasa, has commiserated with the Commissioner of Police in the State, Mr. Hakeem Odumosu, over the loss of his mother, Alhaja Sikirat Odumosu.
Alhaja Odumosu passed on at the Babcock University Teaching Hospital, Ilisan Remo, Ogun State on Thursday after a brief illness. She was aged 88.
Consoling the commissioner, Obasa, in a statement by his media office, noted that even though Alhaja Odumosu left at a relatively old age, her demise is still painful.
The Speaker urged Commissioner Odumosu to take solace in the fact that his mother played a vital role in moulding him and his siblings into becoming successful positive contributors to Nigeria.
He also described the late octogenarian as a religious woman who lived a good life adding that this should be a consolation for the family, friends and community where the deceased hailed from.
"Be consoled by the fact that you had a great woman as a mother. The result of her contributions reflect in your success as a police chief today.
"I share in your grief at this time, but I know that mama has played her role well both as a religious woman and as one with a moral uprightness.
"On behalf of the Lagos State House of Assembly and all those we represent, I express our sympathies to you and encourage you to remain strong at this trying period.
"I also pray that God grant Alhaja Odumosu Aljannah Firdaus while granting the bereaved family the fortitude to bear the loss, ameen," Obasa said.